Callback
Even when you don't have an Internet connection, you can make VoIP calls with our CallBack service.
How does it work?
When using Callback, our server connects to your phone and then the phone of the person you're calling. This is done via a telephone network, not Internet.
4 Steps of the Callback Service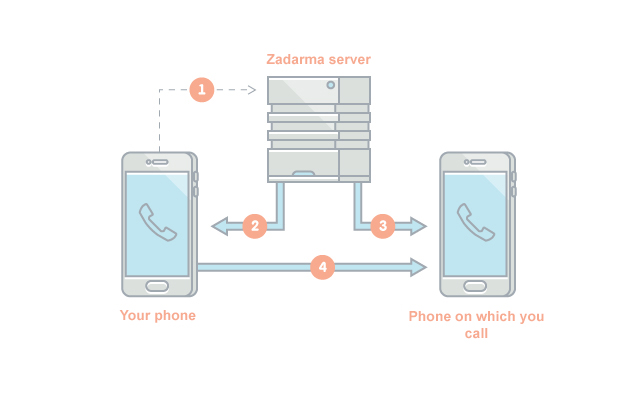 You make a request to our server (either with a phone call or over the Internet).
You receive an incoming call and listen to the message: «Wait for connection».
Our server calls to the person you're trying to reach.
Once the call is answered, you're connected!
Three ways to request a Callback:
The Zadarma website

Log in to your personal account. Enter the numbers you want to connect and click "Connect". Wait for the call.

WAP

You can use a direct link to our website and save it to your phone.

Using your phone number

You only have to perform these steps once:

Save your phone number in your personal account.
Save any of the "phone numbers for Callback" which appear after you save your number
Then, each time you want to make a request:
Dial any of the saved numbers for a callback request.
The server ends the call, and you get a busy tone.
The server calls you back and you dial your destination number.
Note
Call requests are completely FREE.
To speed up and simplify dialing your destination, you can use a function called "Extensions".
Register