Call Forwarding
Receive calls on any phone number using our call forwarding service.
How does it work and why you need it?
When call forwarding is activated on any direct number or SIP login, all incoming calls to that number will be directed to your phone (to the number you specify when setting up forwarding).
For example, say you're in New York, and have only your cell phone with you. You want to talk to clients in Moscow and London, without using your cell phone plan. The ideal solution - you purchase virtual numbers in Moscow and London, and set the call forwarding to your number in New Yourk. Your clients will call a local (to them) number, and you'll get the calls on your mobile device.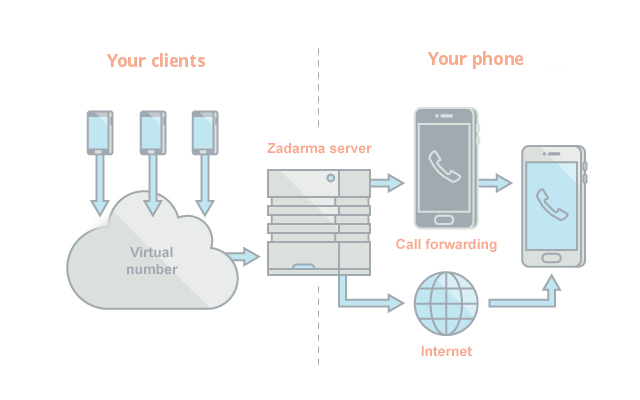 How much does it cost?
The cost of call forwarding is the same as the cost for an outgoing call to the number you forward the call to. You can check our rates here.
For example, call forwarding to any US mobile phone, regardless of the region, will cost $0.009 if using the "economy" rate. Thus, your client's calls, using call forwarding, will cost you several times less than their direct calls to a foreign number.
Note: It is not necessary to pay for call forwarding. Instead, you can opt to receiving VoIP (internet) calls, with all incoming calls free of charge.
Zadarma Project offers two options for forwarding services.
Standard Call Forwarding:
Benefits:
Quick and easy setup:

1. Go to your personal account, SIP settings.

2. Enter the number you want calls forwarded to.

3. Check the box to "Activate Call Forwarding".

No additional setup required.
When using multiple virtual numbers, you can forward them to different phones using a different SIP number for each.
Restrictions:
Other options are limited (IVR, voicemail, call recording).
Call Forwarding with Zadarma Virtual Phone System
Benefits:
A variety of possibilities: conditional forwarding, voicemail, call recording, IVR.
Restrictions:
Requires virtual phone system activation and setup;
You must top up your account balance at least once every 3 months.
To Setup:
For the initial setup of your PBX, please refer to the instructions in the "Setup Wizard".