Call forwarding
Receive calls without an Internet connection using our call forwarding service.
How does it work and why you need it?
Setting call forwarding will send any incoming calls to your number, wherever you are.
Say you're in Novosibirsk, with only your mobile phone. You want to talk to clients in Moscow and London, but not using your cell phone plan. You order virtual numbers in Moscow and London and set the call forwarding to the number in Novosibirsk. Clients will be calling local numbers and you'll get the calls on your mobile phone.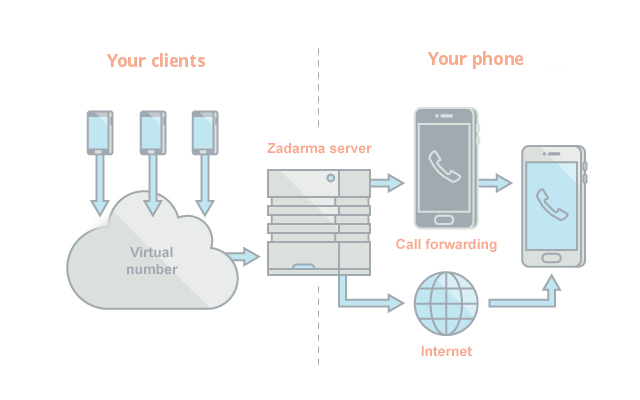 How much does it cost?
The cost of call forwarding is the same as the charge for an outgoing call on the number You're using. You can find our rates here.
Note: you don't have to go with call forwarding. Instead, you can opt for receiving SIP (internet) calls, with all incoming calls free of charge. Choose the option that works for you.
Standard Call Forwarding:
PROS:
quickly and easily set:

1. Go to personal account, sip settings

2. Enter the number you want calls forwarded to

3. Check the box for «call forwarding active»

no additional setup required.
If you use several virtual numbers, you can forward them to different phones with different SIP numbers.
CONS:
limits other options (IVR, voicemail, call recording)
Call Forwarding in Free IP PBX
PROS:
many options: conditional forwarding, voicemail, call recording, IVR.
CONS:
requires free IP PBX activation and setup;
You must refill your account balance at least one per 3 months.
SETUP:
For minimal setup of IP PBX You need to complete all steps of «wizard».