Free Cloud PBX
Cloud PBX is an IP PBX system that is built using the latest technologies, and is located on the provider's servers. There is no need to purchase special hardware or equipment. Simply install the PBX software, and no phone wires are needed! Virtual PBX operates solely on existing networks and allows you to take your office anywhere in the world.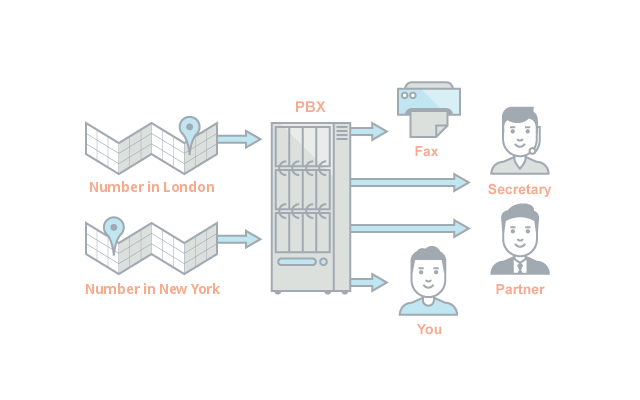 Cloud PBX from Zadarma allows you to:
set up free phone system for your office in 5 minutes
connect several offices within one network
move your office anywhere in the world without changing numbers
save on the phone administration services
save up to 90% on outgoing calls with virtual (DID) numbers
create a budget friendly call center
connect multi-channel virtual numbers in any city worldwide
forward calls in and out of the office
receive calls from your website via a free call back widget
With cloud PBX from Zadarma, you get all the advanced functions your office needs:
Interactive Voice Response (IVR)
Call Transfers
Call Recording
Conditional and Unconditional Call Forwarding
Voicemail
Automated Fax Receiving
Automated Welcome Messages
Scheduled Answering Machine
Auto Attendant Based on Caller
Call Waiting
Music Options for Call Waiting
Call Statistics
Dialing Prefix Settings
An API Interface for integration with other services
Zadarma hosted PBX is also compatible with other free services from the Zadarma Project, such as free outgoing calls, «Call me» widget for your website, and free Moscow numbers,.
How do I activate Cloud PBX?
Register, log in to your personal account and click «Activate PBX». You can order a DID number in any of 70 countries in the world. Cloud PBX is free for Zadarma users who regularly refill their account balance.
Conditions of free PBX usage
By making a payment towards your account balance, in any amount, at least once every 3 months, use of the virtual PBX is free. Otherwise, the fee for PBX use is $5/month.
Once a payment is made, Cloud PBX services become free again.
Users who make larger payments will enjoy free PBX use for longer periods of time. Paying $50 gets you 6 months of free cloud PBX use, while $100 allows you to refill just once a year.
How do I setup the PBX?
Once the PBX has been activated, you can use the PBX settings wizard that will help you setup the main functions.