1. The CallBack widget
Turn your website visitors into clients by placing our free CallBack widget on your website
Why do you need it?
increase your website conversions;
increases sales;
helps your customers to understand the product;
decreases the bounce rate.
How does it work?
The website visitor is searching for a product or a service on your website, looks through the pages and maybe decides to leave:
Zadarma system identifies the visitor's irregular behaviour and displays the CallBack widget with an offer to connect them with one of your sales managers in 20 seconds;
After having a conversation with the manager the visitor is 75% more likely to become your client.
Example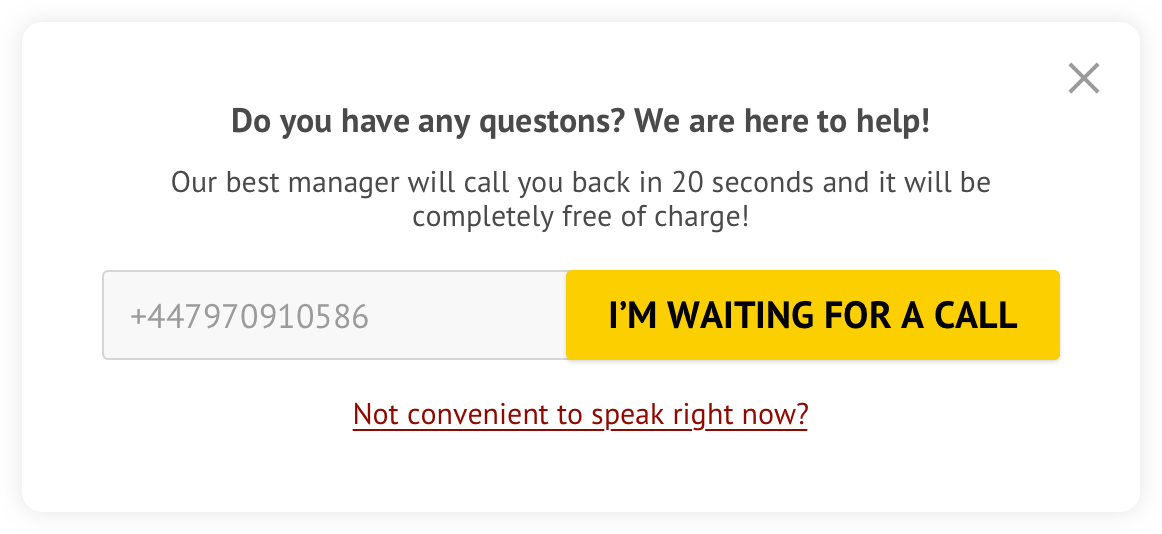 Why should you use the Zadarma widget?
the Zadarma widget is absolutely free - you only pay for the call to customers at the lowest rates;
convenient display settings;
the ability to customize the widget design and text to adapt it to your website layout;
complete integration with all Zadarma's services (free cloud PBX, virtual phone numbers, flash-widget, API, etc);
24/7 customer support available via chat, ticket system, phone calls and SIP).
Internet companies no longer need to buy the telephony and create their own CallBack widgets separately. The Zadarma widget connects you with your customers using your existing rates and price plans.
Set up the widget in 2 simple steps:
2. The «Call me» widget
The «Call me» widget increases your website's efficiency and gives you a new channel of communication with your website visitors. Your clients no longer need to use the phone and they can reach you with a single click. The «Call me» widget is essentially a web-phone. Once the client clicks the button, the call is made to your SIP account (or your phone number) via the internet. To use the service, the website visitors do not need to set up any additional software; having speakers or headphones and a microphone is enough. Additionally, this type of a call is free for both you and the website visitors.
Why do you need it?
Convenient channel for communication with your clients;
Increase in sales conversions due to client requests from the website;
A simple way for your clients to contact you with one click.
The "Call me" widget advantages:
The widget is absolutely free (if you receive the call using SIP, in other words, if you use your internet connection);
Flexible widget settings;
You can receive calls on your mobile or any other phone number using the forwarding feature;
Integration with other Zadarma products and services.
Example

Set up the widget in 2 simple steps: