SIM Cards for Global Roaming
SIM cards for VoIP international roaming is a unique solution from Zadarma.
Benifits of a Zadarma SIM Card
A Zadarma SIM Card allows you to use the features of IP telephony on your mobile phone, while roaming, all at VoIP calls costs.
With a SIM card from Zadarma you can:
Take all your phone numbers with you: log into your account and use the SIM card to access your mobile phone without an Internet connection.
Access all free functions of PBX from Zadarma (voice menu, calendar, call recording and more).
Use one rate plan for all calls (both via Internet or with a mobile phone).
Not only make and receive calls, but also use SMS services and access the Internet anywhere in the world.
Travel to other countries without having to buy a new SIM card or change your settings.
Communicate between SIM cards, simillar to communication within the Zadarma network.
How does the SIM card work?
Insert the card into a mobile phone and turn the phone on.
Choose a SIP number for your card in your personal account.
Your card finds a network and automatically connects to it.
Incoming calls:

Call the SIP number linked to your SIM card and receive the call on your mobile phone. Incoming calls are recieved automatically.
To receive calls from your city, order a local virtual number and give it to your friends and associates or, forward calls from your mobile number to it. If you already have a Zadarma number, simply add it to the SIP login for your SIM card.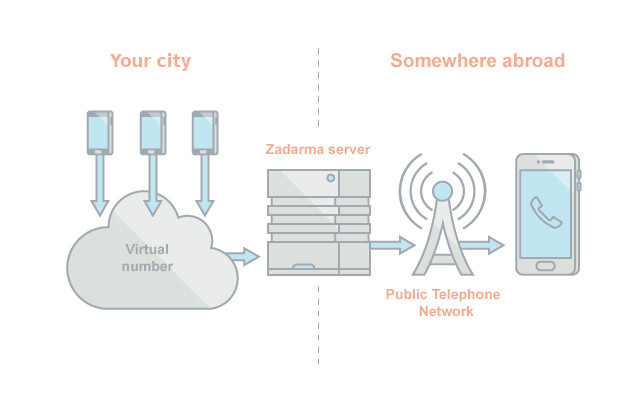 Outgoing calls:
To make a call, select the desired number in your phonebook and press "call". The SIM card will send a request for callback and the server will call and connect you with the dialed party.
To call another Zadarma SIM card user, simply dial his or her SIP login (5 or 6 digits).
PBX on your mobile device
In addition to savings on international roaming, your SIM card has an added benifit - It can be connected to your free Zadarma PBX for other Cloud PBX functions:
Voice greeting, IVR menu and voicemail
Call recording and fax receiving
Scheduled working hours, call scripts, and much more
It's easy to connect your mobile phone to the PBX: Before your trip, connect your SIM card to your PBX extension number (using either the settings of the SIM card or extension number). This will route all incoming calls to your mobile phone and all outgoing calls will be made via PBX. You can call other PBX users using their extension.
If your employees often go on business trips, a Zadarma SIM card for global roaming is your ideal solution. You can connect multiple SIM cards to your PBX and distribute them to your employees. This way, you can call any of them using their internal extention, no matter where in the world they may be. You can even make conference calls.
Advantages of integrating VoIP with a mobile network
Installing a Zadarma SIM card and VoIP software on your smartphone gives you a new degree of freedom - Make calls via the software (if you have an internet connection) or, using the SIM card (when an internet connection is unavailable). This allows you to save even more when connected to WiFi and remain connected when WiFi isn't available.
Note: The WiFi quality in some hotels may be insufficient for normal voice connection. In this case, we recommend you use the SIM card to make calls.
If, while traveling, your internet connection is not fast/cheap enough to use SIP, you can still save money on the connection. Use the connection to send a request for a Callback and pay for an incoming call rather than an outgoing one.
Free phone number in Great Britain
In addtion to a SIM card, you are provided with a free mobile number in the United Kingdom. In order for it to work, it is sufficient to use your SIM at least once a year.
After activating your card, you will recieved an SMS with your new number, which will also be displayed on the SIM card settings page. Not only can the number be used on the roaming SIM card, but also on the free PBX or on any other account.
If you use the free UK number with the roaming SIM card, you can receive incoming calls absolutely free of charge, while roaming in 40 countries worldwide.
How to get started?
To recieved a SIM card, your must register, refill your account balance and then order it.
If you are already a registered user, simply order the necessary amount of SIM cards through your personal account.
The card(s) will be delivered by mail or courier service. Upon delivery, you will follow a simple activation process and the SIM card will be ready for use.