SIM-cards for Roaming
SIM-cards for roaming VoIP are a unique solution from Zadarma.
SIM-cards from Zadarma allow you to:
Take all your phone numbers with you: log into your SIP and use the SIM-card to access your mobile phone without an Internet connection.
Access all functions of free IP PBX from Zadarma (voice menu, calendar, call recording and others).
Use one tariff plan for calls (either by Internet or with mobile).
Make and receive calls; use SMS service and access to Internet anywhere in the world.
Travel to other countries without having to buy a new card or change settings.
Communicate between SIM-cards.
How does a SIM-card work?
Insert card in a mobile phone and turn it on.
Choose SIP number for your card in your personal account.
Your card finds a network and automatically connects to it.
Incoming calls:

Call with your SIP number and receive calls with your mobile. Incoming calls arrive automatically.
To receive calls from your city, order a virtual number and give it to your friends and associates or forward calls from your mobile number to it.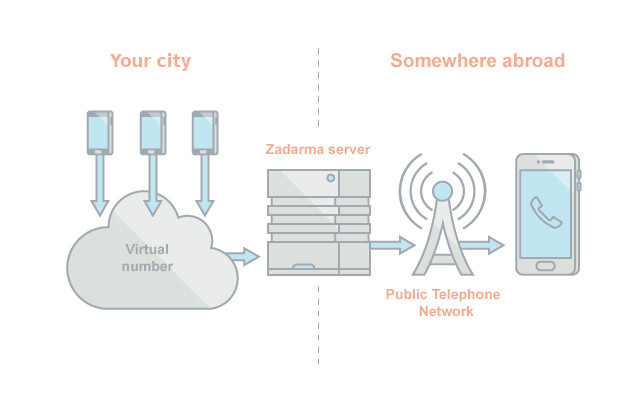 Outgoing calls:
Choose a call in your phonebook and click «call». The SIM-card will send a request for callback, the server will call and join you with the called party.
To call from a SIM-card to a Zadarma user, dial his or her SIP login (5 or 6 digits).
Office PBX on your mobile
In addition to the other benefits, your SIM-card can be connected to free IP PBX from Zadarma for other functions:
Voice menu/greeting/mail.
Call recording and receiving faxes.
Working hours, call scenarios, many more.
It's easy to connect your mobile to office PBX: connect your SIM-card to your internal number for free PBX (using the settings of the card or internal number). This will route incoming calls to your mobile and make outgoing calls via PBX. You can call other PBX users with their short number.
If many of your employees travel often, SIM-cards are what you need. You can connect multiple SIM-cards to your PBX and give them to your employees. Then you call any of them by an internal number anywhere in the world - this includes conference calls.
Advantages of Integrating VoIP and mobile network
Installing SIM-cards and SIP-software gives you a new degree of freedom. You can make calls via software or, with no Internet connection, SIM-cards. You save money when connected to WiFi and stay in touch when WiFi isn't available.
Note: The quality of the WiFi in some hotels can be insufficient for voice delivery - we recommend you make calls only via SIM-card.
If you have Internet connection during the trip, but it's not fast/cheap enough to use SIP, it will allow you to save on connection. Send over Internet request for Callback and you'll pay not as for outgoing connection, but for as incoming one.
Free phone number in Great Britain
Together with SIM-card is provided free mobile number in Great Britain. For its work is enough to use card at least once in a year.
After card's activation you'll get SMS with your number, also it'll be displayed on page with settings for SIM-cards. Number can be used not only on roaming card, but also in cloud IP PBX or on any other account.
If you use free British number with roaming card, you can receive incoming calls absolutely for free in roaming in 40 countries around the world.
How to start?
SIM card can be ordered on our website after registration and recharging.
If you are already registered user, it's enough to order needed amount of SIM-cards in personal account.
Card will be delivered by post or by courrier company. After delivery you'll pass proccess of activation and SIM-card will be ready for use.