Effective communication is only worthy when the outreach resonates with the receiver. Sales outreach means engaging with prospects or past customers. This engagement can be done over the phone or via email as well as in person or through social platforms. There is a balance in outreach. Some companies are using robots to deliver their outreach, flooding their users with emails in the hope that at least one response may drive a sales enquiry. Often prospects are aware of the lack of human intervention and aggressive non-targeted outreach often is unsuccessful.
There are specific techniques when writing bulk email sequences and activating call outreach that will gain higher open responses from your prospects. Furthermore, there are particular tools that will help your business to perform email marketing and call outreach while avoiding spam boxes or voicemail.
Zadarma's call and email outreach communication tools
At Zadarma we believe that calls should be used only for relevant and timely conversations and should not cause inconvenience. Any mail outreach should be informative and useful. Zadarma has a variety of simple but sophisticated automation tools that can assist human-empowered email and calling outreach strategies. We have launched new features in our CRM System, Teamsale. Through these tools, we have proven that auto-dial and spam-free mail outreach are possible and highly effective when targeted correctly.
What is an auto-dialer?
Zadarma's auto-dialer works alongside our VoIP software to assist humans, eliminating time-consuming tasks through dialling phone numbers automatically. Once a call is answered, an auto-dialer can connect the call to a live agent. The auto-dialer can handle a large volume of outgoing calls, activating through the Teamsale CRM system.
There are two auto-dial options through this outreach function. You can either open the webphone and Auto Dialer tab in it. You can simply select and add the numbers you want to call to your call outreach list. On the other hand, you can open the list of leads (or customers), mark them with checkboxes, click on the icon with three dots and select "Add to call list" from the menu. With either of these options, to activate the email outreach process, you simply click the "Start Calling" button.
Your auto-dial lead list view will look like this from your Teamsale CRM system: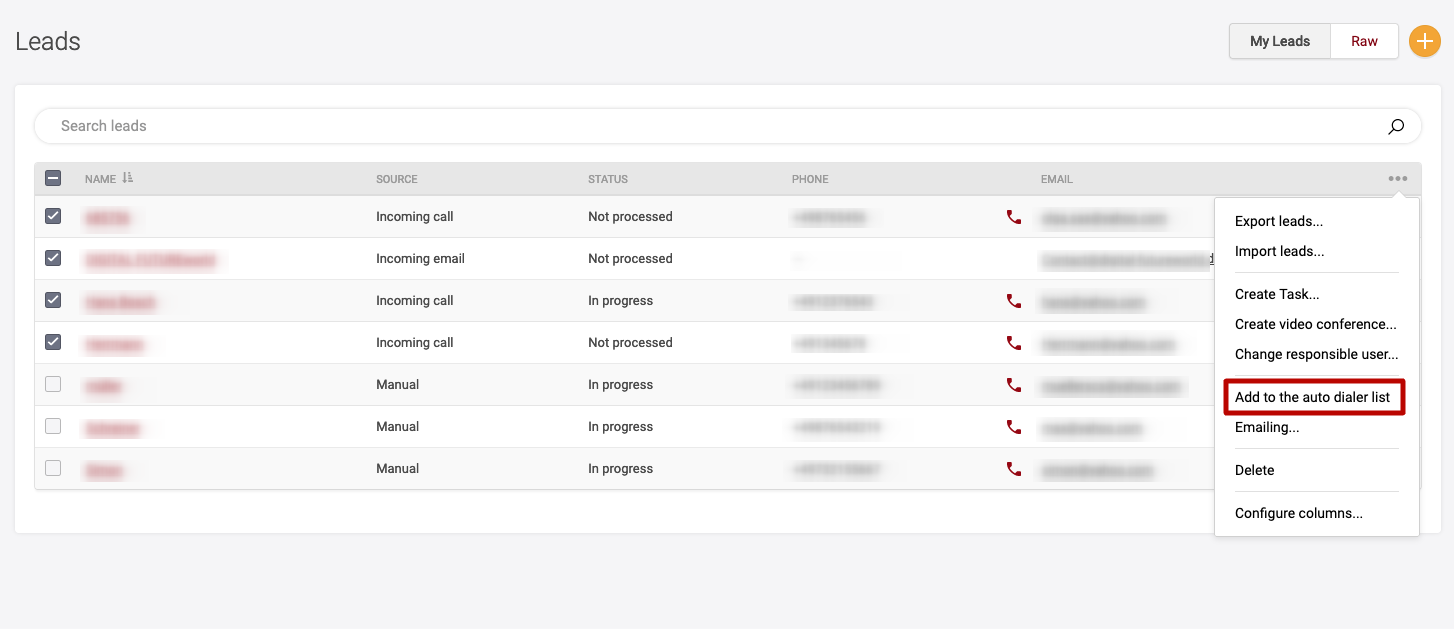 How does auto-dial work through the Teamsale CRM?
After you have arranged your call outreach list, the calling process will begin. The system will automatically dial numbers starting with the first call listing and working its way down. If the call respondent doesn't answer or hangs up, then within five seconds, the auto-dialer will move onto the next number on the list. After the call is answered and the conversation is successful, the call is suspended. It is at this point, your agents can fill in the necessary information within the CRM. Through clicking on the "Continue Calling" button, you can move on to the next call, as needed. You are able to update your calling data as the auto-dialer calls move down the list. Numbers which allow for a successful connection are kept and any redundant numbers can be archived or deleted from your list, to ensure your data is kept up to date.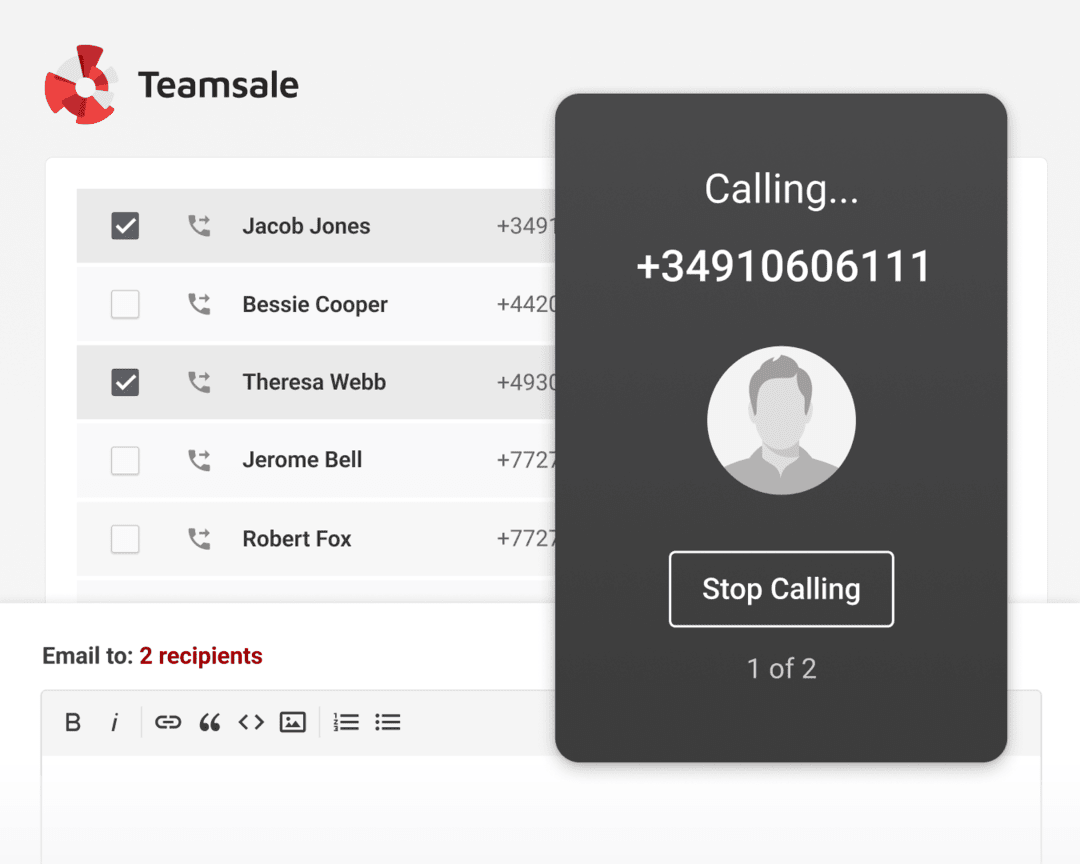 Sending bulk email campaigns through Teamsale CRM
Firstly let's understand what bulk emailing is; Bulk emailing is when emails are sent to a large group of contacts through one email outreach activation. Unlike spam, bulk emails are often sent to respondents who have signed up to receive marketing information or are part of an active mailing list due to previous business engagements with them. The interaction process is similar to how an auto-dialer works. To get started, you need to tick off the necessary contacts from the list of customers (or leads) that you want to add to the mailing list, then click on the icon with three dots and select "Emailing".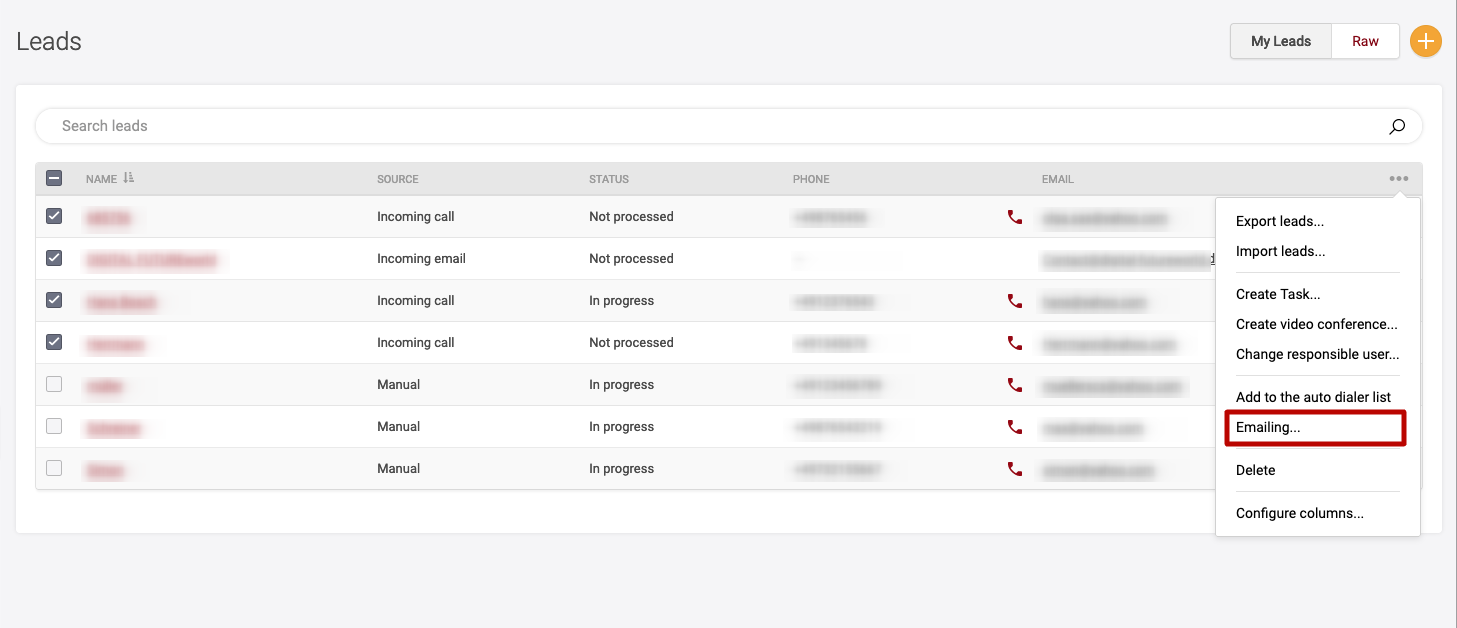 The send email window will open within Teamsale, where you can add recipients from existing contacts or upload a list of recipients from an external source. Please note, that an integration with an email service has to be set up first.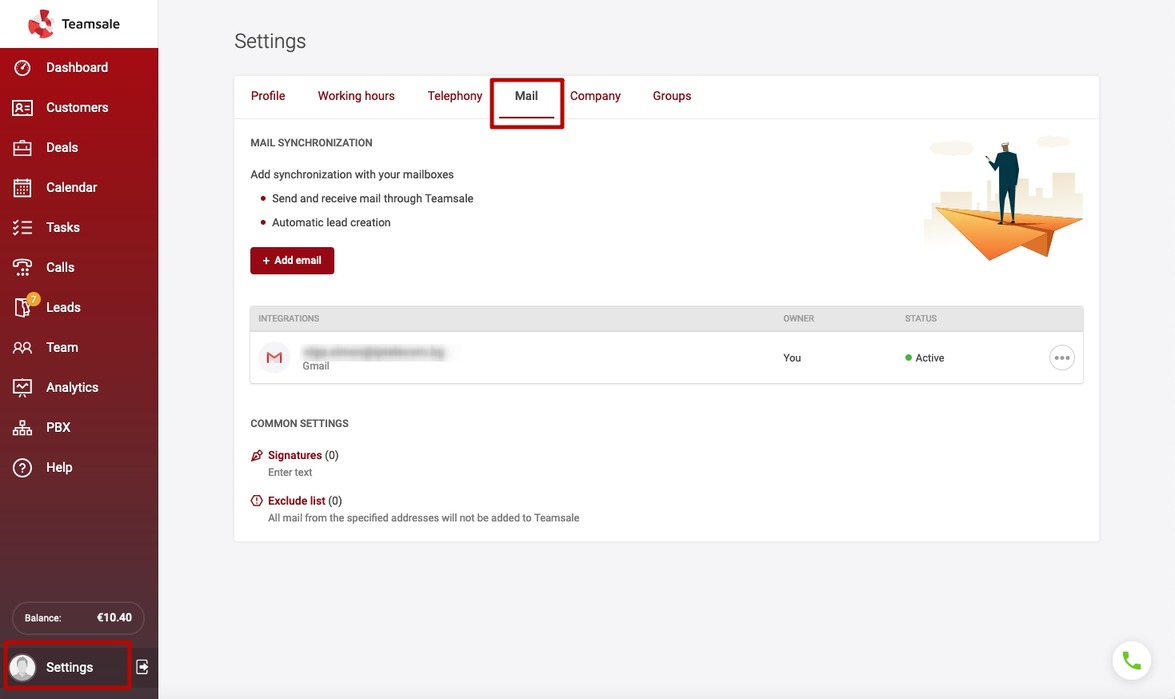 At any point, you have the ability to turn on the option to create leads from outgoing calls, emails, letters or other forms of communications. In the letter editor itself, you can choose fonts, text colours and put different signatures. The latter can be edited in the "Settings" - "Mail" section. You can create up to five different signatures in advance and choose one of them when sending. It is important to note that a single mailing list has a limit of up to 100 recipients.
Zadarma's auto-dialer and email automation tools hurdle spam filters
The main thing that distinguishes the Zadarma auto dial system from spam calls is the absence of an uncontrolled flow of calls. In fact, a human respondent can call each number on the list yourself and achieve the same result. It will simply take longer. In addition, the system will not work without the direct participation of the operator. After the receiver answers the call, your employee will then need to get involved in the process, and manually start the call conversation. Sending emails is limited to 100 contacts at a time, which is ample cadence.
How much does auto-dialer and bulk emailer tools cost?
Zadarma provides the auto-dialer and bulk emailer tools as part of our Teamsale CRM system. Calling and emailing are therefore free of charge. This means that you only have to pay for outgoing calls. As a reminder, Teamsale CRM itself is also free. This plug-and-play CRM system is accessible after registering through your personal account.
Who can benefit from Zadarma's auto-dialer and bulk emailing tools?
These routine outreach processes can benefit any sales-driven business. These new features are highly beneficial to those who regularly deliver communication outreach on mass and wish to accelerate their sales strategy and communication cadence. An auto dialer can augment your sales team's efforts and boost your call centre's efficiency rates. These tools allow for seamless CRM integration, all through Teamsale. Auto-dialer and bulk mailer are simple but effective communication tools that are empowering managers to drive multiple call centre campaigns, therefore significantly increasing outreach potential. Whether you have a call centre, sales departments or technical support services, these tools will conveniently assist your teams to accumulate and update leads lists and activate outreach faster. Additionally, these automation tools can be programmed to align to time zones and also have the ability to extract real-time reporting and analytics around them. Investing in auto dialer and bulk email software will empower your team's productivity, alleviating monotonous tasks that can create burn out.
If you would like to find out more about Zadarma's auto-dialer or bulk email tools, then please visit the Teamsale website for more information.