A TELECOM REVOLUTION
In the late 19th century the telephone brought major advancements in personal and business communications. These plain old telephone systems (POTS) have demonstrated their value for secure and quality calls. Many companies seem happy enough to continue using them, but even a casual observer of the telecom scene must have noticed an increasing number of businesses moving to cloud PBX phone systems. Why?
WHAT IS A CLOUD PBX?
Many are put off by telecom jargon. To insiders the meanings are obvious but many others require explanations. We are here to help!
The PBX (Private Branch Exchange) is a company's private telephone network and the main part of an organization's business phone system. Phone users connected to the PBX communicate internally within the organization, and externally with the outside world using various channels and different types of equipment. These PBXs require telephone cabinets and other fixed equipment. The communications are transmitted along copper wires.
In contrast, the cloud PBX does not require all this fixed equipment. Calls, video messaging and data are transmitted online with vital data stored on the cloud-based servers. The business selects a VoIP (Voice over Internet Protocol) service provider to host their cloud PBX service. The provider takes care of the heavy system maintenance and support burden.
THE ADVANTAGES OF WORKING WITH A CLOUD PBX SYSTEM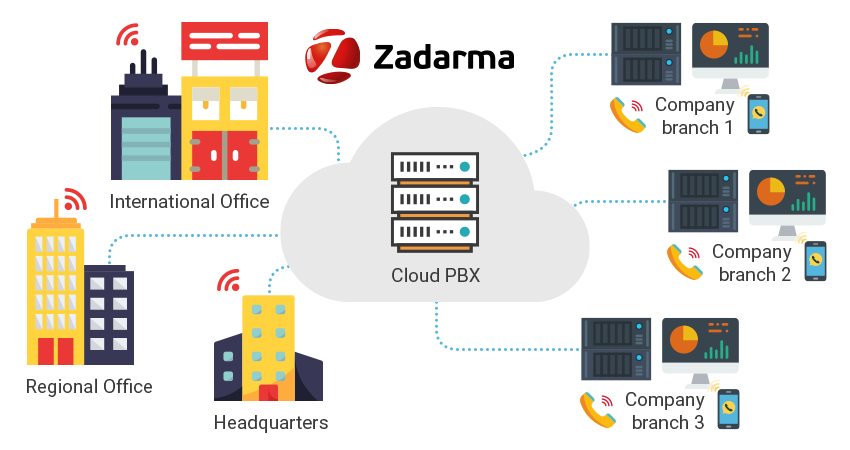 While POTS systems may work well, they place small and medium-sized firms at a big disadvantage. Cloud PBX systems adapt to their specific needs.
Lower maintenance expenses
Fixed phone equipment and wires cost a lot to maintain and update. Cloud PBX does not require large investments and financial resources. For example, you can add and remove users with the click of a computer mouse. The Zadarma Project actually offers a completely free cloud PBX designed to meet your business needs.
Reductions in call costs
The use of virtual numbers together with cloud PBX dramatically reduces call costs. The reductions are particularly significant for overseas call charges. It takes just a few minutes for a company to open virtual offices around the world and expand their activities. Customers in these countries only pay their local rates to call them.
Improves the Caller Experience
Cloud business phone system provides clients with a wide range of features, such as Interactive Voice Response (IVR), Automated Welcome Messages, Call Forwarding, Call Recordings, Integrations with CRM systems and many more. With the older technology, only the largest companies could support these caller-friendly options.
Allows flexible working practices
Since the PBX is hosted on a cloud, clients can use their phone system from wherever they have internet access; this enables employees to work from home offices and other remote locations. It also makes it easy to route calls so there is always someone available to answer that important customer call.
It is worthwhile finding out more about how a cloud business phone system could benefit you company, so you don't lose out on all the financial and convenience gains. Try our free Cloud PBX right now!
Set up your Cloud PBX
Setting up the cloud PBX is easy and can be done in a few minutes! Just follow the instructions here.