The extent of advertising that surrounds us on a daily basis, is often overwhelming. For most businesses, a key priority is to ensure their business is top of mind to customers and prospective customers. Being visible across advertising platforms and ranking at the top of the search engines is a high priority. We live in a world inundated with advanced data. Marketing managers will be tracking clicks, views, impressions, form completions, chatbot responses. One unique and often neglected area is call tracking metrics. A carefully tracked marketing campaign and sales calls will measure ROI (Return On Investment) and assist in optimising future advertising spend and phone call performance.
You can set up and automate this process with a help of Zadarma call tracking. Below we will discuss this service and how to easily set up and configure this tracking solution.
---
Call tracking is a service that allows you to track the effectiveness of advertising channels by collecting data on calls to a certain phone number. It can be divided into two types: static and dynamic.
Everything depends on the purpose of use. Here are three different scenarios when call tracking can be highly useful.
Call tracking setup
First you need to do is register with Zadarma. Then connect as many virtual numbers as you require. On the call tracking page you can find a convenient calculator and see how many phone numbers you would need.
By the way, don't forget to top up your account balance. For call tracking, virtual numbers have to be prepaid for three months.
Then in your personal account go to Services - Call Tracking. What you see is a list of trackers and it is currently empty. Let's fix that and create or the first tracker. Click "Create a Tracker".
You now see three different objectives that you might want to track: collect information about user behaviour or evaluate digital advertising effectiveness or offline marketing. Simply choose the first option to learn more about your clients.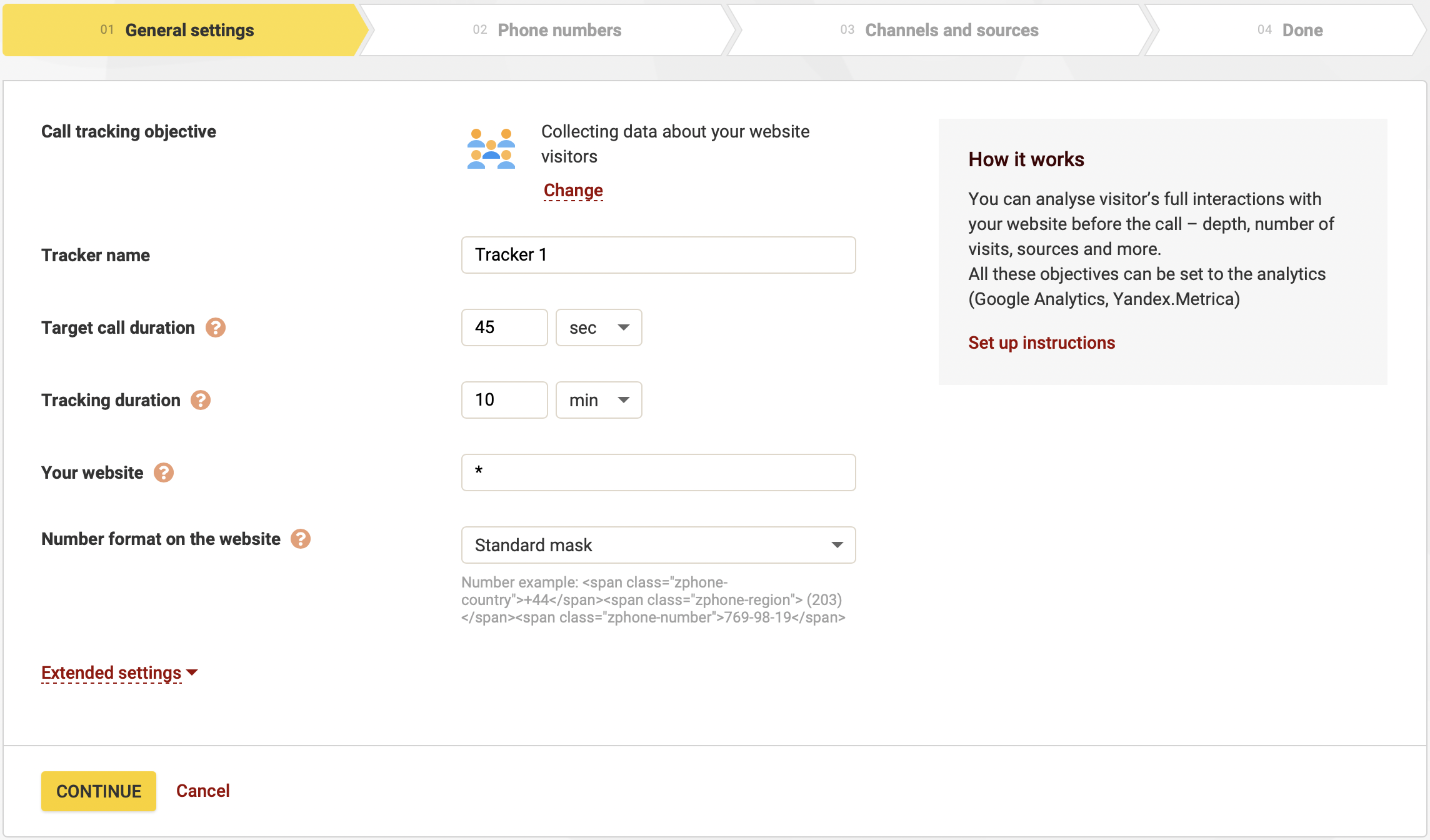 On the screen that is called "General Settings" you can set:
Tracker name;
Target call duration. Call longer than the set value will be tracked;
Session duration. During this time a phone number will be reserved for one user - only for dynamic call tracking;
Your website. Note, you can set tracking for all domains or just a certain one;
Number format. This is how the number will be displayed on your website.
Extended settings
Go to Extended settings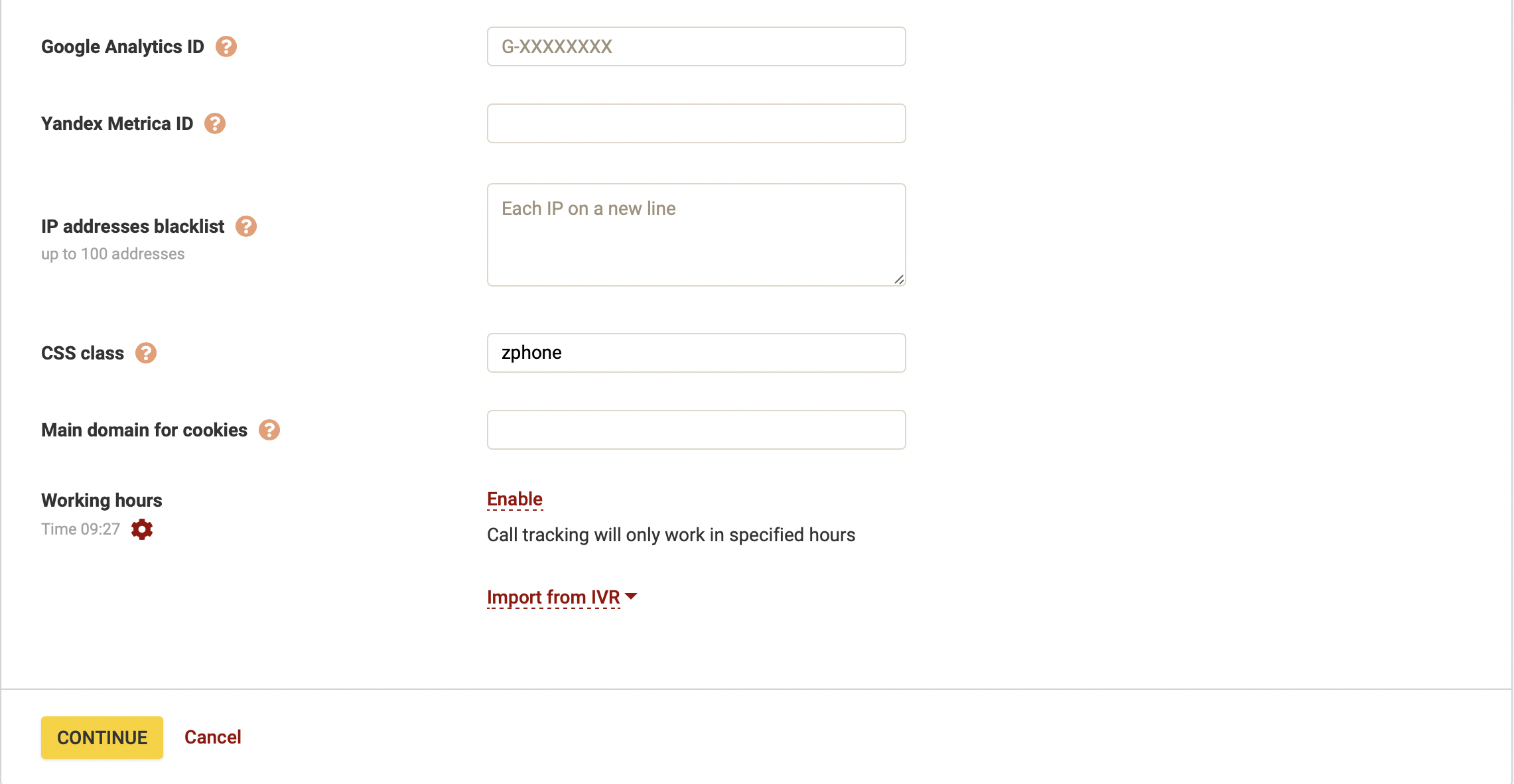 Set analytics systems ID. It is necessary to track user behaviour on the website. Another important parameter left is a default number, you need to set it up. This number will be displayed whenever all others are busy. You can input working hours if you want the statistics to be tracked only at certain hours.
Click Continue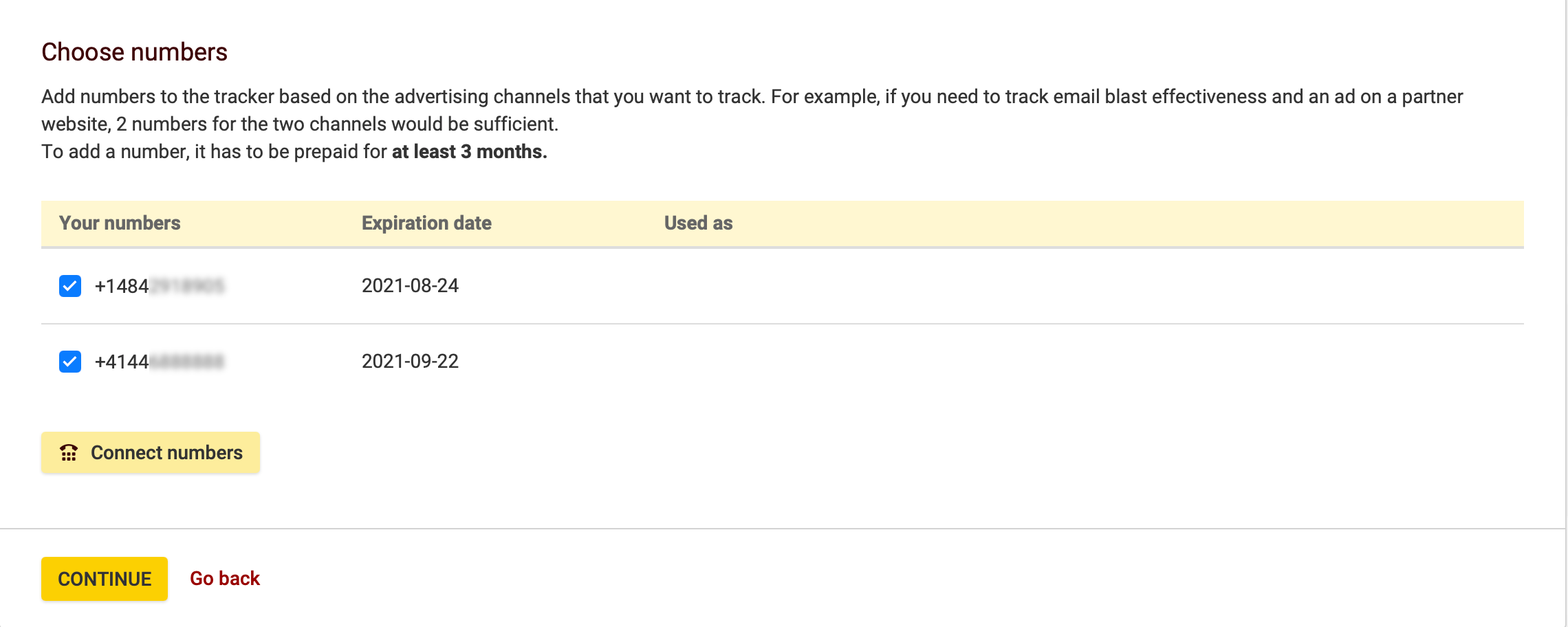 On the next screen you need to choose phone numbers that will be used for call tracking. To make things easier, there is a calculator on the right side that will assist you in finding out how many numbers the tracker will require.
Next step
The third screen is for you to enter the sources that need to be tracked. Keep the default tracker to record client behaviour on the website. This way the tracker will collect data on all the visitors..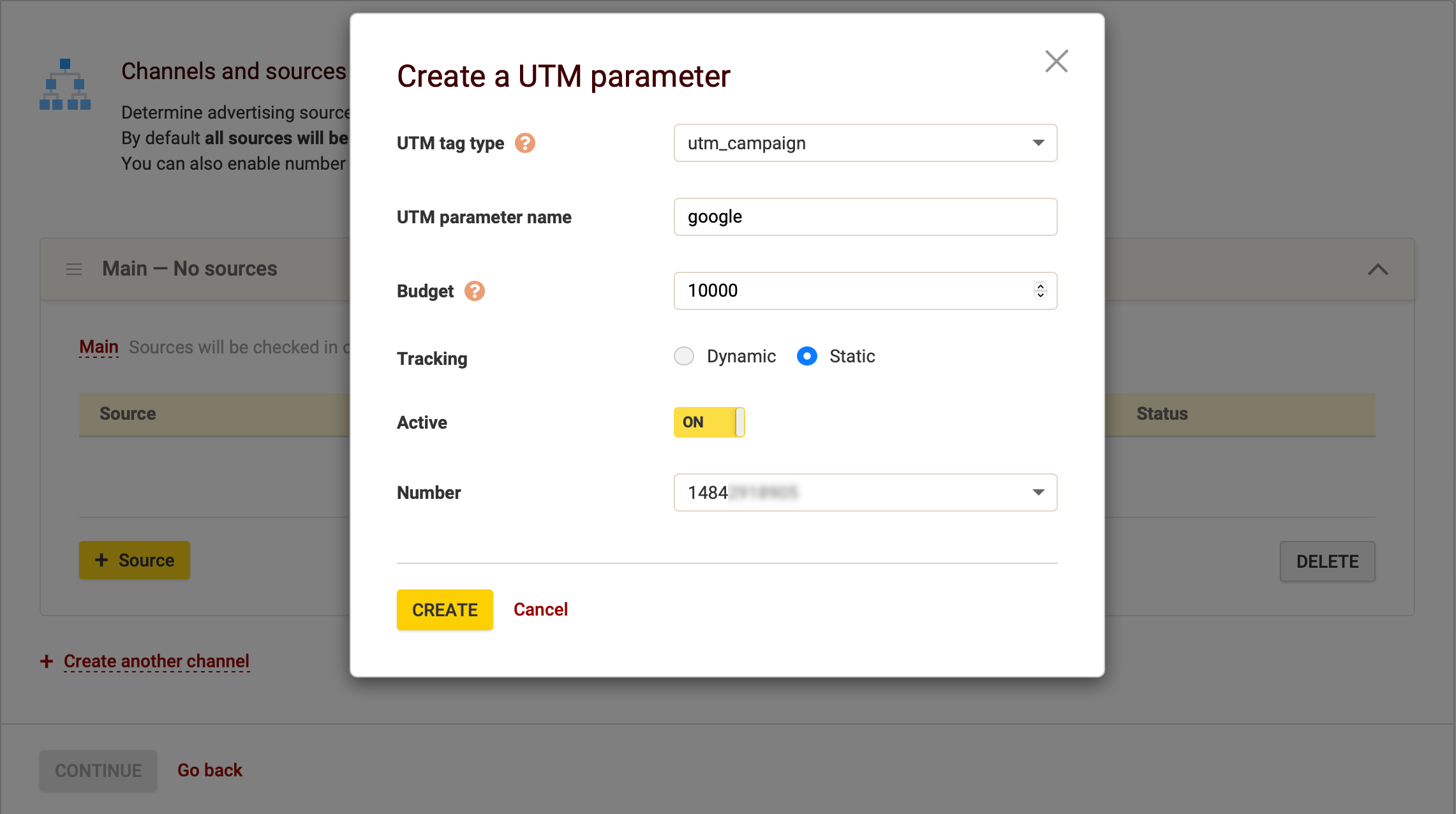 On the tracker statistics page you will be able to see where the users came to you from (in other words, the traffic source) and start tracking with a single click.
The first and essential step is to collect more information about your clients. It is also a great way to get familiar with call tracking settings.
Online advertising
If you are acquainted with the system or would like to use it to evaluate the effectiveness of online campaigns, you should choose the second objective - Online advertising.
On the first screen you set the tracker name, target call duration and your website. Just like in our first scenario, you can track all domains or just a certain one.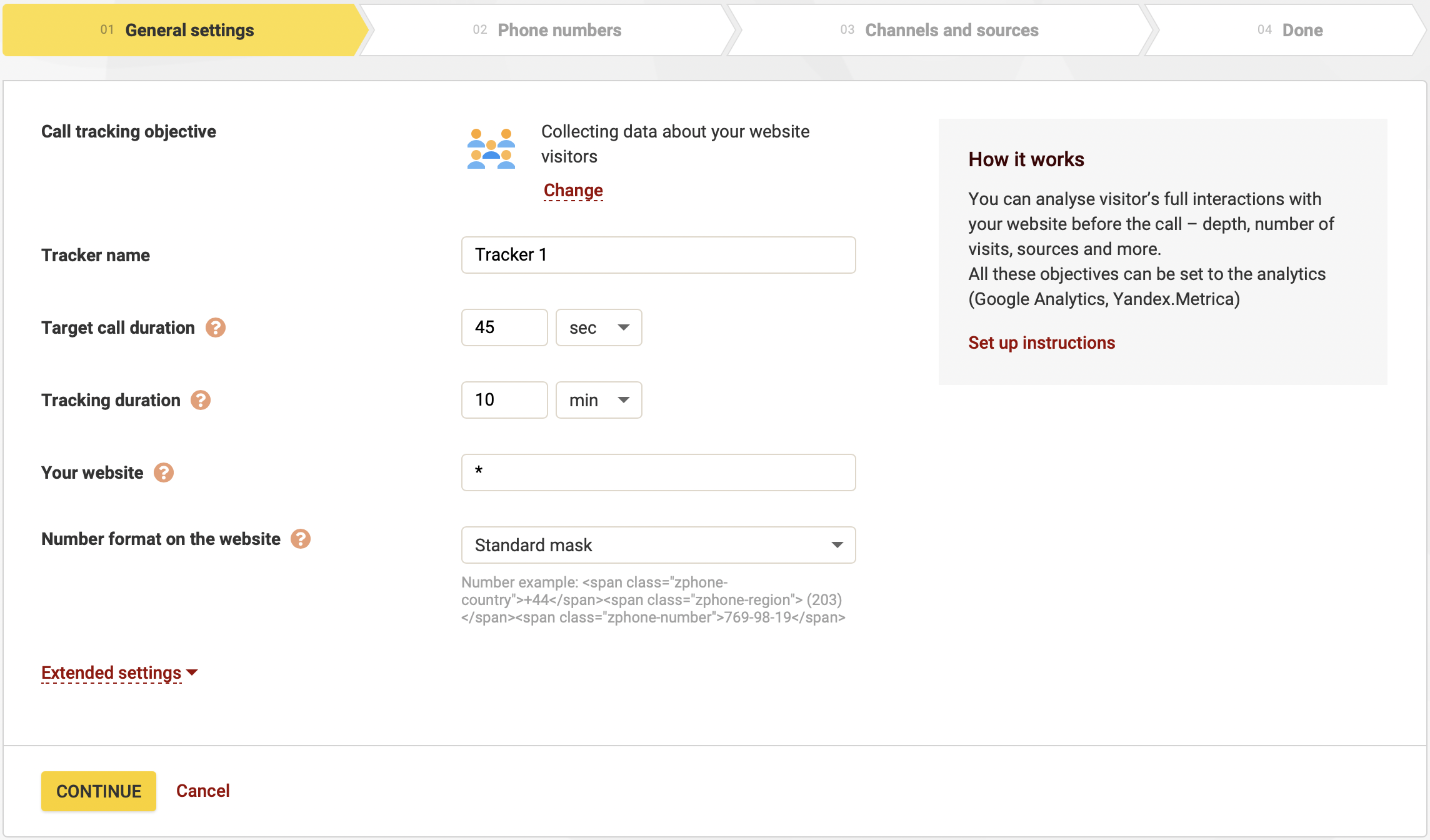 In the extended settings set analytics ID and working hours if statistics should only be gathered at certain hours.
Click continue.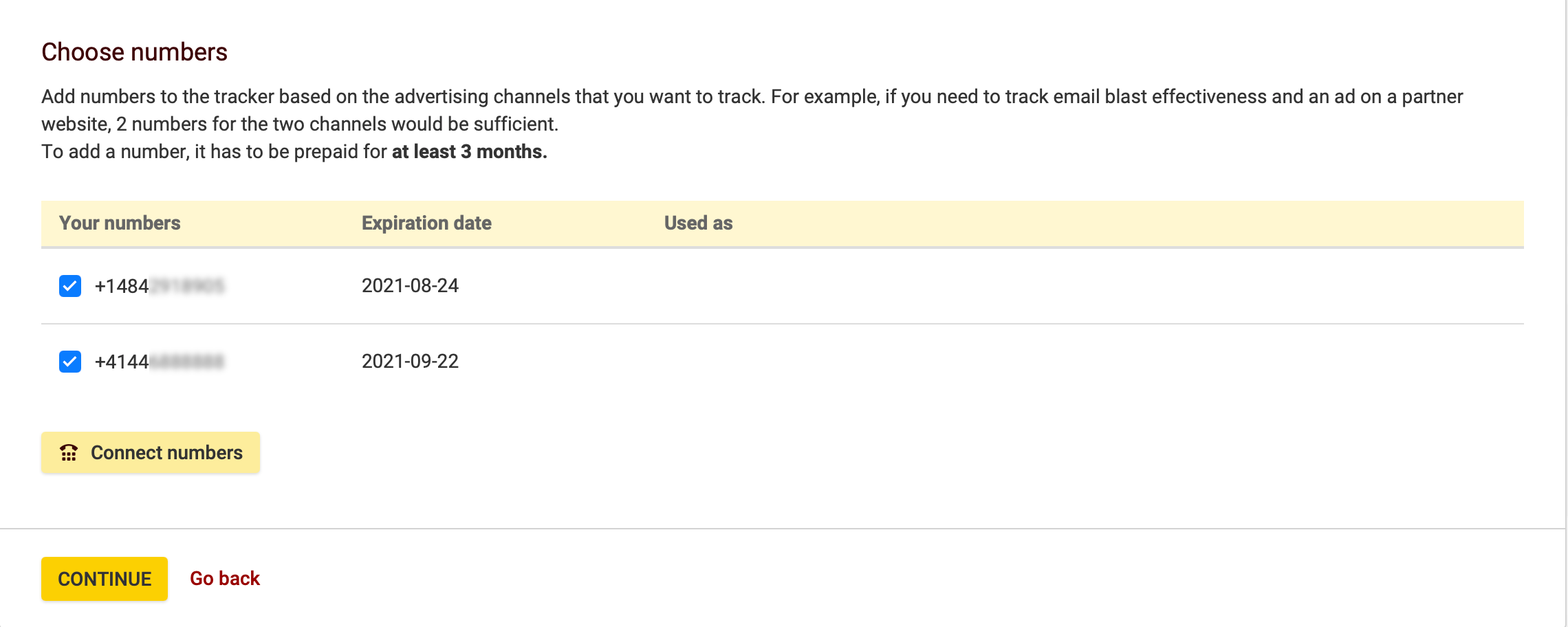 The next screen chooses the phone numbers you need. We recommend choosing a separate number for each advertising channel. You can choose them on the next screen. You have the following options available:
UTM tags - With this parameter, you can display a certain phone number to clients that came to your website via a link with a certain tag;
Organic traffic - Here we count website enters from search engines;
Traffic from another website - Use this source if you have placed ads on other online platforms. In the settings, indicate whether you want information from all domains to be tracked or just a certain one;
Direct hit - This is useful if a user entered the website address in the browser directly;
By country - Using these settings you can display different phone numbers to users from different countries and cities. This is an efficient way to make your business look local and neighbourly.
To simplify the process, we recommend using static call tracking. This is because the client has already completed the target action before the call - clicked on a link or entered your domain in the browser, and their following behaviour is not of interest to us.
Also, do not forget to set your advertising budget and ensure it is allocated to a particular marketing channel. In this case, the system will automatically calculate the price of every target call, and you will be able to evaluate the financial side more precisely.
Offline advertising
The tracker for offline advertising is even easier to configure. On the first screen, you need to set the tracker name and target call duration. The next step would be to choose phone numbers that are placed on marketing materials.

Then set the source name; for example, "radio advertising" and enter the cost of the campaign. It is necessary to correctly measure the effectiveness.
Finishing call tracker settings
Regardless of the tracker type (except for offline advertising), for the last step the system will generate a code with a required CSS class that needs to be placed on your website.

After the system gathers data, you can study statistics in detail, just click an icon in the list of trackers. You can see call statistics, conversions, the number of target requests and graphs that will clearly display the outcomes.
Moreover, you will get information on your most "successful" landing pages that lead to visitors making a call, and with these insights, you will be able to better structure your work.
---
As you can see, Zadarma call tracking is a simple and accessible tool for important business tasks such as advertising channels analytics and both saving and optimising marketing budgets. The service itself is absolutely free and you only pay for virtual numbers. All incoming calls are also free of charge (unless you use toll-free numbers for call tracking). Analyze your advertising and its conversion with helpful Zadarma tools.