There are huge business benefits of integrating phone systems and Customer Relationship Management (CRM) solutions. Fundamentally it will make your business more strategic, analytical, operational, collaborative and above all more streamlined. At Zadarma we can provide CRM and business phone integration. We offer our very own free CRM, now with CRM end to end analytics. The Teamsale CRM can assist with automating all key processes, within the standard VoIP package at no additional charge. Teamsale CRM is fully integrated with Zadarma telephony and PBX and is suitable for all businesses no matter their size and regardless of employee usage. Zadarma's Cloud-based CRM solution helps you keep track of relationships with existing and potential clients and partners, conveniently plan daily tasks and provides views and reports on team performance providing a clear review of team accountability and effectiveness. It can provide you with the ability to create and manage teams, create, monitor and complete tasks as well as recognise each client call or email. The advantages are extensive when introducing a CRM analytical solution into your business. It will consolidate inbound data allowing you to manage your clients, employees, leads and forward and allocate calls effectively.
End to end CRM analytics available to all Zadarma users
We have most recently introduced Zadarma's end to end CRM analytics to all Zadarma registered users of our CRM system. Any registered user can access Teamsale CRM and the analytics tool completely free of charge. The analytical feature allows you to create a UTM tag for each phone number within the CRM and have full visibility of the source of each client call. Once more performance reports can be run through the analytics feature which provides statistics by all inbound sources. Similarly, call tracking can be displayed through the analytics tool and it can also track when customer service teams start and end their working shift through call pattern data. This can be effective to track when teams are clocking in and clocking out as well as record peak activity periods across the working day.
CRM analytics can be highly beneficial to a variety of customer-facing teams and sales motivated businesses. We have considered various CRM use cases examples, to showcase how integrating CRM analytics can help your business.
How can your sales team benefit from CRM Analytics?
Lead Prioritization and Follow Up
If your sales team is receiving a high volume of calls or sending a high volume of emails on a daily basis then they may be losing track of which enquiries have been followed and which haven't. Leads and follow up enquiry calls can often fall through the net and be lost without tracking in place. How can CRM analytics help? Zadarma's CRM built-in analytics allows you to make calls and send emails from the CRM interface. With the added benefit of CRM analytics each number has a UTM tag allowing you to track & order the call source. As a result your sales team can prioritise their enquiries and follow up tasks and reminders can be set in the moment. Zadarma's CRM solution will help you keep track of each client relationship. Customer service and sales teams are finding Zadarma's end to end CRM analytics highly useful to set customer servicing processes to prioritise leads and follow up tasks.
CRM Analytics can help activate a lead scoring
If your sales team is overwhelmed by leads and the conversion strategy lacks process then CRM analytics can help. With analytics in place, sales teams can implement a lead scoring criteria and process, which involves team's scoring each lead based on certain rules that managers can set based on CRM analytics data. The various scorings can trigger further sales and marketing actions. You can set tasks and reminders within the CRM to ensure the actions are prioritised and completed on time. Basic parameters of the lead such as the job title, industry, probability to convert, and even geographic location can be taken into account as per the rules. Top scoring leads will suggest they have the highest purchase intent and often will dictate those leads to prioritise, due to their high probability to close.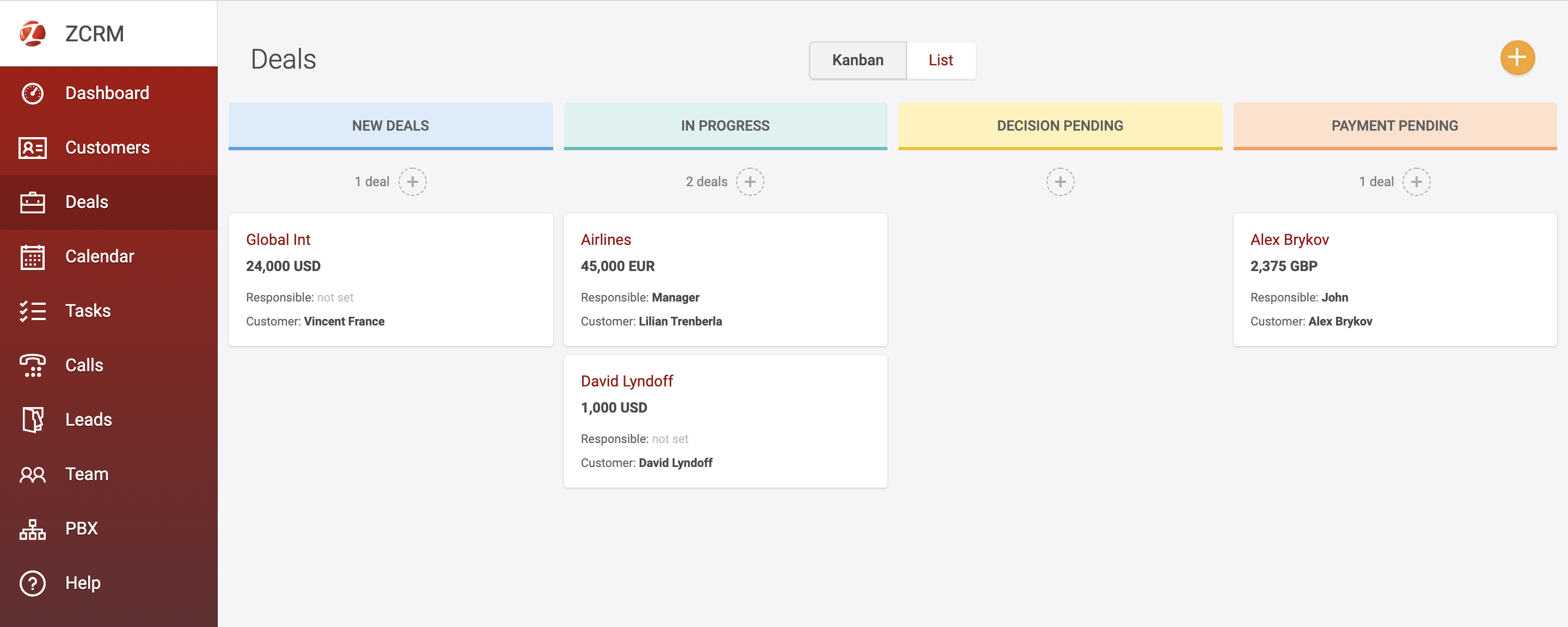 CRM Analytics can assist in monitoring sales performance
If you are looking for your sales team to pick up the pace and improve their outreach, prospecting tactics and deal conversion, then performance monitoring can be highly valuable. How can CRM analytics help? Zadarma's CRM and analytics is simple and easy for sales teams to use and allows managers to assess sales effectiveness and team performance through accessing the analytical reports available. The Teamsale CRM can import contact details en masse which saves data inputting time. The sales team therefore have more time to research, monitor leads, write better emails, and have more focused calls. The extra time incurred allows team's to enforce their sales plan to ensure they are delivering a more considered outreach approach. If you are a sales team manager, you may want to understand the sales cycle in more detail. You may find it useful to know about the average time it takes to close a deal and are intrigued to understand if your sales team needs more training at a particular stage of the sales cycle. Teamsale CRM analytics can provide a simple analytical sales cycle report. This will show you the average time it takes a sales representative to close a deal with different clients. One can explore the number of calls, touch points, call duration and speech recognition within each calls. This can provide insight into the sales cycle and whether there are training requirements. CRM analytics provides transparent tracking of customer-salesperson interactions.
How can your marketing team benefit from CRM Analytics?
CRM Analytics helps contextualise your marketing data
If your marketing team is looking for deeper insight into which marketing campaigns are most effective then CRM analytics can be highly beneficial. CRM analytical data can help your marketing team identify, capture, nurture and convert marketing qualified leads. It can assist in providing vital data, monitoring performance of marketing drip campaigns within the sales and marketing campaign cycle. All of this can create a smoother and more consistent customer experience and improve click through and conversion rates. Zadarma's CRM and analytics tool, is capable of gathering and analysing collated data from a sales and marketing team's outreach through email and calls. The analytical reports provide insight into the best performing tactics. These activities can therefore be tweaked and optimised to improve and better target marketing campaign & channel performance.
CRM Analytics empowering team productivity
CRM Analytics has become an essential tool to aid businesses in further understanding customer behaviour and their target personas. Zadarma's CRM system with its built-in analytics allows users to contextualise and centralise customer data, providing deeper insight into campaigns & empowering conversion rates. These metrics, such as click-through rates, bounce rates, and demographic data, can demonstrate the success of a campaign and highlight opportunities for further optimisation.
The benefits of integrated VoIP-CRM with built in end to end analytics are endless, with few, if any drawbacks. Sophisticated businesses around the world are embracing the power of CRM analytics. CRM Analytics is providing competitive advantages over competition. For instance, through CRM analytics, you will be able to see if a particular marketing campaign source is creating new leads and inbound enquiries (calls and emails), then a marketing manager can understand quickly that this campaign could be highly lucrative. They can make the decision to increase its exposure to maximise the inbound click through and enquiry potential. Using CRM software with CRM analytics, can better focus and free up your employees by handling more mundane menial tasks. Employees can then focus on building customer relationships and more human centric tasks. It also ensures tasks are completed and don't fall through the cracks. Zadarma's CRM analytics tool has been proven to empower business processes and workflows. Using integrated VoIP-CRM with analytical features you will be able to see where your workflow can improve, which empower productivity.
Zadarma's CRM feature list
Here is a quickly summary of the Teamsale CRM features:
A clear and intuitive CRM interface
Freely accessible CRM analytics data and exportable analytical reports
Full and free integration with Zadarma PBX
Joint work of 50+ employees
One-click calls from your browser
Automatic call routing through CRM
Convenient display of current tasks: Kanban, list or in the calendar
Automatic lead creation through CRM system
Full customer interaction history displayed in client card
Export and import of client database to and from other CRM systems
What companies can benefit from CRM Analytics?
Whether you represent a retail, marketing, legal or consulting firm or financial services organisation, most businesses are leveraging the benefits of integrating a CRM into their daily workflows. Understanding customer and prospective customer behaviour is vital and so businesses in these industries have learned the fundamental benefits of introducing an CRM analytical system into their operating infrastructure. Sales, marketing and customer service driven teams will benefit from using CRM analytical tools to manage their customer relations. If your business lacks a clear and defined way to track leads, or finds keeping track of leads difficult, then lead influx and lead confusion could be affecting the quality of your customer servicing. Adopting better processes and systems can help elevate such problems.
A modern CRM makes it much easier to improve customer service, nurture potential leads and marketing campaigns, grow your sales, and enable your teams with the data they need to inspire growth. If your business is serious about reaching its business goals, then introducing a CRM with built in end to end analytics is a smart move. Leveraging CRM data can assist in building better relationships with your customers, help your teams better manage customer interactions, and above all, improve deal conversion rates.
If you would like to understand more about Zadarma's end to end CRM analytics, you can visit this page.