Voicemail is one of the Zadarma Cloud PBX features that can be helpful both for business and personal use. We have recently introduced a new useful feature – voicemail transcription and forwarding the transcribed text to Zadarma apps or email.
Let's take a look at a few use examples. By default, voicemail has to be enabled for your PBX extension number (My PBX/Extension numbers/Call forwarding/Voicemail) and recognition is enabled for all calls. All transcribed voicemail messages will be also sent to your email address (or addresses) and Zadarma app (on Android or iOS).
Moving on to the examples.
---
Reject a call and receive full voicemail in text
Example:
You are in an important meeting when you get a call through the app. You reject it, voice greeting is asking the caller to leave a message, the system transcribes voicemail to text and in a minute you receive it as a message in the SMS tab of the app.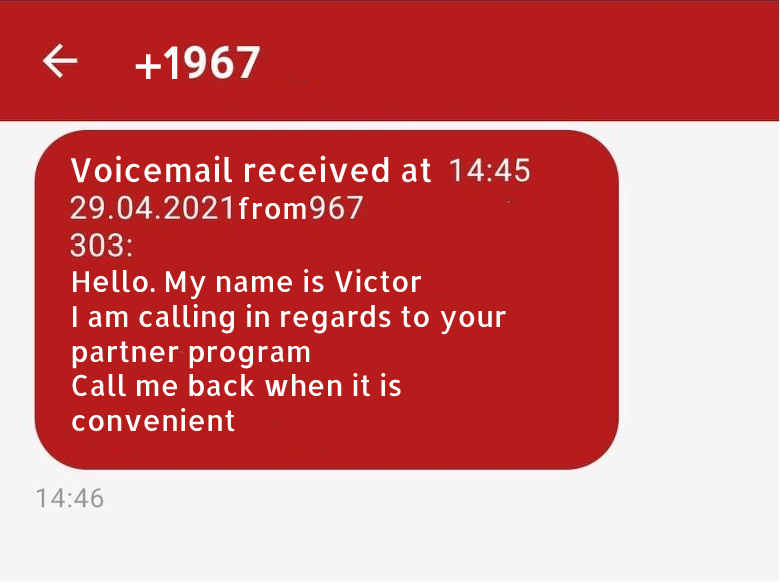 How to set up:
With enabled voicemail set up conditional call forwarding on your extension number (no response, unavailable) and create an outgoing message. For example, "Sorry I cannot pick up right now, please leave a message after a signal". You can have the machine voice your greeting message or upload your own file. Now if your device is turned off, the app is switched to DND mode or you are simply rejecting a call – the caller will hear your outgoing message.
Enable DND mode and receive a message
Example:
There are thousands of examples, the most popular one being you are going on a trip and don't want to be bothered by calls, but you don't want to lose your contacts. You can disable the account in the app and receive voicemail messages.
How to set up:
Just like in the last case – voicemail greeting and unconditional forwarding. Or conditional forwarding combined with DND mode in the app.
Please note: if the call simultaneously goes to you and other colleague (all of them included in the same PBX scenario), then in call rejection/DND cases voicemail would be the first one to pick up the call and it will not go through to other employees.
Voicemail during off hours
Example:
During off hours your clients will be able to leave any suggestion (hopefully a good one) or ask to call back. Your agents will read the messages in the email or the app (or listen to it from the personal account).
How to set up:
First you need to enable working hours feature in PBX. Autoresponder will be responsible for call coming in during off hours. Prior to that set up an extension number with voicemail and unconditional forwarding and forward all autoresponder scenario calls to that number.
Separate menu item for request/messages
Example:
Clients are calling pizzeria commercial department and hear: Hello, you have reached Pizza-M, if you would like to contact our HQ in London – press 1, for Manchester – press 2, Liverpool – press 3, if you would like to open a franchize in your city – press 5. After pressing 5, the client is met with a voicemail greeting: Hello. After the signal, please state your name and tell us the city where you want to open a pizzeria and our agents will contact you. In this simple way the client leave a request and you can see it along with the phone number in the email or the app.
It is just an example; you can receive any voicemail messages via a separate voice menu item.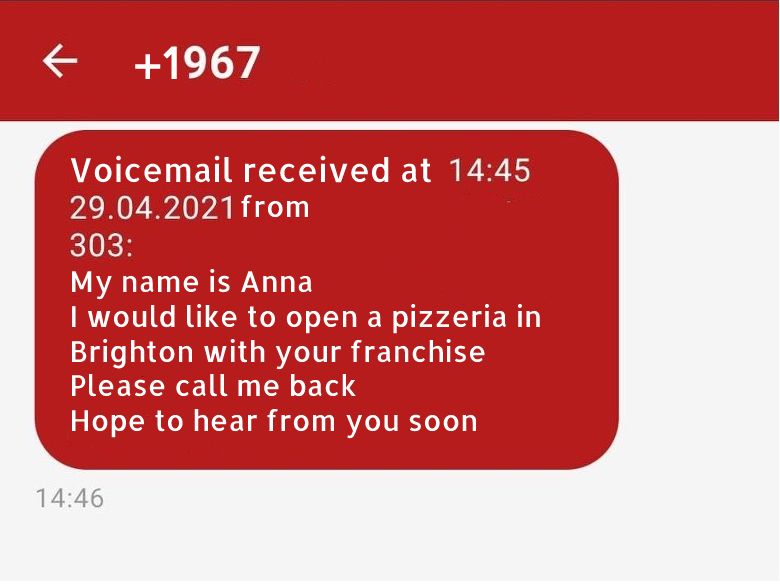 How to set up:
Create a separate extension number and set unconditional call forwarding to voicemail. Upload or enter voicemail greeting "Hello. After the signal, please state your name and tell us the city where you want to open a pizzeria and our agents will contact you" and connect a new account in the app using the extension number information.