Free PBX Zadarma
On the main page of your Personal Account find the "Free PBX" section and click "Create PBX". You will be redirected to the "Wizard" section.
1. Setup Extensions (internal numbers)
You can create a 3-digit extension for each phone system user, and assign it with unique setup, SIP number, call forwarding, etc.
Indicate the number of users or devices, that will be connected to the phone system, and press Next.
You can always create additional extensions, so no need to make add extensions in advance.
2. Setup Voice Greeting and Menu
Here you can activate and setup voice greeting.
You can upload an audio file with your own greeting, or use the text to voice function.
Maximum file size is up to 5 Mb, it can be either MP3 or WAV.
We recommend to use the following audio file features for greeting or hold music:
WAV format: Bitrate = 9 bit, sampling frequency = 16 kHz
MP3 format: Bitrate – 64 kbit/s, sampling frequency = 16 kHz
This will allow for maximum sound quality using the Zadarma Phone System.
If you choose the text to voice option, the text you input will be automatically read by the system. You can enter 5 to 100 characters.
Check the box next to "On" and click Next.
3. Incoming Call Scenarios
You can setup an Interactive Voice Response system (IVR), where a caller is routed to an extension or voicemail based on the button the push on their phone when they call you.
For example:
Press 1: Accounting;
Press 2: Sales;
Press 3: Send a fax;
No button pushed: Operator
Voicemail: Calls forwarded to voicemail (during non-working hours).
In this section you can create and name the routing scenarios. You will be able to setup where the calls are routed in the next step. To create a routing scenario, input its' title, choose the number and click Create.
The "without pressing" scenario is created by default.
4. Incoming Calls Setup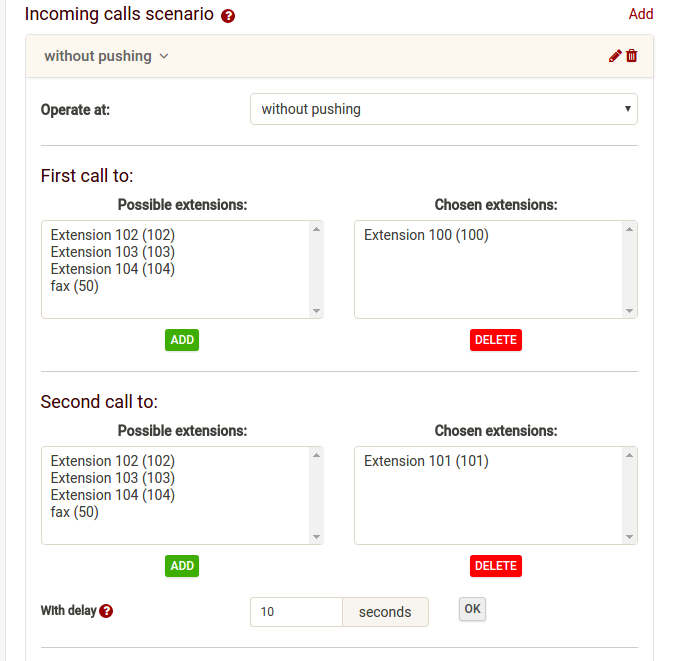 In this section you will have to indicate which extensions (internal numbers) will receive your calls and in what order.
Scenarios consist of three consecutive steps: "First calling to", "Second call to", "Third call to". You can add one or more internal number to each of them. In the "available numbers" column, mark the internal number you want to add and press "Add".
Your incoming calls will be routed to the extensions you chose, in the indicated order.
In order for the phone system to function correctly there must be a "without pressing" scenario in place. This is the default scenario which defines the routing of a call when the caller doesn't press any buttons.
Click "End". Now your phone system is ready.
Softphone download and setup on PC and mobile
You can use any SIP software or equipment in order to receive and make calls.
You can also check examples of popular software and equipment setup in "Help" – "Setup instructions".
Additional Phone System Functions
Call Forwarding
If you don't want to miss a call, you can setup conditional call forwarding to your mobile or landline phone.
Under "My PBX" – "Internal numbers" on the left side of the menu of chosen internal number, check the box next to "Call forwarding and Voicemail" and choose «No response or unavailable» in order to turn conditional call forwarding on, or choose "Always" in order to turn unconditional call forwarding on.
If you choose conditional call forwarding, a call will be routed to a chosen software or equipment, and if it is unavailable or unresponsive for 20 seconds, the call will be routed again.
If you choose unconditional call forwarding, a call will be immediately routed to the chosen number regardless of the software/equipment availability.
In the box "Phone" please indicate a call forwarding number in accordance with set prefixes (if they are set up in the section "My PBX" – "Outgoing calls") numbers only, without the plus character and check the box "Phone" to save your settings.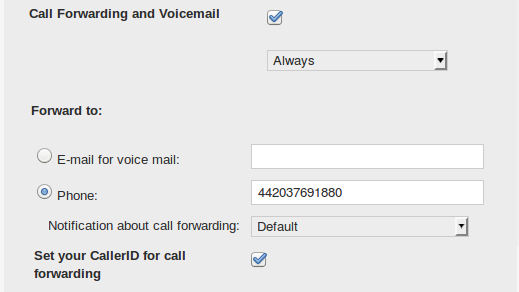 If prefixes are not set up, you should enter a number in international format: country code + city/operator code +number, for example, 19178456006.
Call forwarding alert – in order to understand that you are receiving a forwarded call and not a direct one, you can set up an alert. You will hear it while answering a call before you will be connected to a call recipient.
Standard alert – one signal tone like a signal in the beginning of voicemail recording.
Under the "CallerID setup" option you may choose what number is displayed when a call is forwarded. By switching it on, the CallerID will be the internal extension called, if it's off, the caller number will be displayed.
Rates for forwarded calls are the same as the rates of outgoing calls.
Call recording
You can record both outgoing and incoming calls in Zadarma Phone System:
The recordings will be sent to your email address or kept in cloud storage (on our server).
Call recordings for up to 3 extensions is free. The call recording rate for additional extensions is $1 a month.
The available space on the cloud storage is 200Mb (enough for over 10 hours of calls). You can find the recordings under "My PBX" – "PBX Statistics" or download them using the API. If call recording is turned off, the recordings will be deleted from the Cloud in 180 days.
To enable call recordings, go to "My PBX" - "Internal numbers".
Additional scenario for direct numbers
If there are several virtual numbers in your account and it is necessary to route them to different internal PBX logins, you can create incoming calls scenario for each number.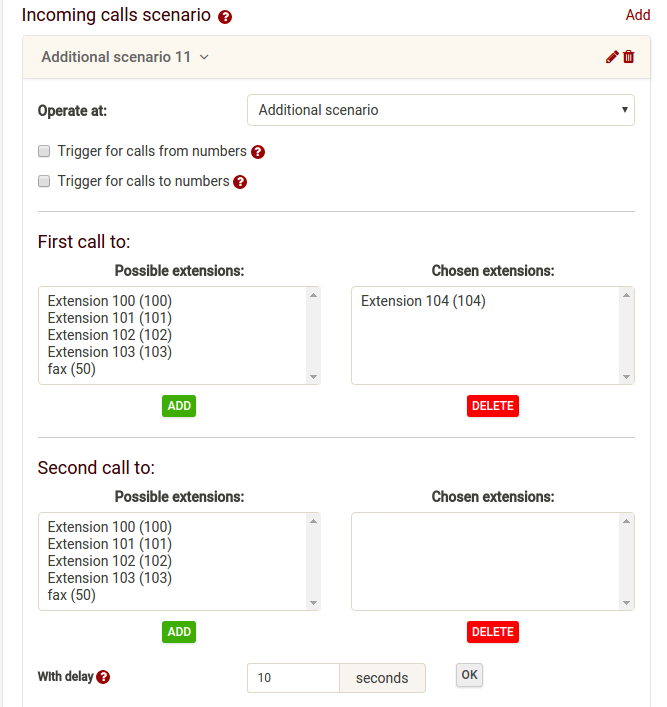 When adding a routing scenario under "My PBX" - "Incoming calls and voice menu", use the "Additional Scenario" option.
Use the "Trigger for calls to numbers" option to select the virtual numbers (one or more) and the internal extensions the call should be routed to.
If this option is turned on, calls to the selected number will be routed to this scenario without voice greeting.
Routing Calls Based on the Caller Number
If you want to route call from a specific client to a specific operator, you can also create a scenario for this purpose. Turn the option «Trigger for calls from numbers» on in scenario settings, add client's number in the international format and press "Add".
You can also add a mask for country code or city/operator, for example, 7495*. This option is useful if you want to distribute calls on to different workers depending on the client's region.
If this enabled is enabled, calls from the indicated number will be routed to this scenario without voice greeting.
Multiple Voice Menus
It is possible to create certain voice greeting or different working hours for each virtual number. On the page "My PBX" – "Incoming calls and voice menu" add a new menu, turn the option «Trigger for calls from numbers» and mark a chosen number. In this additional menu you can use the same options, as in main menu.
Working hours
In order to receive call during working hours only, go to the page "My PBX" – "Incoming calls and voice menu". Turn the "Working hours" option on and specify the days and working hours. Here you can also upload a specific voice greeting, which will be played during non-working hours.
Calls during non-working hours can be received for a specific scenario, for example, they can be routed to a specific worker or transferred to a voicemail, where a caller can leave a message.
For this purpose, we offer the "Autoresponder" option.
Call Forwarding to Voicemail
Check the box next to "Call forwarding and voicemail" in "My PBX" "Internal numbers".
Choose the "Always" option, then enter you email address and check the box opposite to it. In the section "Greeting" you can upload a different audio file for voicemail greeting.
Add the extension number to the selected scenario, for example, to the "Autoresponder" (My PBX" – "Incoming calls and voice menu").
Hold Music
While your clients are on hold or being transferred, you can turn the music or ad playing on instead of signal tones - ("My PBX" – "Incoming calls and voice menu").
Please note that music instead of signal tones is only available if PBX is available as well (when voice greeting is turned on).
Black List
If there are calls from numbers you don't want to answer, you can create a scenario "Black list" and add those numbers in it - ("My PBX" – "Incoming calls and voice menu" ).
Additional External Line
You can connect one number from a third party provider to virtual PBX Zadarma on the page "My PBX" – "External lines".
If you have a landline phone number, connected via copper communication line, it's possible to use a VoIP gateway with an FXO port, then activate an external line in your Personal Account in "Gateway" mode, by entering the gate settings from personal account.
If your number is SIP enabled, then simply activate the external line in mode "Server" and enter the number settings.
Your provider should provide you with data for connection: server, domain (can be the same as server), login, password.
On our side, connection to the number is conducted from the following IP addresses:
185.45.152.167
185.45.152.184
185.45.152.185
CallerID
CallerID is the number that your clients will see.
You can set any connected or confirmed number here. You can order a number on the page "Settings" – "Virtual number", subsection "Connect a number".
Choose the right country from the list and press "Buy" near the chosen city.
You can confirm your own number via SMS or call on the page "Settings" – "My account".
If you have several numbers connected and you are making calls in different countries, you can setup rules of automatic number replacement depending on call direction, then you won't have to change CallerID manually every time.
On the right side of the page, in "My PBX" – "Outgoing calls", click "add a rule for CallerID". Enter country code and/or city code, of which you are calling (for example, 7 for Russia, 44 for Great Britain, etc), choose the corresponding CallerID and press "Create".
Transferring and picking up calls
If you want to transfer a client to another extension, press #, then the extension number of the recipient, then # again, for example, #101#.
To transfer a call with voice notification, press * internal number #, for example, *101#. In this case you will be connected with dialed internal number and you can inform your worker, who is calling and why. After one of them finishes the conversation, the client will be transferred to a person on the line.
If the dialed internal number is unresponsive for 25 seconds, the call will be redirected to you.
If your internal number is not in the incoming calls scenario, in order to pick up incoming call, enter 40 and press Call.
These are the basic features of Zadarma Phone System (PBX). We are constantly working on improving it and adding new functions, you can check it out in PBX settings of your personal account.