This article was provided by HubSpot
Phone communication is a vital part of growing any company. From small businesses just getting started to rapidly expanding enterprise companies, high-quality business phone systems and a great customer experience are essential to stand out against the competition. And investing in the technology that helps your customer care and sales teams do their best work is key to delivering that service.
Using Zadarma's VoIP for Business and HubSpot's CRM together, small businesses and sales teams can increase efficiency, track performance, and create automatic call logs that improve the customer experience.
Zadarma is a digital business phone provider — it enables you to set up your business phone system without heavy hardware and wiring expenses. Used by over 2 million people worldwide, Zadarma is easy and quick to set up, so your sales and customer care teams can get to work as soon as possible, growing your businesses and supporting your existing customers. It comes with automatic incoming call routing to the responsible agent, free unlimited video conferencing for efficient communication with leads, clients, and partners, name display in smartphone apps, and more.
HubSpot is a powerful Customer Relationship Management (CRM) system that's incredibly easy to use. HubSpot helps businesses, companies, and organizations reach more customers and keep them engaged. It can help with sales and marketing, customer service, and website and content management — and with powerful analytics, you can see how customers and prospects interact with your company, what's working, and what isn't.
By using Zadarma and HubSpot together, you can create a much more efficient workflow for all your client-facing teams, monitor the efficacy and performance of these teams, and you can generate searchable transcripts from every customer call — saving you and your team the time spent searching for issues from months or years prior and ensuring and friction-less communication.
Here's how customer care and sales teams are increasing efficiency and communicating better than ever with customers and prospects by using the Zadarma Integration with HubSpot.
Make instant calls to leads and customers in one click, straight from the CRM
Making calls is time-consuming enough as it is — finding a customer's information, punching it in, hoping they answer, leaving a message, logging the call, and choosing a time to call back if needed, and following up via email.
But with Zadarma and HubSpot, sales and customer care associates can call customers and prospects in one click, straight from Zadarma, or you can set it up so you can make outgoing calls from HubSpot. Either way, having all the necessary tools and information about a client available in one system simplifies the workflow of client-facing teams and reduces interruptions in the contact and communications process.
HubSpot contact cards that pop up during calls allow sales agents to have all relevant information in front of them, which makes for a better experience for the recipient of the call — no more needing to recite their entire history with the company to get the associate they're speaking to up to speed. This client-first approach increases brand loyalty and conversion rates.
And during all calls, a ticket will be created right in HubSpot — with the call recording attached.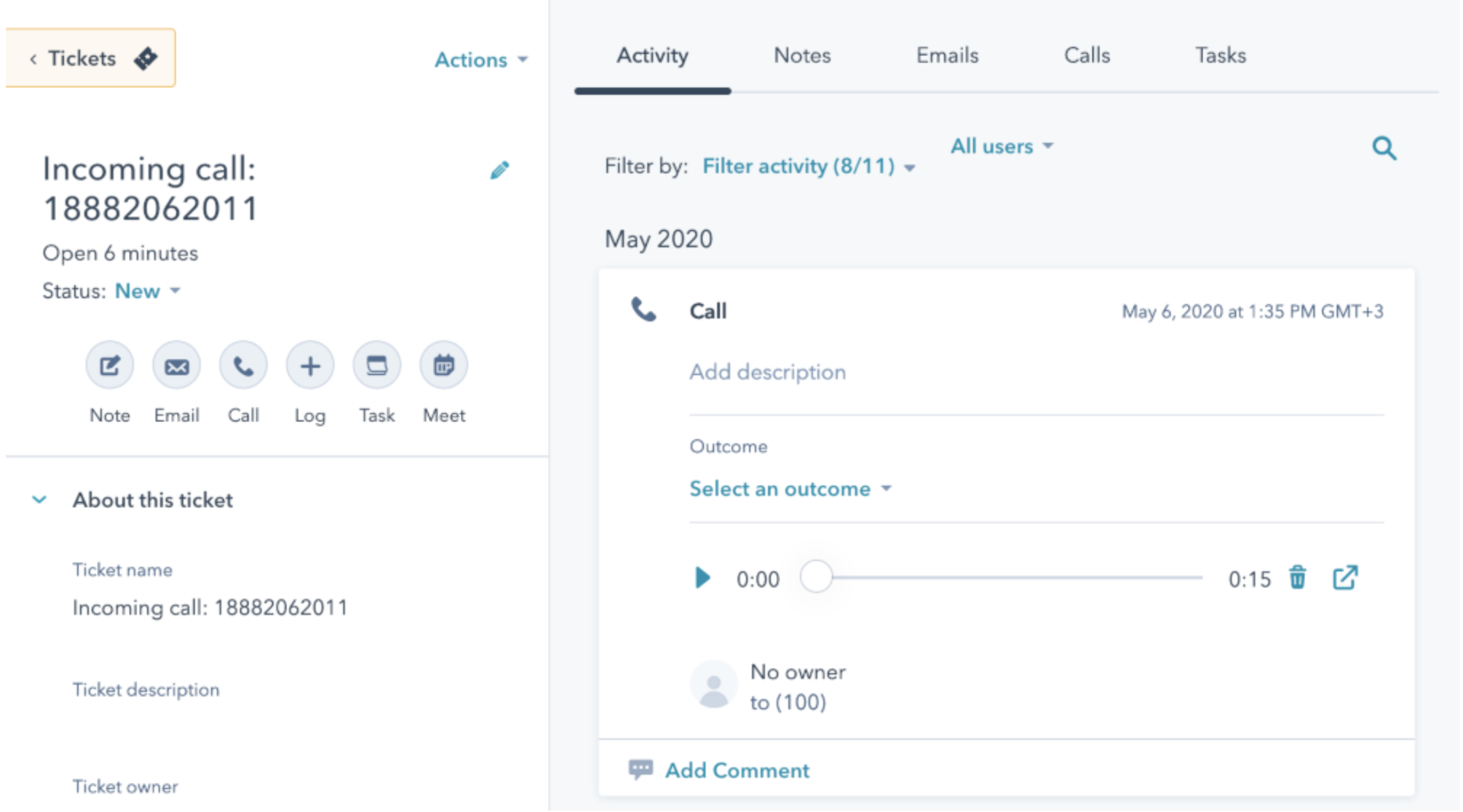 Track the performance of sales and customer support teams
As a fast-paced client-facing team grows, it's important to keep tabs on what processes are working and which need some work, and the same goes for new team members. It takes time to get totally up to speed on the ins and outs of your product, so many teams go through sales or customer care bootcamps when they're first hired. To ensure your teams are performing as well as you'd hoped, it's important to keep an eye on their overall progress as they ramp up.
Zadarma can collect and present call statistics and recordings and provide analytics and feedback; this feature allows managers to evaluate agent performance both quantitatively and qualitatively. Listening to call recordings is also an efficient way to deal with training, to monitor progress and improvement.
This feature can also help with conflict resolution and difficult customers — by integrating with HubSpot, a client-facing associate can see the complete history of a customer as they're calling, helping them to provide the best advice and care possible. And having a procedure in place for when a customer simply can't be helped is critical, and consulting Zadarma's call recordings can be an integral part of the process to find out where things might have gone wrong.
Automatically transcribe all interactions with customer support teams
When there's a problem to be fixed, it's critical to have every piece of the puzzle in place before offering solutions. That's why Zadarma uses AI to transcribe every single client call from sales and customer care teams and attach them to their profiles in HubSpot.
Having searchable call transcripts generated automatically saves agents and managers hours of scrubbing through various calls trying to spot where an issue began. It also means teams can generate reports based on the contents of the transcripts: if the word "disappointed" is coming up regularly in calls, there may be some work to be done with the products that can be relayed to your R&D team. And if "great service" is popping up more and more, it's a sign that your sales and customer care teams are doing something right.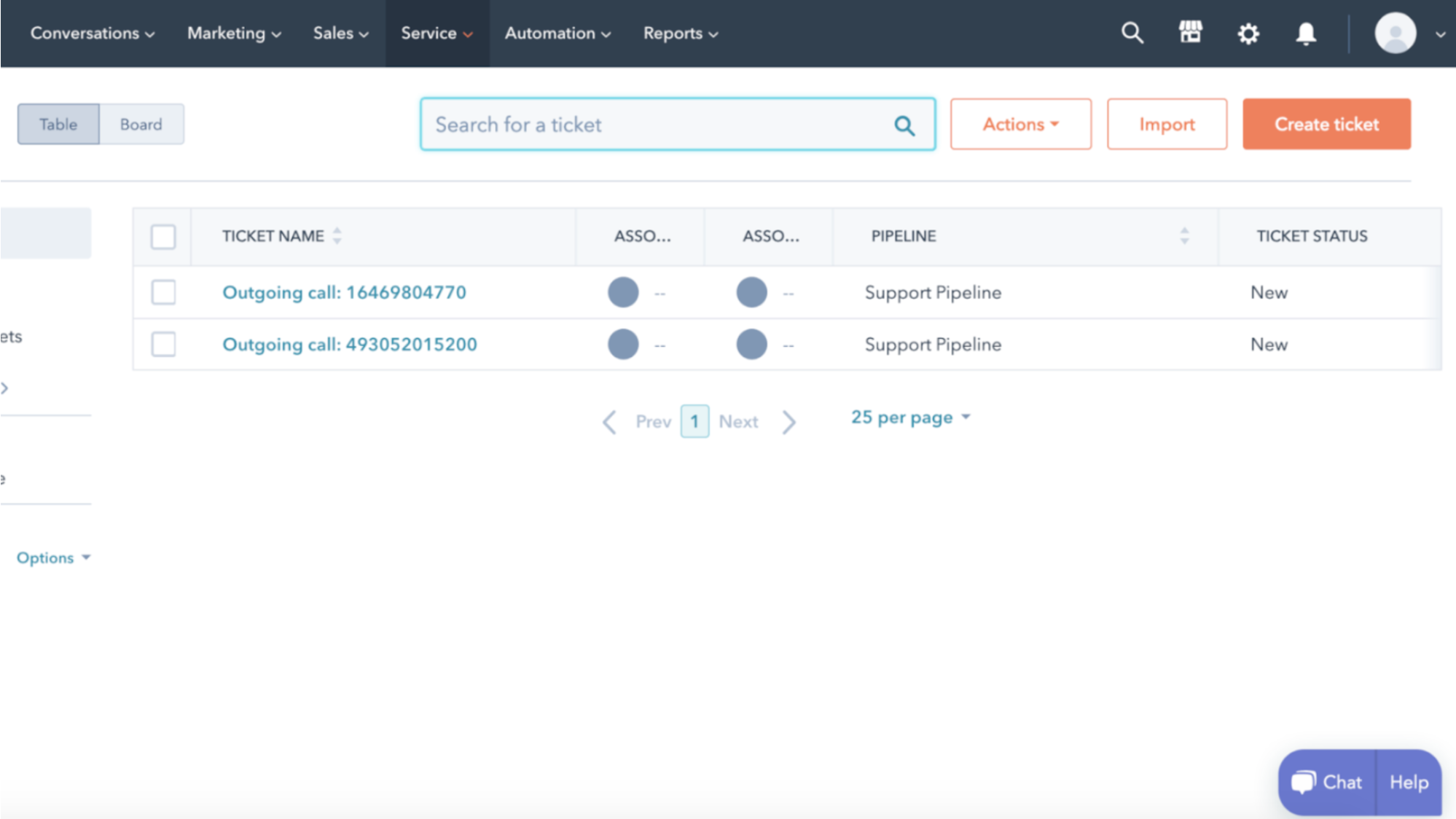 Zadarma + HubSpot work best together
Growing a business is about building relationships. From the moment a prospect learns of your services, through the process of learning about it and choosing to make a purchase, onboarding, using the product, and becoming an advocate for it, the way a customer is treated at every juncture is paramount to creating a great experience. Reliable, clear communication from sales through to customer care is critical and will help turn your customers into brand advocates.