Official Zadarma PBX integration with amoCRM works without additional modules and agents, providing maximum communication quality and reliability.
Zadarma-amoCRM integration is completely free.
Integration features:
Make calls to clients from amoCRM in one click using the browser (WebRTC)
Customer card pop-up when receiving incoming call
Call statistics and recording integration. Listen to call recordings via amoCRM interface
New contact card creation if the incoming call is from a new/unknown number.
Calls from clients are automatically routed to the designated manager.
Client's name display on your IP-phone during incoming calls.
Zadarma advantages:
Completely free PBX, 5 minutes setup
Phone system price plans for call at attractive rates to all destinations
Multichannel numbers in 100 countries (local, mobile, toll-free)
Additional features: call tracking, website widgets, video conferencing
Maximum quality and security (13 years of work, data centers in 5 countries, 24/7 support)
Connect PBX for free
Setup Instructions
1. In order to set up Zadarma PBX and amoCRM integration following requirements need to be met:
You need to have an active Zadarma PBX that has been properly set up. Minimal required settings: extension numbers created, from 1 to 50 (one for each employee). If needed, call recording (Call recordings to cloud) is enabled under Extension number settings. Additionally, incoming calls scenario should be set to the default "without pushing" in My PBX - Incoming calls and IVR.
API authorization keys have to be created in your personal Zadarma account. You can receive keys here: Settings - API, click Generate keys. You will receive an email with the confirmation link.
You should be logged into your Zadarma personal account in the same browser where your amoCRM page has been opened. If you are not logged into your personal account, follow the link my.zadarma.com to log in, and then refresh the page with the amoCRM application installation.
2. Log into amoCRM as an Administrator (account owner). In the bottom left corner click on Settings - Integrations, and enter "Zadarma" in the search box. Click on the Zadarma widget. Read the widget description, and at the bottom of the page click on Registration.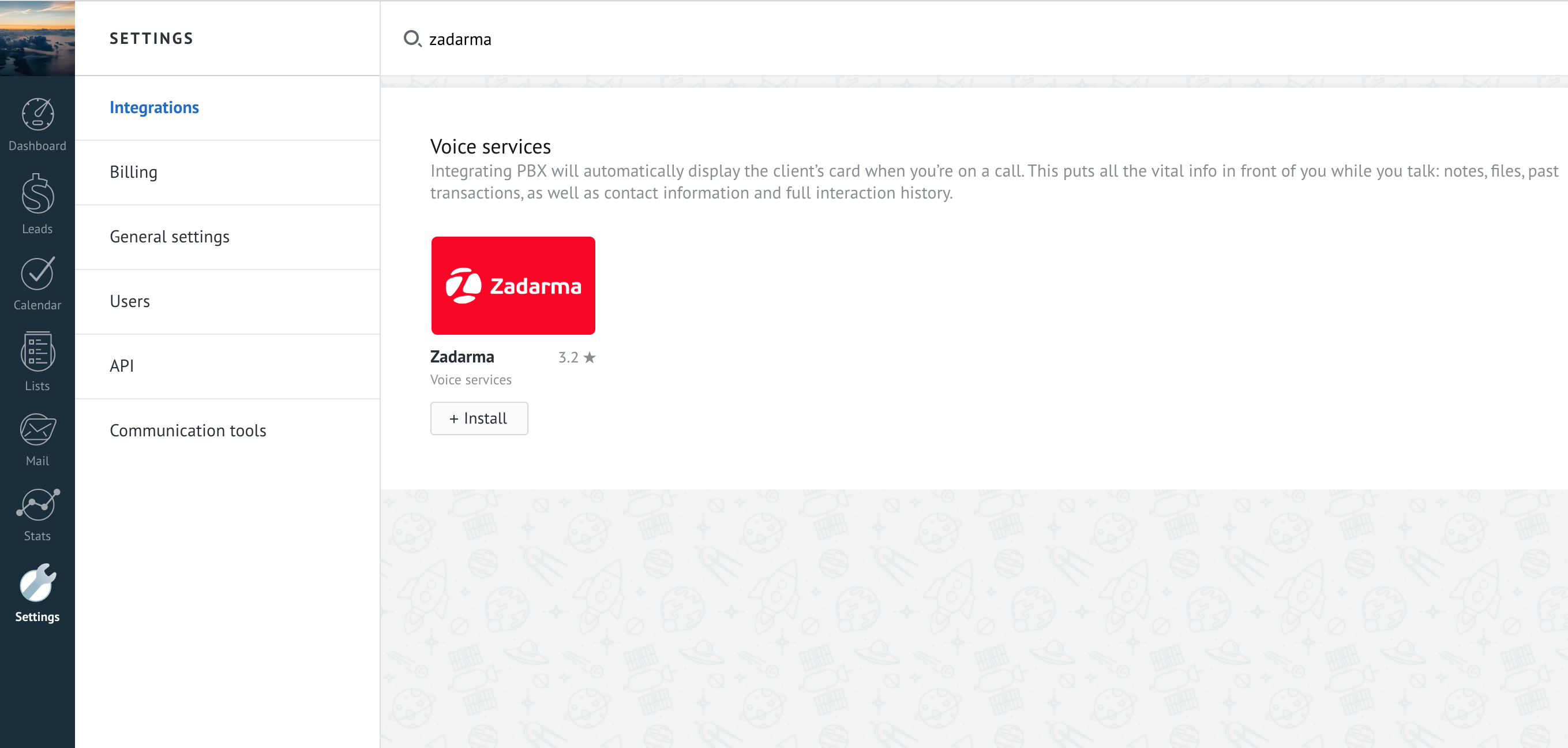 3. After clicking the Registration button, you will be logged into your personal Zadarma account. In a few seconds, the page with Zadarma widget in amoCRM will be opened.
You can designate a specific extension number from Zadarma PBX to an amoCRM user in the widget settings. PBX extension number is a three-digit number that you can see in your personal Zadarma account in My PBX - Extension numbers. The extension number should either have a configured equipment or software for receiving and making calls (Softphone/IP-Phone) or call forwarding to another number should be enabled. Additionally, you can appoint a designated employee (by default) and set up triggering of certain actions. For calls from a browser, the "Use WebRTC" feature has to be enabled.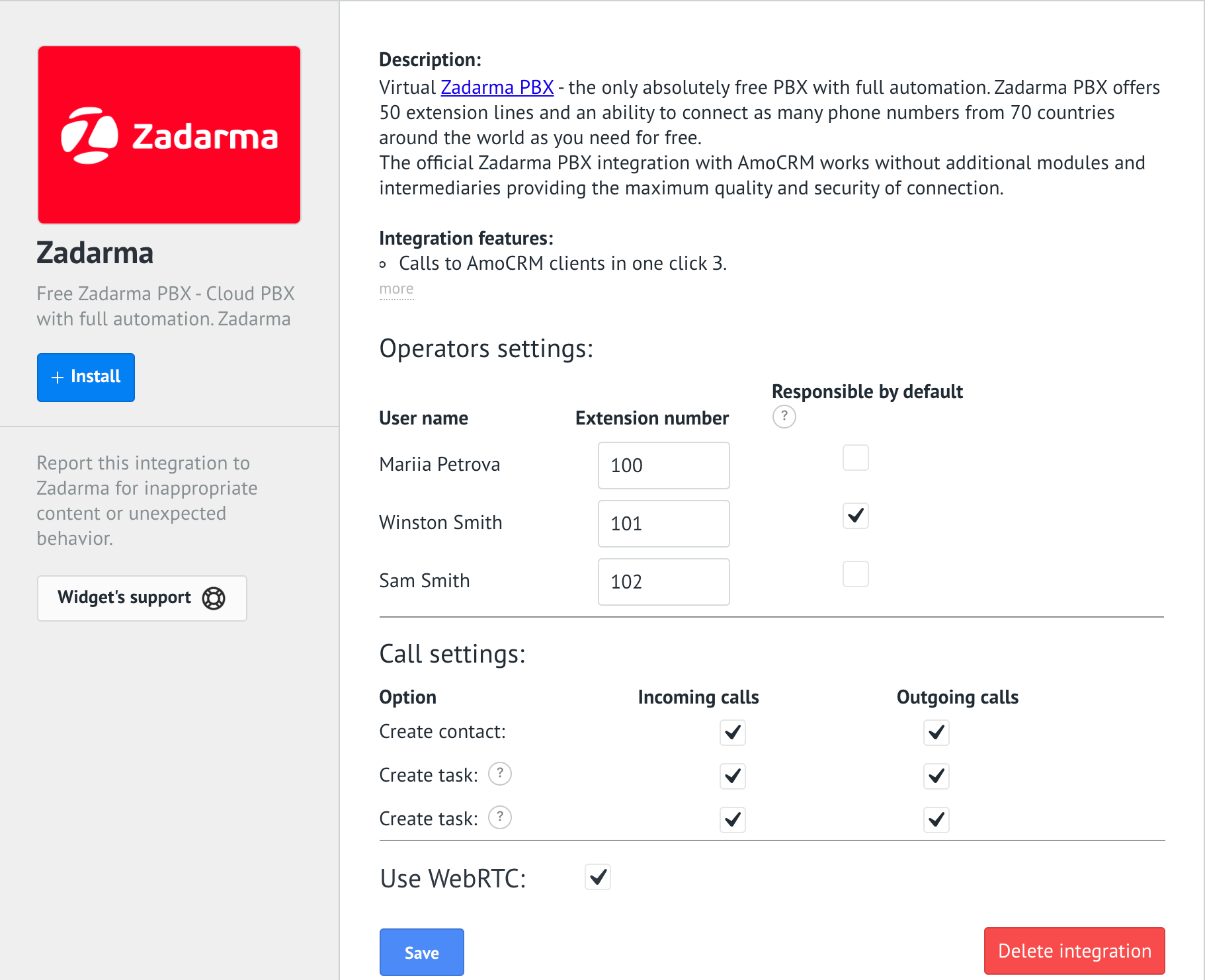 After settings are created, click Install.
4. Zadarma PBX and amoCRM integration is now set. To make an outgoing call open a client's card, click on the phone number, then click on "Call". If WebRTC mode is on, you can also dial a number using the webphone in the left bottom corner of the page. During the first call, you need to allow access to audio equipment in the pop-up window.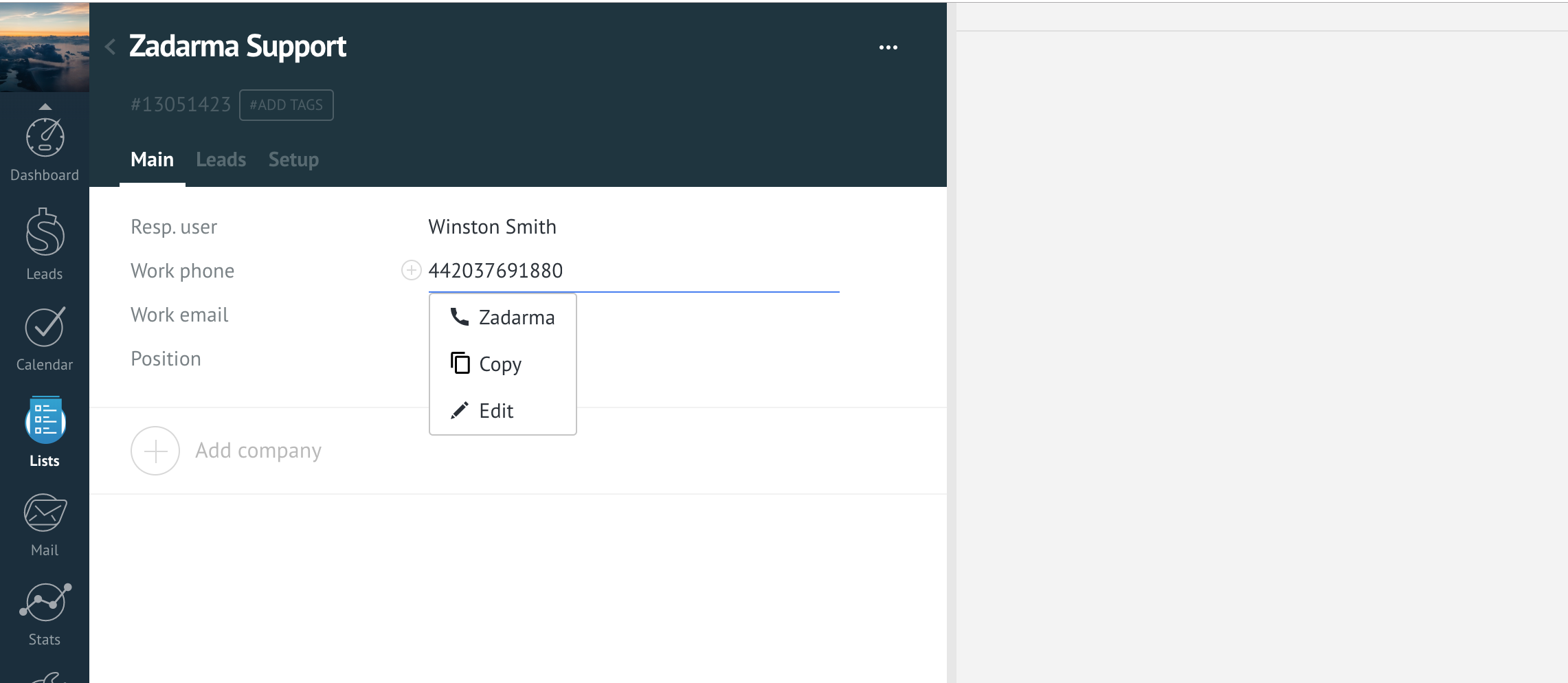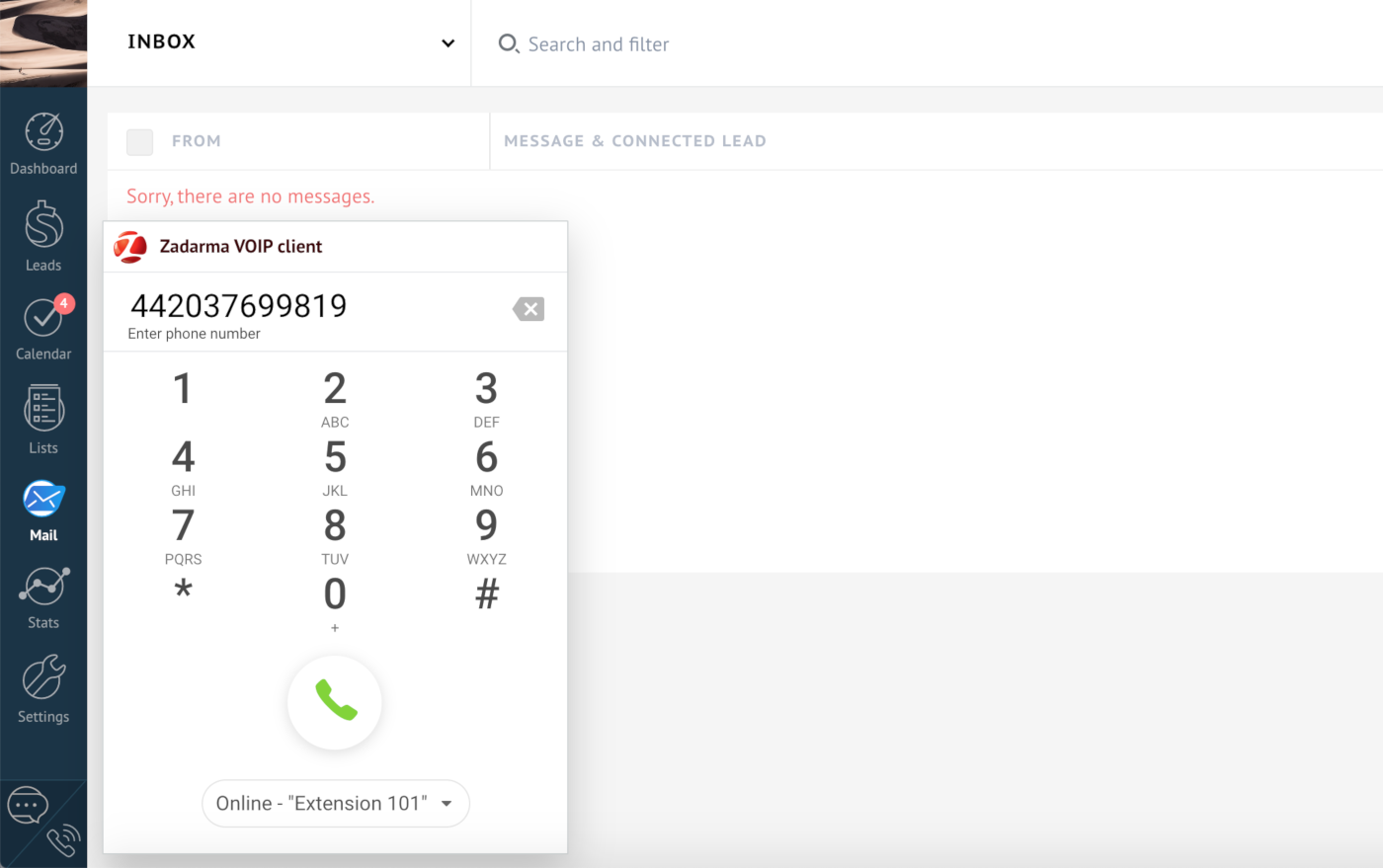 During an incoming call, you will receive a notification showing the client's phone number and details. If WebRTC mode is on, the call will go through the webphone in the browser.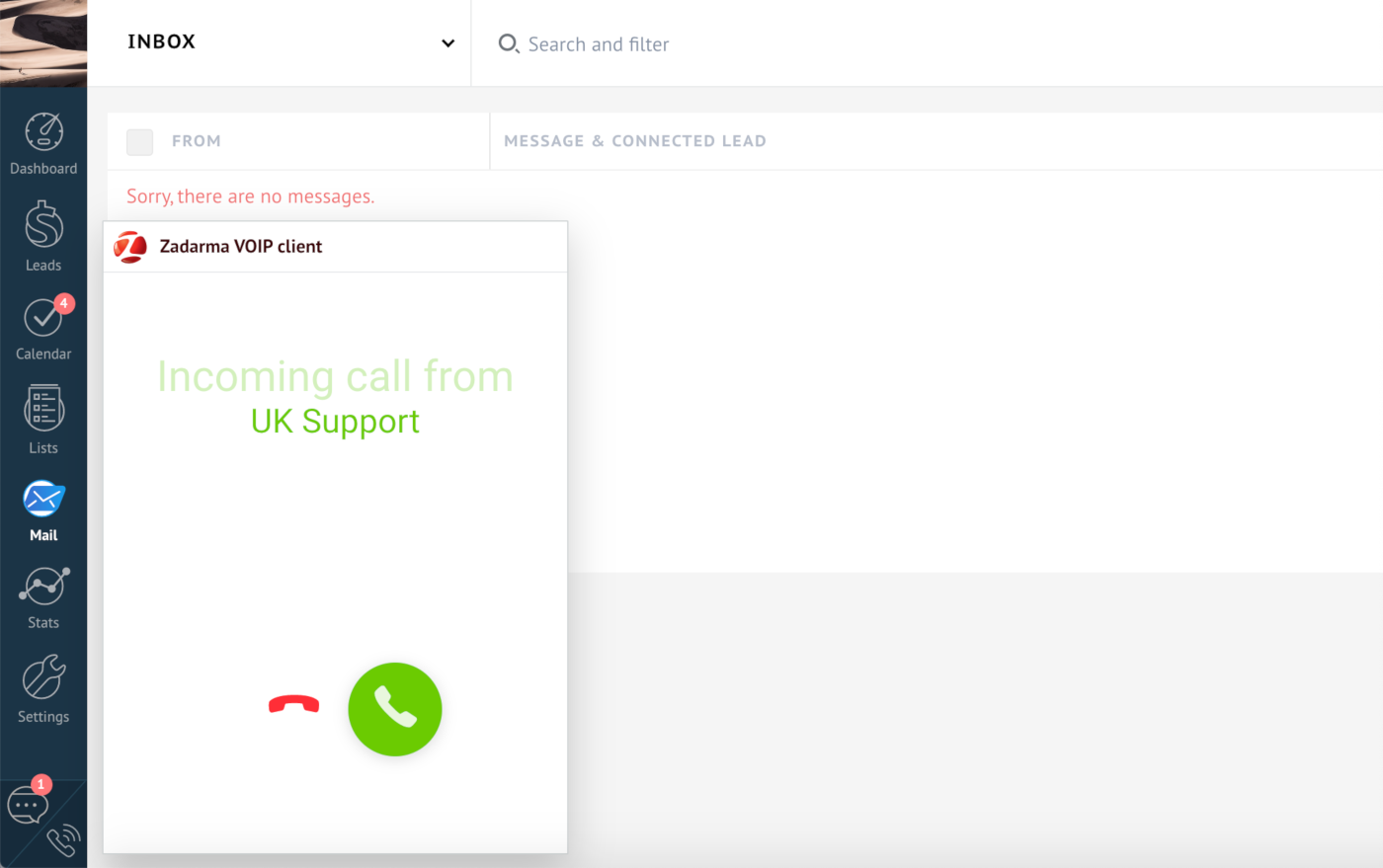 If a contact has a designated employee handling them, all incoming calls from this contact will be routed to the designated employee.
Please note: amoCRM allows you to create multiple contacts with the same names and phone numbers. However, we do not recommend creating duplicate contacts, in this case, call information will be added to only one of the contacts.