Integration of Zadarma PBX and PlanFix
Integration of free IP PBX Zadarma with Planfix works without additional modules and agents, providing maximal communication quality and reliability..
Zadarma-Planfix integration is totally free.
Integration functions:
Calls to clients from Planfix in one click.
Pop-up card of client at incoming call.
Integration of call statistics and call recordings. Possibility to listen call recordings from Planfix.
Zadarma IP PBX advantages:
Connect free IP PBX
Installation manual
1. For integration of Zadarma free IP PBX and Planfix should be done the following conditions:
You need to have active and set Zadarma IP PBX. Minimal settings: added internal numbers from 1 to 50 (one internal number for each employee), active (if necessary) call recording in settings of internal number (Call recordings to cloud), and also added incoming call scenario by default "without pushing" in My PBX - Incoming calls and IVR.
In Zadarma personal account should be created API authorization keys, you can get keys here: Settings - API, click on "Get keys", on your email will be sent a mail with link for confirmation.
2. Log into Planfix under Administrator account (account owner), in right top corner click on menu icon and choose Account management / Integrations then choose Integration with IP PBX. In appeared list click on Activate near Zadarma.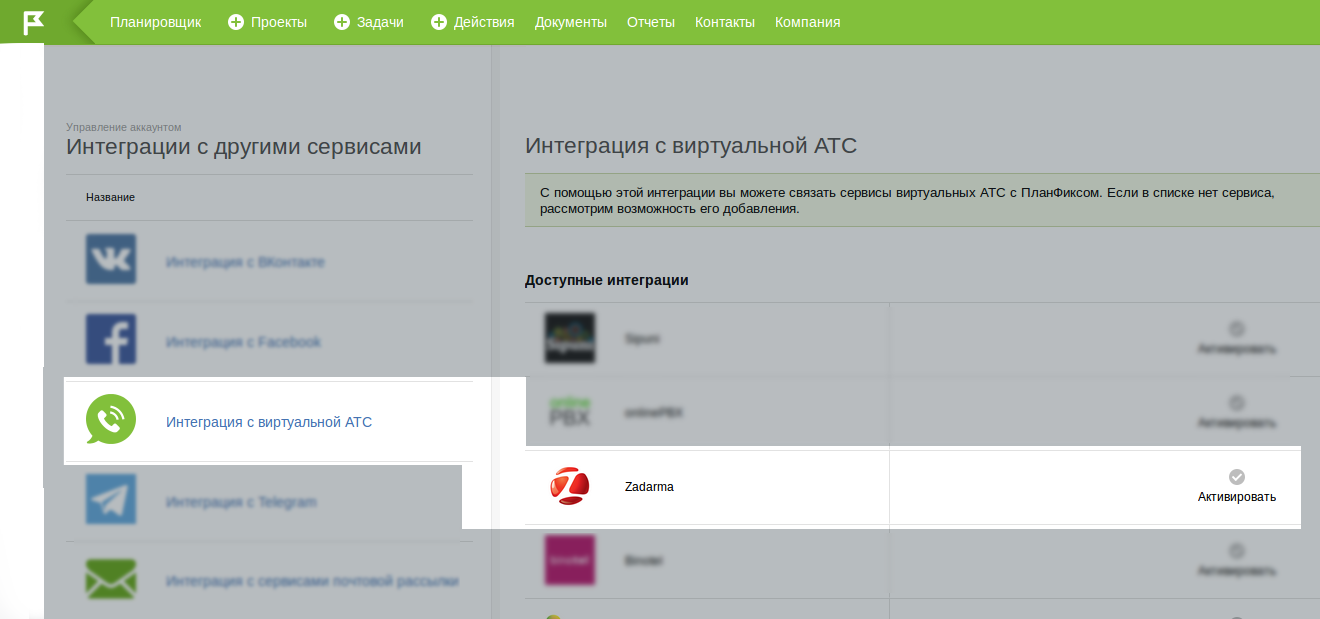 3. Copy URL of receiving script and insert in Link for your resource: in Zadarma personal account on page Settings - API. Then click Refresh.

On the same page enable sending of all types of notifications.

In Zadarma personal account(Settings - API) is necessary to get API keys, click on Get keys". On your email will be sent mail with link for confirmation. After confirmation copy your keys from Key: and Secret: to corresponding fields in Planfix.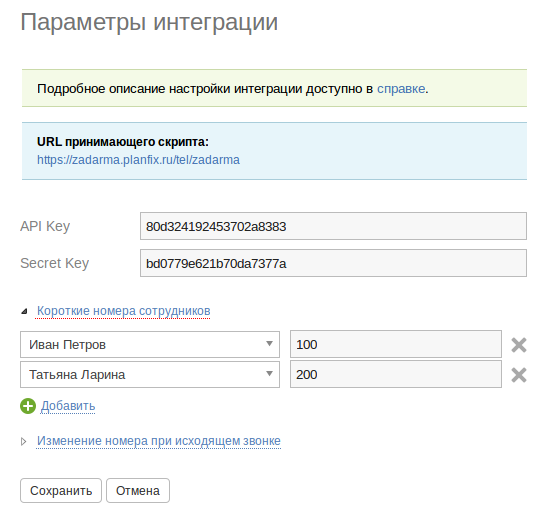 On the same page is necessary to set internal number of IP PBX for each employee. On internal number should be set hardware/software for receiving incoming calls and making outgoing calls (Softphone/IP-phone), or enabled call forwarding on other number. After that click "Save". Integration setup is finished.
4. To make outgoing call from Planfix simply click on button with phone image near phone number.

At incoming call you'll see notification with phone number and contact's details.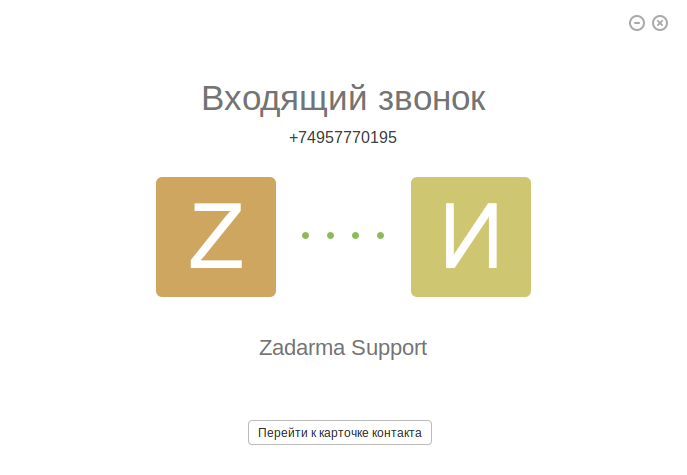 When call ends a call recording will be attached to client's card, for that should be enabled "call recordings to cloud" in settings of internal number of IP PBX, on page My PBX - Internal numbers.