Integrating Zadarma PBX with Zoho CRM
Zadarma PBX integration with Zoho CRM works without additional modules and agents, providing maximum service quality and reliability.
Zadarma - Zoho CRM integration is totally free.
Integration functions:
Make calls to clients from Zoho CRM in one click.
Use customer pop-up card feature when receiving incoming calls.
Listen to call recordings via Zoho CRM interface.
Client calls are routed to the appropriate personal manager and redirected if the manager is busy.
Zadarma PBX advantages:
Connect Free PBX
Setup Instructions
1. In order to set up Zadarma PBX with Zoho CRM the following requirements need to be met:
You should be using Zoho Standard, Professional, Enterprise, Ultimate or Trial Editions. The integration with the Free Editions is unavailable.
You need to have an activated Zadarma PBX that has been properly set up. Required settings: extension numbers should be created, from 1 to 50 (one for each employee). If needed, call recording (Call recording to Cloud) should be activated under "extension number settings". Additionally, incoming calls scenario should be set to the default "without pushing" in "My PBX" under "Incoming calls and IVR".
The extension numbers should either be configured to equipment for receiving and making calls (Softphone/IP-phone) or call forwarding to another number should be enabled.
2. In Zadarma Personal account go to "Settings" - "API and integrations", choose Zoho CRM and click on "Activate Integration"

On the next page, log in to your Zoho CRM account.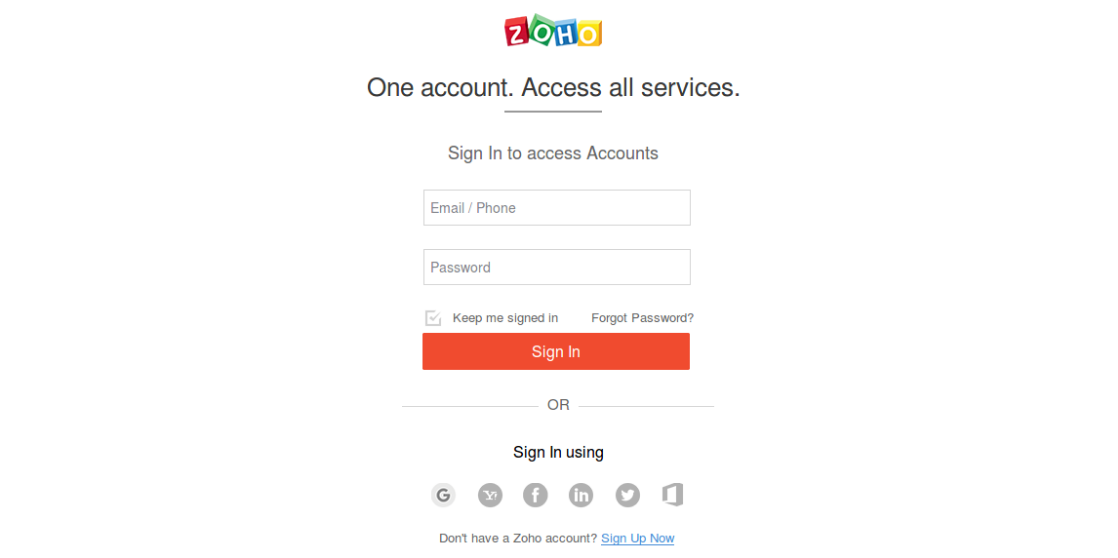 Confirm the user authorization acess to Zoho CRM by clicking "Accept".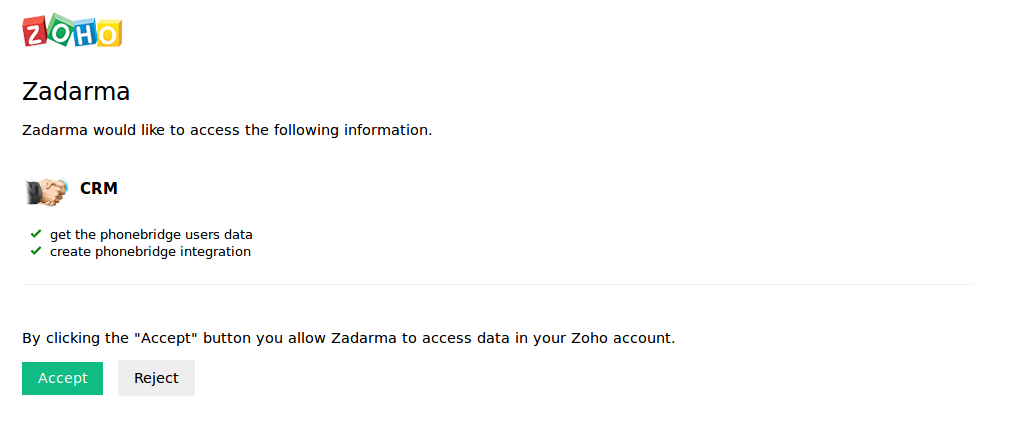 You will receive the following notification: "Integration with Zoho CRM was successful."
On the integration settings page, allocate the internal PBX numbers to Zoho CRM users and press "Save".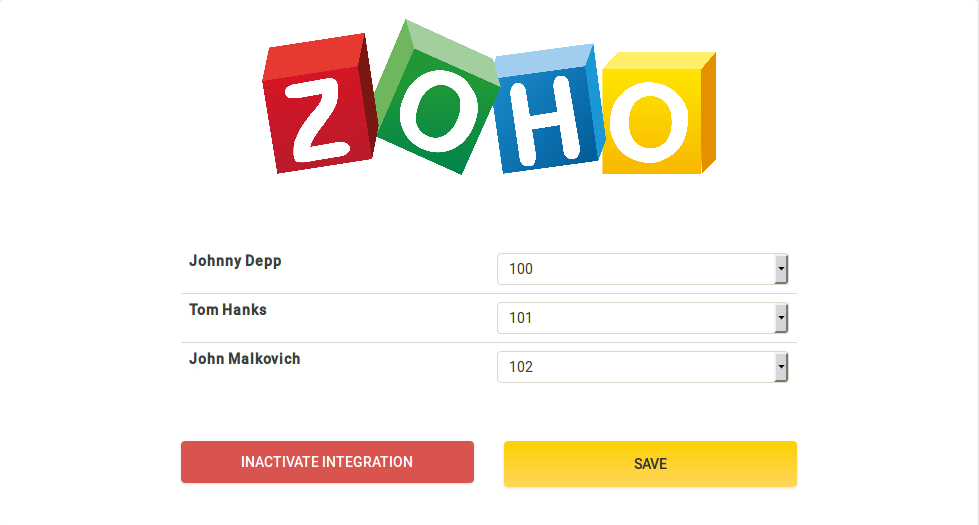 Zadarma virtual PBX integration with Zoho CRM is completed.
3. To make an outgoing call from the Zoho CRM interface, click on the button with a phone image next to the telephone number that you want to call.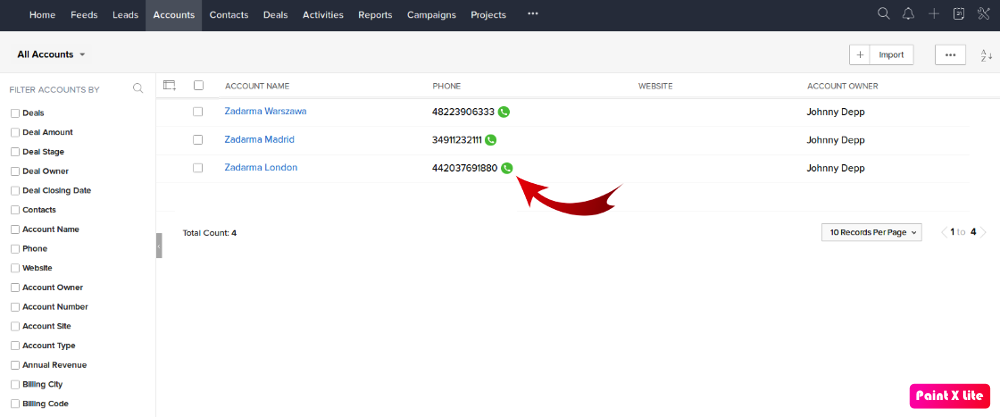 At the time of an incoming or outgoing call, you will see a notification pop up in the right bottom corner of the page. If the phone number has been saved in Zoho CRM before, the pop up notification will show you the caller's contact details. If the phone number has not been saved before, you will see a button that can be used to create a new contact.
During the call, the pop up notification will display the name of the person you are talking to, his or her personal manager, duration of the call and a comments section.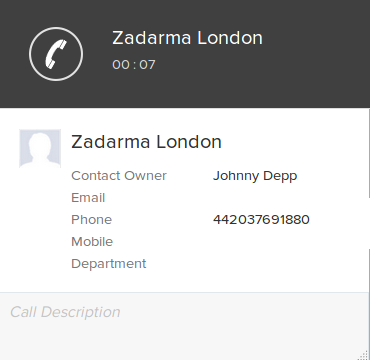 After the call has been completed, the notification will display the total duration of the call and will provide the follow up options: Create a Call, Create an Event or Create a Task.
1. Create a Call. If your client has requested a callback at a later time, in the pop up notification window, press "Call", fill in the subject for the call, date and time of the call and press "Done". At the set time, Zoho CRM will notify you with an alert that it is time to make the call.
2. Create an event. You can create an event based on the call, add call participants and choose the alert time.
3. Create a Task. You can create a task based on the call with your client.