At Zadarma, we have been busy evolving our Cloud PBX. We are now hugely excited to showcase the Zadarma PBX 2.0! If you represent a business with more than one employee and are looking to streamline your telecommunications then VoIP (Voice over Internet Protocol) cloud communications and the adoption of a Private Business Exchange (PBX) could be the answers to your problems. A Cloud PBX is a virtual business phone that can be used within any organisation and allows you to privately communicate internally & externally with customers and suppliers. In this article, we explore the benefits and installation process of PBX 2.0.
What are the benefits of Zadarma's PBX 2.0?
Put simply, this free PBX 2.0 allows you to connect as many phone numbers in different regions, providing a direct call connection instantly to your appropriate employees. The PBX features are endless improving business operations and call performance through call analysis. The PBX 2.0 offers advanced call forwarding features, customisable voicemails, providing missed call notifications. Zadarma's PBX can ensure your business is portrayed as credible, providing a level of sophistication with such a communication solution in place. With features such as the voice menu function and working hour call diversions as well as CRM integration capability, the PBX 2.0 is proving to simplify and unite internal and external processes across business, globally. The feature list for a PBX 2.0 is vast. Within this article we will further detail some of the key features:
1. PBX integration with CRM and other business systems
Zadarma's PBX 2.0 allows you to integrate your VoIP solution with your CRM. This enables any member of your customer service or sales team to provide a heightened personalised customer service experience to each inbound and outbound client call. Zadarma PBX currently integrates with Bitrix24, Zoho CRM, amoCRM, Salesforce, Megaplan, RetailCRM, ZohoDESK, PlanFix and WireCRM.
Zadarma offers a free CRM, the Teamsale CRM. This integrates seamlessly with the PBX, assisting with automating all key processes, including offering video conferencing. Zadarma offers access to Teamsale CRM within the standard PBX package at no additional charge. The cloud-based CRM solution helps you keep track of business contacts, conversations and monitor relationships with existing and potential clients and partners. It allows you to conveniently plan daily tasks and provides views and reports on team performance providing a clear review on team accountability and effectiveness. Zadarma's PBX with Teamsale CRM integration allows users to:
Create and manage teams
Create, monitor and complete tasks
Recognise each client that calls you or emails you
Manage clients, employees and leads, delegating and forwarding calls
Call straight from the CRM web interface or from a softphone
2. Call extensions, call recording and call transfers
Call recording is an essential tool for sales and customer service teams. The PBX 2.0 allows you to set up one or several PBX extension lines with call records sent by email or stored in the cloud. The virtual PBX allows you to record and forward calls. For instance, to transfer a client to a different extension number you simple press #, then the extension number and then press # once more, for example, #101#. You can even transfer a call with a voice note. The user will be connected instantly to the extension number, and then you will be able to notify why you are transferring the call. After you finish the transfer call, the client will be connected to the second number. When the dialled extension number does not answer the call in 25 seconds, the caller will be returned to you. The process is quick to ensure the caller experience is maintained. Once more, you can intercept incoming calls easily with the PBX 2.0, as well as transfer a call to a department through dial scenarios you can set up in your voice menu.
3. Incoming call scenario settings and voice menu
Zadarma's PBX 2.0 offers an easy to use voice menu feature which allows sales and customer service teams to set call routing aligning to working hours, timezone and availability. Incoming call scenarios are a group of extension numbers that will receive incoming calls in a specific situation, for instance, timezone or cities. You then can go on to organise how your calls are managed and change the IVR settings and hold music, set working hours and turn on missed calls notifications based on the scenarios within your voice menu, such as the following inbound call scenario examples:
Several voice menus - to accommodate working hours for different offices
Additional scenarios for direct dialling - to direct to different PBX extension numbers, which you can create a separate scenario for each number without a voice greeting or menu
Call groups - You can create a call group, of a collection of internal & external numbers and you can create a 'Trigger' to activate the scenario when pressed. The scenario can be triggered not only by pressing a certain button but also when a call comes from a certain number or a group of numbers (for example, +4420*), as well by a call to one of your numbers at Zadarma
4. PBX statistics, speech recognition & speech analytics
The PBX 2.0 offers detailed statistics of PBX calls. This can be found within your 'My PBX' page, under 'PBX Statistics.' As well as monitor, control and analyse call performance through the built-in statistics feature, you can set a statistics time frame, compare different periods, and see charts and the geographic origin of inbound calls. Statistics and charts are available both for all calls and calls on certain virtual numbers (or external lines). Call performance monitoring tools are valuable to sales and customer service driven businesses. The PBX statistics feature has been commended for its accessible call analytics reports and usable charts. This feature is being used by businesses to understand how best to improve call quality and sales conversion rates. When every call can affect your revenue, it is vital that each outbound call to customers or prospective customers, provides the highest quality of service. Through the PBX recording call feature, managers can re-listen to calls and use recording as part of training exercises to improve team call performance and customer servicing skills.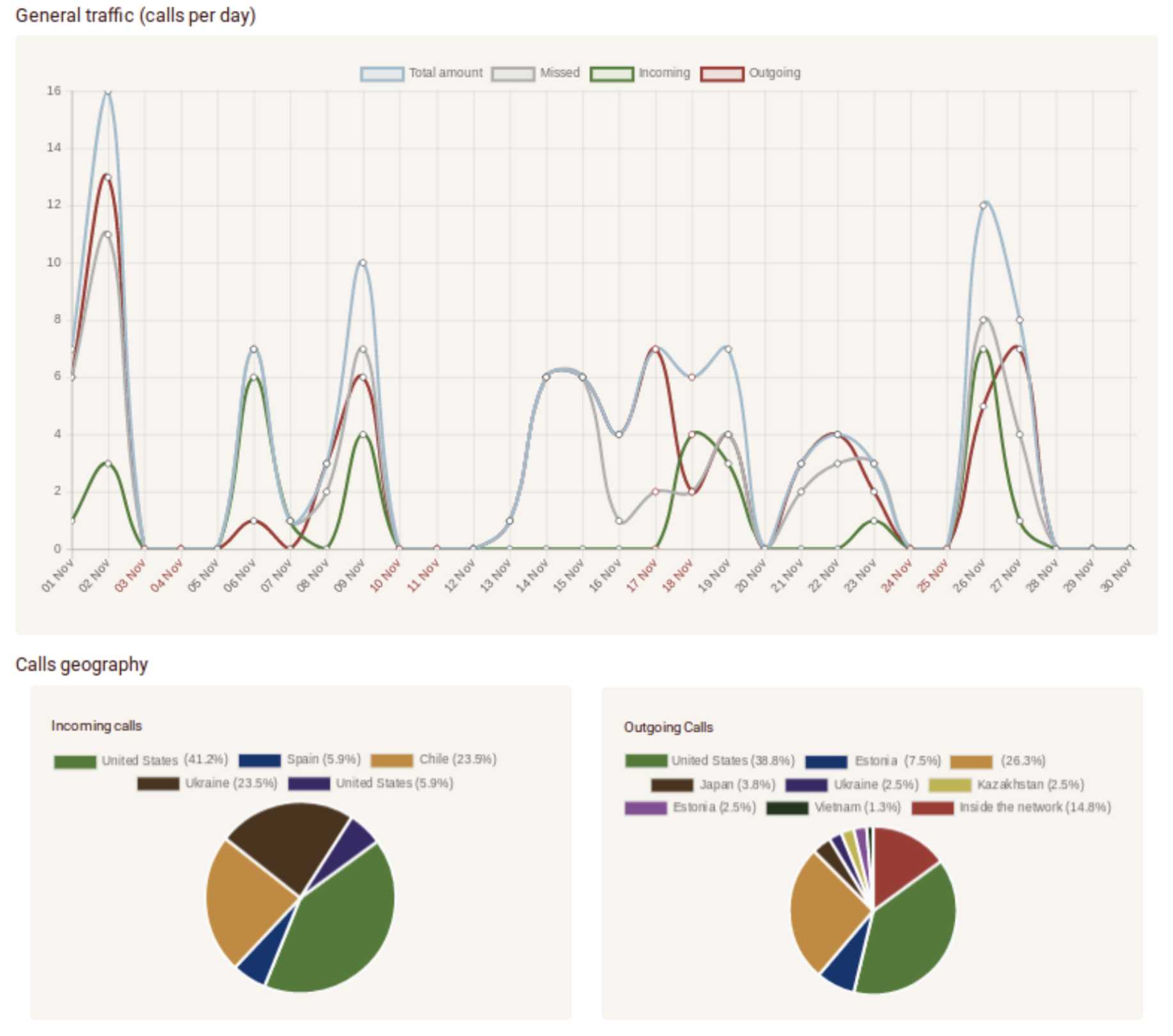 Other features similar to this are the speech analytics features available within the PBX. Also known as call analytics, this is a specialised technology that enables the extraction of relevant data from either a real-time conversation or a previously saved audio file. With the free PBX 2.0, you can not only listen to call recordings and see their text transcription, but they also have visibility of call analytics data for further internal business processing, analysis and improvements. The speech recognition feature is a paid-for service and the price depends on the language of recognition and phone system price plan you are on but all options include free transcription minutes along with the analytics feature. The call recording PBX feature mentioned previously in this article, along with the speech analytics and speech recognition features, can again be used as sources and examples for improvement, as part of your internal customer services team training exercises.
5. Automatic call forwarding
Zadarma's PBX 2.0 has improved call handling features. Automatic call forward for instance allows your team to never miss a call through the setup of conditional call forwarding to your mobile or landline number. Call forwarding allows your sales and customer services team to direct a call to the relevant sales representative mobile or landline number. Call forwarding is required to receive calls without additional programs, equipment or internet connection. Call forwarding is a very simple feature to enable, without the need of an in-house IT or telecom staff member to activate. With unconditional forwarding, the call will go straight to the forwarding number, regardless of an active program you are using.
6. Caller ID & Virtual Numbers
Zadarma PBX 2.0 provides you with a CallerID. This is the number that will be displayed for outgoing calls. You can set any connected or verified number for CallerID. Plus you can also use alternative IDs when calling from different countries or cities as well use a separate ID when calling from different devices. You can set up your CallerID by destination through your 'My PBX' page and going to 'Outgoing Calls' and clicking 'CallerID' by destination. Connecting a virtual number. To receive external incoming calls you need to connect a phone number to your PBX. You can choose one or several virtual numbers in 100 countries on the 'Settings' page 'Virtual numbers'.
7. Additional external lines
The PBX 2.0 allows you to set up external lines. Zadarma can provide you with an IP address to activate this. If you have a traditional landline number connected through a copper line, you will need to use the VoIP gateway with FXO port, enable an external line in the gateway mode and specify settings from the website for the gateway. If your number supports SIP operation, you can just enable the line in Server mode and specify number settings. Zadarma agents offer a 24/7 help desk and are always on hand to assist you with any support to guide you through how to set up additional or external lines.
Installation of Zadarma PBX 2.0
How do you set up the PBX? The PBX is simple and quick to set up. You will need to be a registered user of Zadarma to access the PBX. You will then need to visit the homepage of your personal Zadarma account within the 'Virtual Phone System' tab and then click 'Settings' which will take you to the PBX Setup Wizard. You will then need to follow these two simple steps to complete the PBX set-up process.
Step 1 - Setting Up Extension Numbers
Usually there is one number for each employee, however, the PBX 2.0 provides you with the opportunity to create up to 3 numbers for different usage. For example, you may wish to have a different number set up for the reception desk versus your hot desk locations. From there for each PBX user you can create a 3-digit extension number and set up a separate program, as well as equipment, IP phone, call forwarding and voicemails where appropriate. You must specify the amount of devices and employees that will be using and be connected to your PBX. You do this by checking the 'Enable Call Recording For All' box. You can create additional numbers as and when you want. Call recording is provided free of charge with 3 extensions.
As mentioned earlier, the Zadarma PBX 2.0 integrates seamlessly with Zadarma's Teamsale CRM. If you wish to integrate your PBX with Zadarma's CRM, you will need to check the corresponding box. This will allow for convenient calls via your browser. You can also gain the advantage of capturing all relevant data through the CRM features such as lead and deal reporting, client profile card and task management features.
You will now need to click the 'Next' button to take you through to the next step of the setup process.

Step 2 - Setting Up Incoming Calls
Within this second step, you will be required to set up call parameters for receiving incoming calls through a number of options.
Option 1 - Directly to employee extension numbers
Option 2 - First to the voice greeting then onto employees
Option 3 - Through the voice menu "To talk to the manager, please, press"
Options 2 and 3 allow you to enter the text of the greeting that will be read by a robot or upload your own audio file. The PBX is hugely flexible. You can amend this option as your business evolves too. Once you have set your option choice, your basic PBX download is complete. Now you will need to organise how your employees will answer calls. You can receive calls through your CRM integration via your browser. You can also make calls via your Google Chrome browser using the plugin. To receive and make calls you can use any software or equipment that works using SIP protocol. The connecting up of equipment or programs is very straightforward via the settings from 'My PBX' page, 'Extension numbers.' For each program or equipment you have to use a separate extension number with its login and password. You can find more information about the incoming call set up here.
Step 3 - Create voice menus
This is arguably the most creative part of the PBX configuration process. Especially with the use of Zadarma's newest addition - visual editor. You can set up triggers for different actions, and see connections between them and call routes. You can add any block from the left side to the chart and set up connections between the blocks. There is also a test option without any additional hassle. You can go to the visual PBX editor by clicking "Open editor" button on My PBX - Incoming calls and IVR page.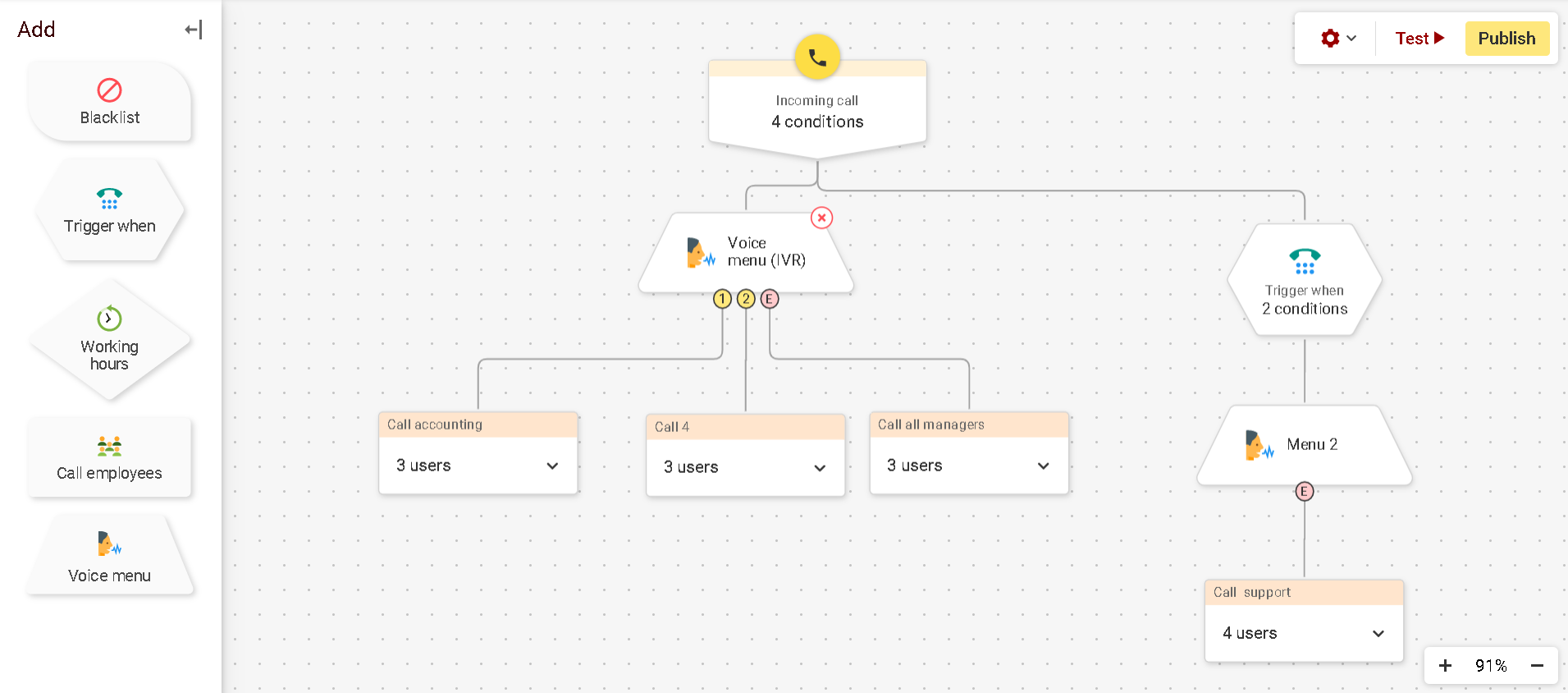 The advances in cybersecurity now mitigate any security concerns around cloud solutions. Cloud providers like Zadarma offer the latest security software in order to fully safeguard all managed systems and the data they hold. In fact, many would argue that the advance of cloud technology is one of the key reasons that cybersecurity has become a competitive, sophisticated, and wider adopted solution globally. Businesses are making core transformations towards adopting centralised cloud communications in operations. By introducing Cloud PBX telecommunications into your organisation, you are set to enjoy the advantage of reduced costs and raised productivity along with engaged customers and employees in the future. Zadarma's Cloud PBX 2.0 provides a turn-key business phone solution that is quick and cost-effective to introduce with a call centre set-up and configuration. It is perfect for remote and international virtual offices under one telephone network, with its virtual phone number and toll-free number connections to anywhere in the world. Whether your company has more than one employee, or you have growth plans to extend headcount and improve your communication process, then it's advisable to introduce a Cloud PBX within your telecommunication infrastructure. This will instantly provide a reliable voice communication solution for your business.
You can find more information on Zadarma PBX 2.0 here and instructions to install can be found via this link.