Cloud VoIP PBX phone systems have never been as popular as they are today. This is mainly due to the advancement in cloud technology and cybersecurity. VoIP stands for Voice over Internet Protocol (VoIP) technology. A PBX allows you to make calls through the Internet, eliminating the need for traditional phone lines. As a result businesses are making significant shifts towards adopting cloud VoIP phone systems. PBX stands for Private Branch Exchange, and has become a general term used to describe a business telephone system that offers multiple lines, as well as additional variety of useful features.
Zadarma provides a fully safeguarded cloud PBX phone system. This is a turn-key phone solution that is quick and cost effective to introduce. Zadarma PBX phone system has an abundance of features including call transfer, call recording, forwarding, call routing, call management, speech analytics, voicemail and video conferencing.
What free features does Zadarma's PBX phone system offer?
1. Call recording and call transfer with call performance statistics
Zadarma's phone system has a variety of call handling features handy for sales and customer service teams. These features are intuitive and fully functional, providing a hassle free call handling solution. The virtual phone system allows you to record and forward calls as well as monitor, control and analyse call performance through the built in statistics feature. The Zadarma's PBX statistics feature has been commended for its accessible call analytics reports and usable charts. This feature is being used by businesses to understand how best to improve call quality and sales conversion rates. When every call can affect your revenue, it is vital that each outbound call provides the highest quality of service. Through the PBX recording call feature, managers can re-listen to calls and use recordings as part of training and mentoring exercises to improve team call performance, customer servicing skills to influence customer satisfaction rates.
2. PBX integration with CRM systems, including Zadarma's Teamsale CRM.
Integrating your VoIP solution with your CRM enables any member of your team to provide a more personalised customer service experience to each inbound and outbound client call. Zadarma PBX currently integrates with a variety of mainstream CRM systems including Salesforce, HubSpot, Zoho, and others, as well as operates across Android, Windows, iOS, Linux, MacOS, and Blackberry. At Zadarma, we offer our own CRM system Teamsale. This free CRM seamlessly integrates with the Zadarma PBX and it remains free regardless of the number of users in your organisation.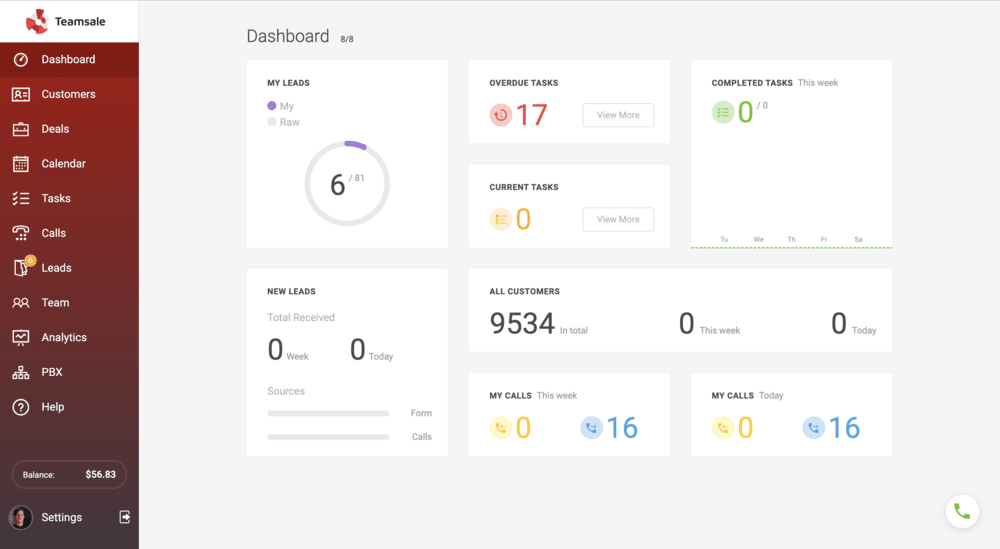 3. Push notifications for messaging
Zadarma's PBX phone system offers automated push notifications, for instance when you receive a missed call. You can also set up notifications to alert you of your account balance, price plan renewals, and SMS messages. This feature has proved popular for busy, lean teams who are often on-the go.
4. Speech recognition and speech analytics
Zadarma's PBX can not only listen to call recordings and review text transcription, but also provides visibility of call analytics data for further internal business processing, analysis and improvements. The speech recognition feature is a paid-for service and the price depends on the language of recognition and phone system price plan you are on but all options include free transcription minutes along with the analytics feature. Speech analytics, also known as call analytics, is a specialised technology that enables the extraction of relevant data from a conversation previously saved to audio file which is transcribed in seconds.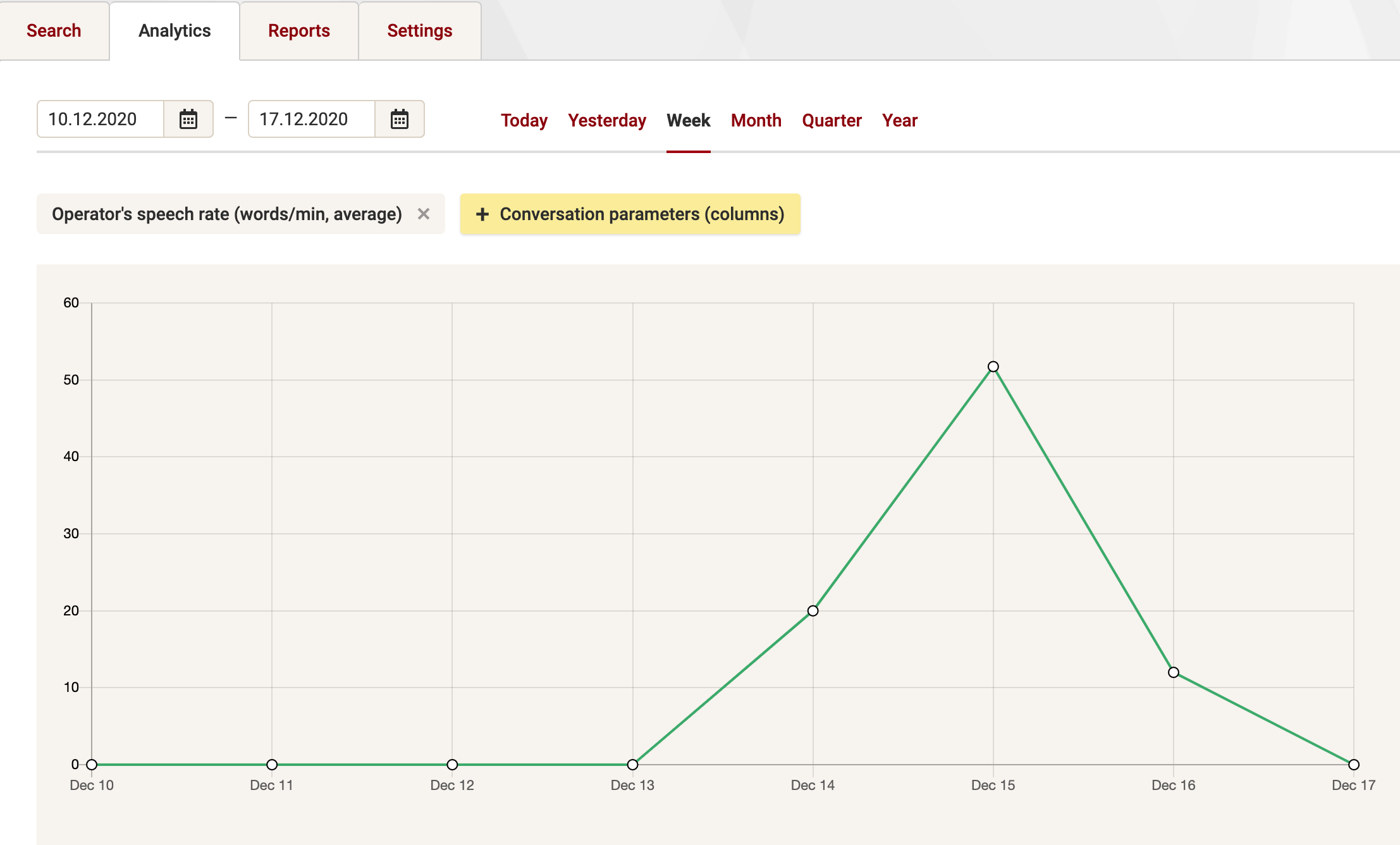 5. Multiple lines and phone numbers
Zadarma offers phone numbers in 100 countries and they are all multichannel numbers. But if you want to stay with your current line, Zadarma allows you to link up to 20 numbers from different providers to our PBX. If you are looking to link external numbers into your Zadarma virtual PBX, this is straightforward. Ensure that your provider supports SIP call forwarding to establish the connection, and obtain the following information from your provider: server, domain (can be the same as the server), login and password. And don't forget that you can port your phone numbers to Zadarma.
6. Incoming call scenario settings, and voice menu
Zadarma's PBX offers a useful voice menu feature which allows sales and customer service teams to set up the routing of calls aligning to working hours, timezone and availability. This will enhance your productivity and avoid dissatisfied clients since they still have a prompt on your end when no one is available to take their calls. Incoming call scenarios are a preset algorithm according to which the call will arrive to a certain department or from a certain phone number in a specific situation, for instance depending on timezone or country. You then can go on to organise how your calls are managed and change the IVR settings and hold music, set working hours and turn on missed calls notifications based on the scenarios within your voice menu.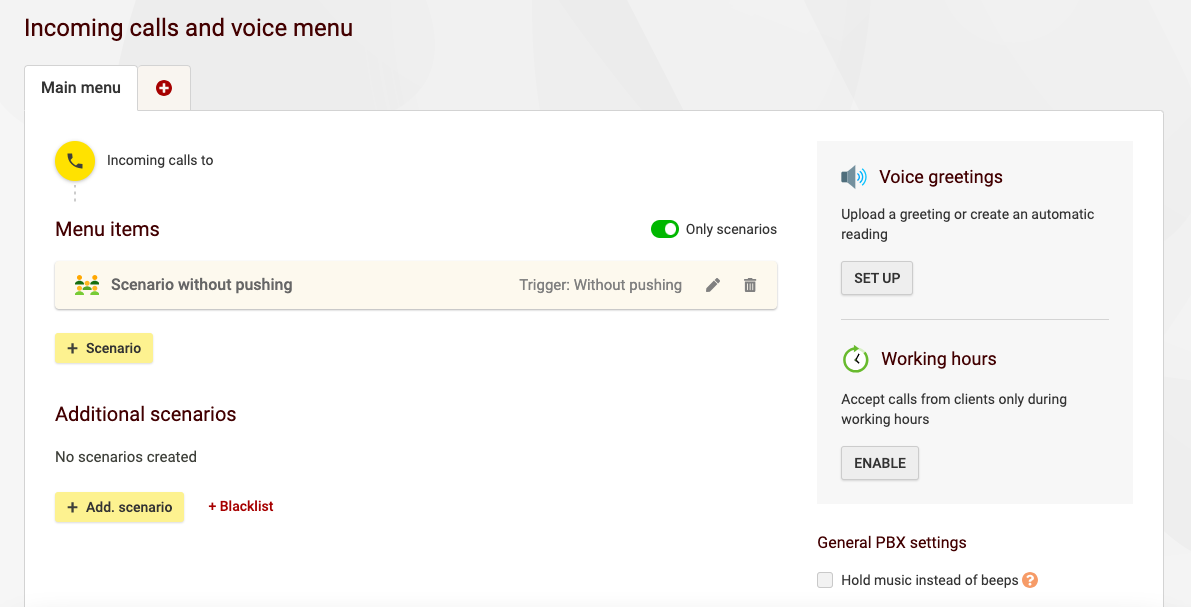 7. Voice mail and automated responses
The auto-response text setup and scheduled answering machine features, allow you to automate responses to frequently asked questions. You can customise and record responses on your answer phone as well as set up a customised voicemail for all calls that are missed outside of business hours. You can upload a greeting or create an automatic reading.
8. Caller IDs
Zadarma PBX provides you with a CallerID. This is the number that will be displayed for outgoing calls. It is straightforward to set any connected or verified number for CallerID. Moreover, you can also use alternative IDs when calling from different countries or cities as well use a separate ID when calling from different devices. You can set up your CallerID by destination through your 'My PBX' page and going to 'Outgoing Calls' and clicking 'CallerID' by destination. You can set different CallerIDs for your users or just one for all.
9. Visual PBX editor
The Visual PBX editor offers a clear and intuitive way to visualise your PBX configuration, including the conditions that activate various call scenarios. The block diagrams allow you to easily customise your PBX to suit your needs.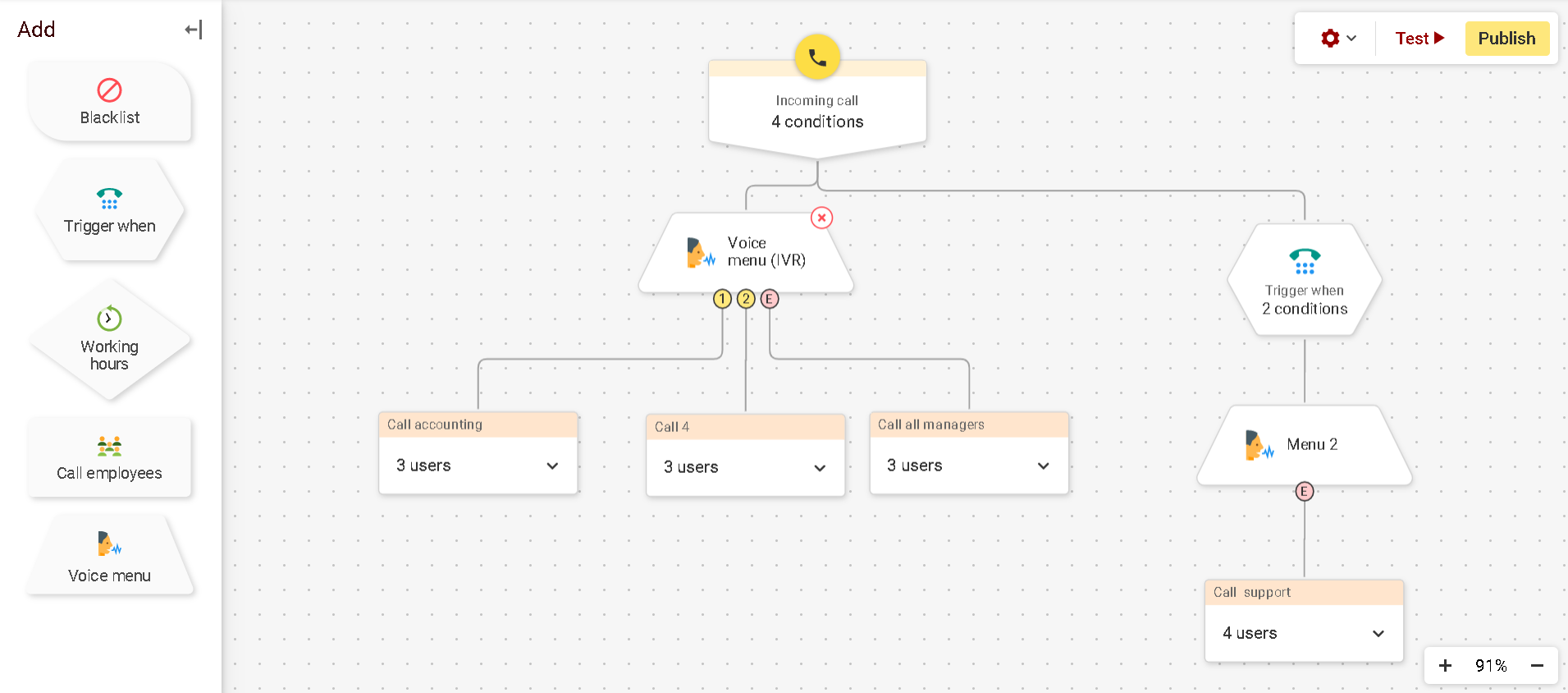 10. Automatic call forwarding
Zadarma's PBX allows you to set up conditional and unconditional call forwarding. Call forwarding allows you to direct a call to a mobile or landline number. Call forwarding is required to receive calls without additional programs, equipment or internet connection. The feature is very simple to enable. With unconditional forwarding, the call will go straight to the forwarding number, regardless of an active program you are using.
11. Video conferencing
Zadarma offers a free video conferencing solution to all registered PBX users. To set up a video call, only one participant is required to register or be a Zadarma user. You can share the link provided to your colleague, partner or customer attending the conference call to commence the video call. Zadarma's virtual communication solution has been commended for its ease in use and high-quality conferencing facility with simultaneous communication of up to 100 participants, screen and file sharing and unlimited conference time.
12. Call holding and queuing
Zadarma's cloud PBX offers call queuing, call holding, call hold music and monitoring capability. This is easy to set up and the call hold rules are simple to customise. You can apply hold music to keep inbound callers interested while they wait to speak to the allocated agent, as they become free.
What are the advantages of Zadarma's PBX - a centralised communication solution?
Zadarma's PBX phone system is a quick and cost effective way to centralise your communications. It is perfect for remote, hybrid working teams and teams working in the office. Zadarma virtual PBX connects all employees into one network and creates an effective tool for communicating with clients and partners.
Cost effective and easy set up. Free to Zadarma users
This phone system only charges users for outgoing calls and virtual numbers, with most features being provided at no cost. This is because the system is primarily designed to cover all communication needs of small to medium businesses and enterprises in a cost effective way. Zadarma phone system centralises your inbound and external call management strategy. It takes minutes to set up and use. Full setup information can be found on this webpage.
Accelerates your dial out
Zadarma's PBX phone system provides an auto-dialer feature that automates the physical dialling of phone numbers, connecting your agent when the call to a client is answered. This simple feature speeds up your outbound calling cadence, allowing you better manage your calls and agents' time, providing huge efficiency and cost saving benefits.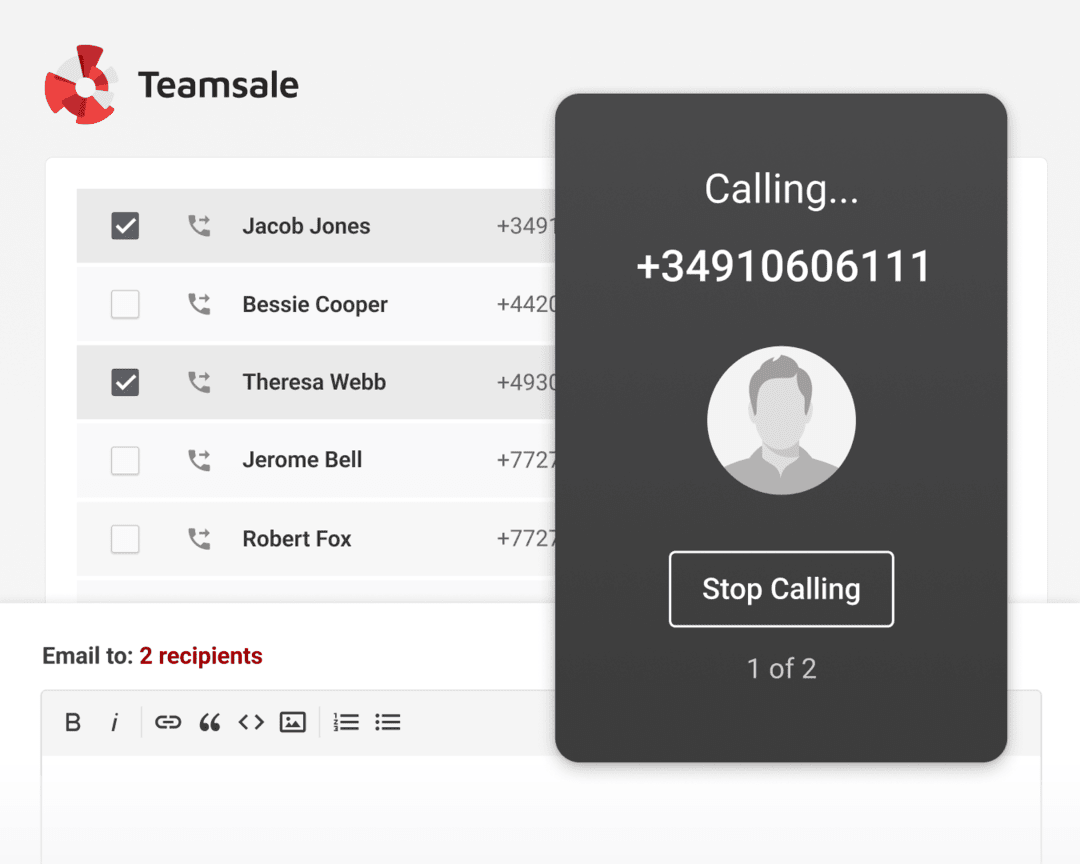 Free CRM access - Teamsale CRM and bulk email
Zadarma's Teamsale CRM system is completely free to access for all Zadarma users, regardless of the number of employees your company has. Teamsale can assist with automating all traditional customer management processes without any additional costs. The system is fully integrated with Zadarma telephony and PBX services.
Furthermore you can access the PBX's bulk email feature, through the Teamsale CRM. This feature lets you choose your recipient email list and send large volumes of emails simultaneously. Teamsale, with bulk email, is easy to use, instantly providing a central place to store customer and prospect data, send emails, track customer interactions, and share information with colleagues. This integration allows for daily processes to run smoother, pulling through relevant communication instantly.
Improved call performance and customer servicing ability with call analytics
Zadarma's PBX offers call barging and whispering modes features as well as call analytics. Features like whispering modes and call barging are often valuable to ensure that customers' needs are satisfied and their demands are being attended to as quickly and effectively as possible. It's a great tool to train and support new employees of the company. End to end call analytics allows managers to monitor the full buying cycle with the ability to prioritise and score leads, monitor sales performance and team performance through the intuitive call analytics dashboard.