CRM is a multifunctional system for managing relationship with new and existing clients. Free Zadamra CRM is fully integrated with cloud PBX – make and receive calls via a build-in WEB-phone, create client cards and tasks, track your agents' performance, build the right business format with CRM.
1. CRM wizard
If you have a created and active PBX, in your personal Zadarma account go to Services – CRM, click Activate Integration then Go to CRM account. If you have not created PBX yet, use PBX setup wizard and check the appropriate box during the first step. When creating CRM enter your CRM name and select an extension number for the Administrator's account. You can add other users on this page or later. To finish click on Create CRM.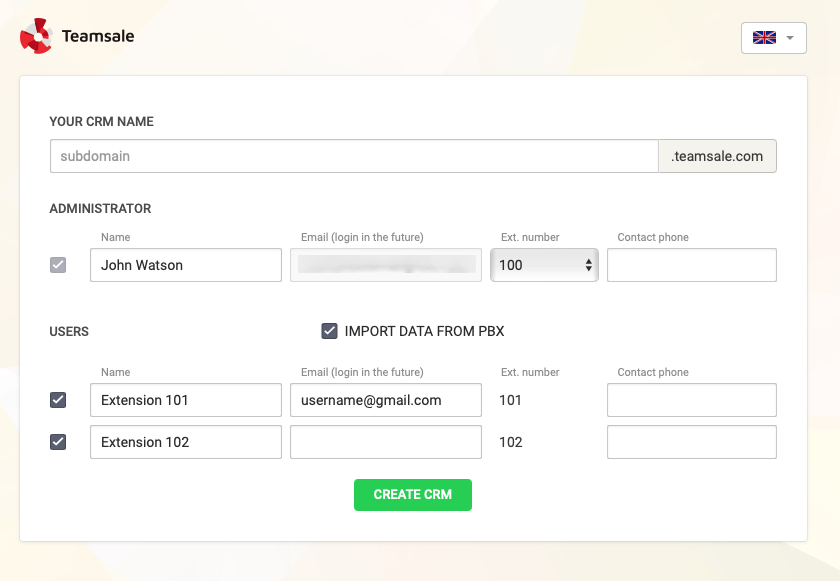 2. Dashboard
On this page you can find widgets that display useful information regarding current tasks, widgets can be hidden/shown and moved around the page.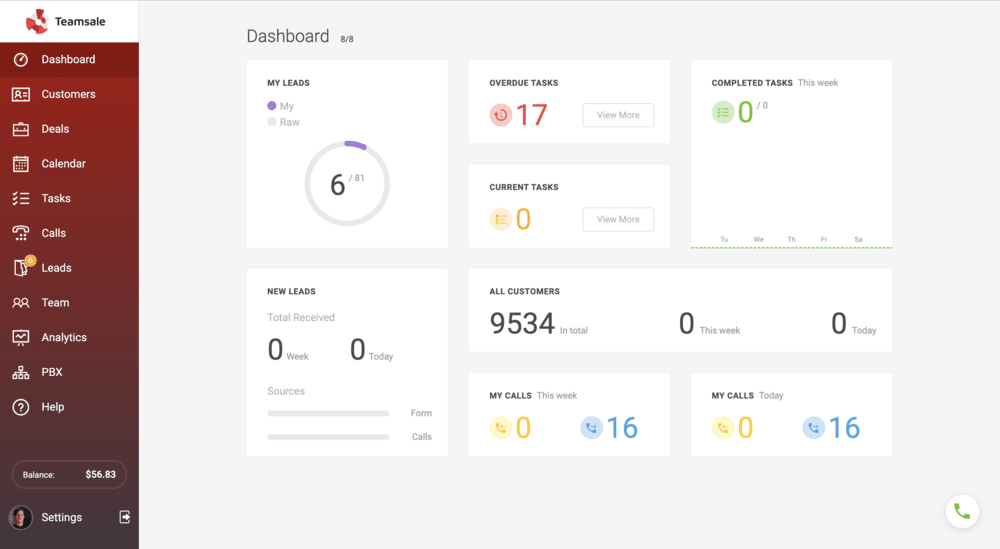 Widget list:
Customers - total number of clients, number of new clients this week and today.
My leads - number of agent's leads and number of raw leads in the pool.
Completed tasks - number of tasks completed this week relative to the total number of leads.
Overdue tasks - number of tasks of the current user that were not complete by the deadline.
Current tasks - number of current tasks.
My calls - number of incoming and outgoing calls today and this week.
New leads - number of new leads today and this week.
3. Clients
On the left side of the screen there is a section with customer filter, you can hide this section by clicking on the arrow. You can also use the general search bar on the top of the page. To the right there is a "+" button for adding new clients. By clicking on ••• button you can import and export customers.
You can create tasks from client cards by clicking ••• - Create task.
You can see all the clients you are responsible for in a separate tab "My clients". This tab shows the whole list on clients added to CRM.
You can group similar clients using tags for an easier search
If the number of standard fields does not seem enough, you can add your own fields using "Custom properties"
4. Calendar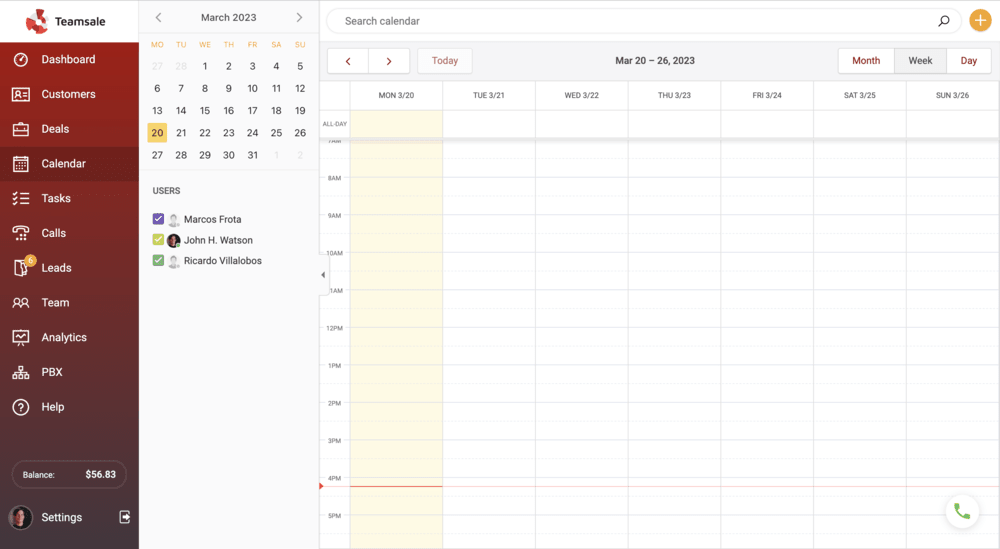 Your tasks are displayed in the calendar, and if you are the Administrator then your other employees' tasks are displayed as well. Calendar can be in Month, Week or Day view. You can create tasks for yourself and other CRM users.
5. Tasks
You can work with tasks from Kanban or list view, you can find a certain task in the filter section. By checking "Completed tasks" box you can find old and completed tasks.
Task reminder will be sent via email to the responsible employee.
By choosing task type Call, you can plan a call to client's number at a convenient time.
6. Calls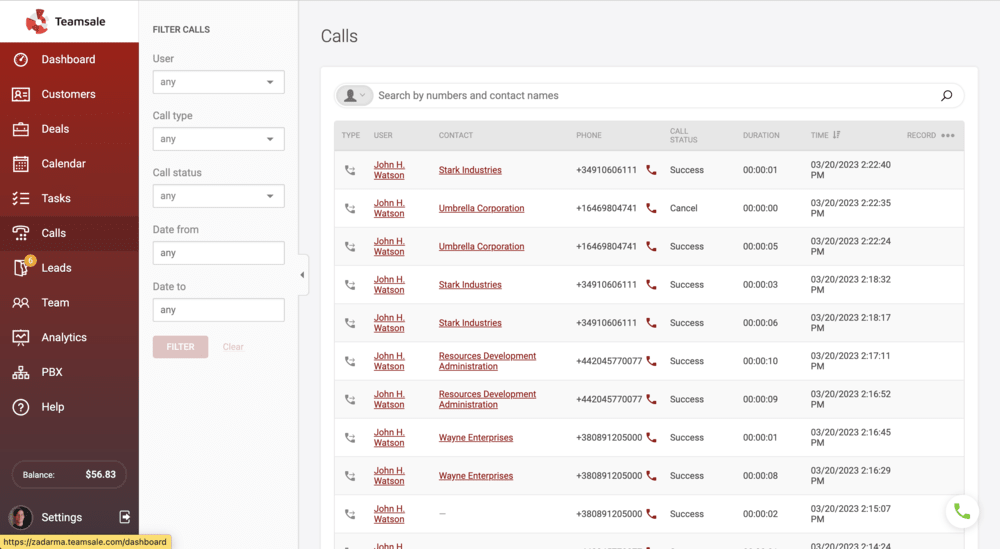 Here you can see call details, find a certain call with the help of filters or general search. You can listen to call recording and call back in one click.
7. Leads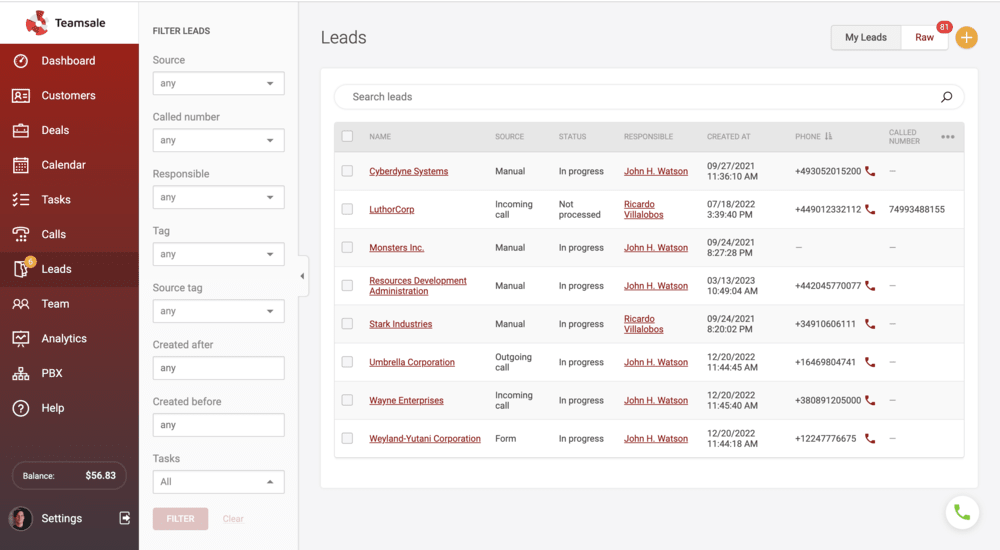 As seen in the top right corner there is a common pool of leads - Raw - and My Leads. Raw leads are the ones that are not yet processed, not assigned to a CRM user. There is an option to Pick Up a raw lead, after clicking that button the lead will move to My Leads and other CRM users will not be able to act on them.
You can add Raw Leads manually, import from a file or create leads during calls if automatic lead creation during incoming and outgoing calls is enabled (In Setting – Telephony). Finishing work with leads will move them to Complete with a further creation of the client or marked as a Bad Fit.
Adding a new lead in My Leads tab through "+" button, will automatically make the creator responsible for the task. If a lead is created through Raw leads tabs, lead status will be Not processed.
8. Team
On this page you can find the list of all CRM users, their contact information, position and other information. You can call your colleague by clicking the phone icon. Administrator can add CRM users and edit current users' records. The adding button is located in the top right corner.
Enter user's name, their email, assign PBX extension number and click Add User. In the tab Invite Users you can invite several users by entering their email addresses. In the tab Share Invite you can generate an invitation link and share it in messengers and via social media.
9. PBX
Takes you to virtual PBX settings (Zadarma personal account). Available only to CRM Administrator.
10. Help
Information on how to receive help with CRM settings.
11. Call widgets
Widget icon can be located in the bottom left or right corners, you can choose its location in Settings – Telephony.
In the left part of the widget there is a keyboard to enter the number, on the right part – contacts and call history. General search allows you to find a contact and record in history by number or name.
If you receive a call from an unknown number, you can create a client/lead from the web-phone by adding a name. After creation, a client card will pop up, where you will be able to take notes and add comments during the call.
During a call you can transfer it to another agent by clicking a button with two handsets on it.
12. Email integration and bulk emails
In Teamsale CRM, you can receive and send emails thanks to integration with popular email services.
Go to Settings - Email, click Add email and select one of your mailing services or your IMAP settings.
After the integration is complete, the emailing feature will be available. Under Customers or Leads, select one or more senders and click on "Bulk Email". You can also upload a list of recipients from an external source.
You can send emails to a list of up to 100 recipients at a time. Incoming emails will be available in the Teamsale CRM interface.
13. Auto dialer
With the web phone integrated into the CRM, you can make calls to a selected list of numbers. The system will automatically dial numbers starting with the first one. If the called party has dropped the call or doesn't answer, the system will begin dialing the next number in the list after five seconds.
You can create a call list under Leads or Customer, or simply by opening your web phone and selecting Auto Dialer. If you call unknown numbers, leads will automatically be created under Leads tab after a successful call.
14. Settings
Here you can change general CRM settings
15. Import
You can import the list of your clients from any CRM to Teamsale CRM. In the "Clients" tab click ••• and select "Import", upload a .csv or excel file. Phone numbers in the file must in the international format, if the clients are from different countries; phone numbers are entered with the + sign and the cell format has to be Text. On the left you will see the field names from your file and on the right the corresponding value in Teamsale CRM. For example, in your file you have a column 'Client name' choose value Name across, and for column Phone number set up Phone - Work etc. If the customer has several phone numbers, then in the imported file they have to be listed in one cell separated by a comma, then all phone numbers will be imported to Teamsale CRM. If after importing you need to delete recently imported customers, you can easily do so by clicking on ••• and choosing Cancel import (the system saves all import history with an option to cancel).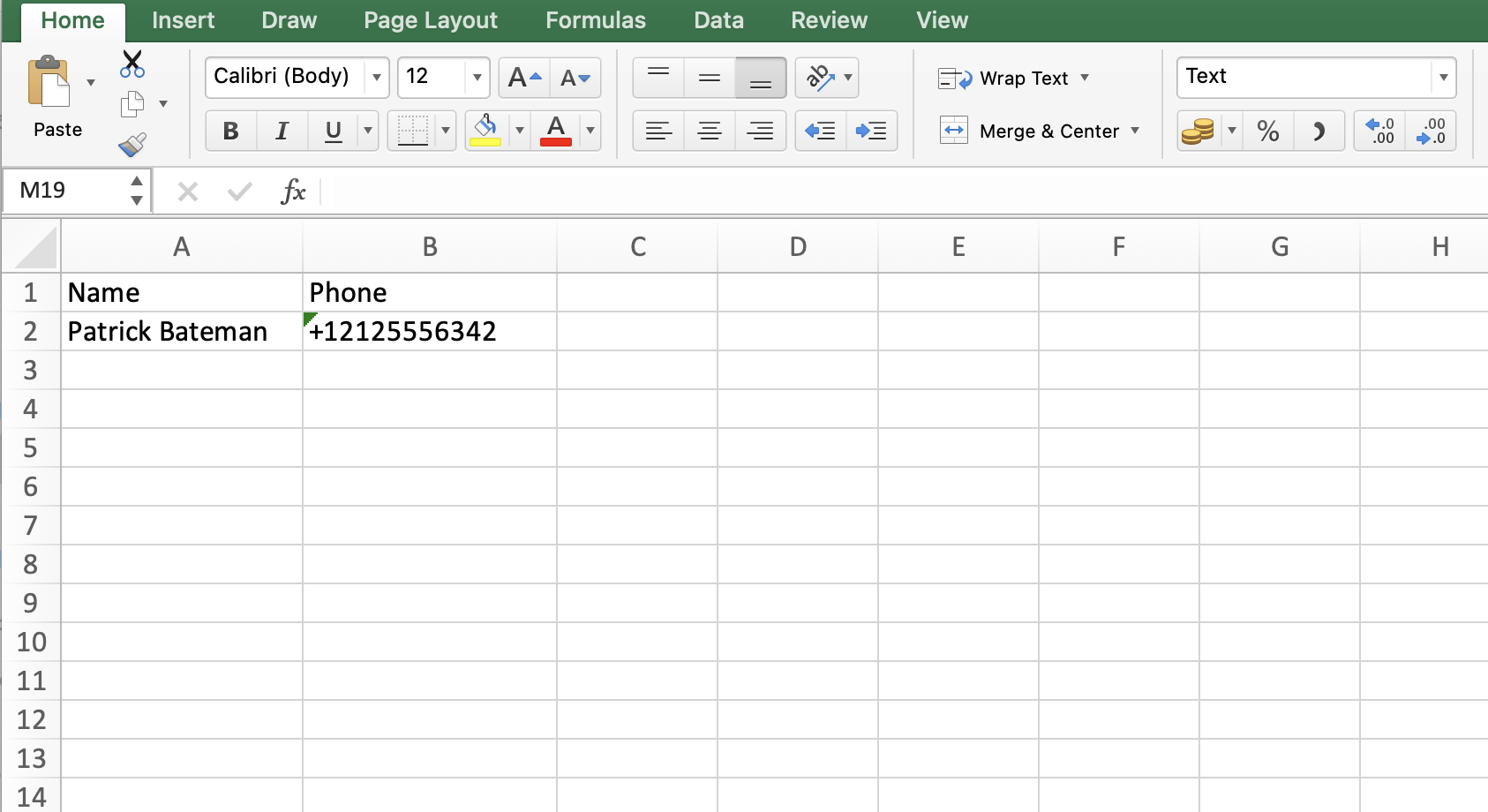 16. Google Calendar integration
You can enable two-way synchronization of tasks with Google Calendar in the Settings/Calendar section. Thanks to the synchronization, you can:
Create events in Teamsale CRM and they'll be automatically added to everyone's Google calendars. You can also sync already created tasks with Calendar.
Create events in Google Calendar and they will automatically be added to your CRM as new tasks
Delete or change events only in the interface of one system
Important:
When deleting events from CRM, only those Google Calendar events that were created in CRM will be deleted
Deleting events from Google Calendar will only delete events in your CRM that were created from Google Calendar and in which you are the only participant
Profile
▾
---
On this page you can choose interface language, upload photo, enter contact information that will be available to your colleagues. Extension number is the number that will be used to make and receive calls.
---
Working hours
▾
---
Enter your time zone and the first day of the week (Monday by default). Click Set and you will be able to build your working schedule.
Option 1. Monday through Friday
If you work Monday through Friday from 9 AM to 5 PM, in the column MON click next to 9 AM and drag until 5 PM. Repeat this for the other days and click Save. Working schedule is set.
Option 2. Shifts
Suppose you have a day shift on Monday, then select 8 AM to 8 PM, and for the night shift on Tuesday select 8 PM to 12 AM on Tuesday and 12 AM to 8 AM on Wednesday.
If the schedule repeats every 4 days, set up the periodicity and click Accept. The schedule is build, in the top left corner there are arrows to switch through weeks and now you can easily check if you have a shift on Christmas or any other holiday.
---
Telephony
▾
---
Call widget can work in Web-phone or Other Softphone modes.
In the web-phone mode when making an outgoing call you need to allow access to audio in the pop-up window, the call will be made straight from the browser.
In Other Softphone mode an IP-phone or a softphone set up for the PBX extension number is used to make calls. During the call you can see call info in the widget, when initiating a call it will be directed to PBX extension number and after it is picked up the call will go to the client from CRM.
You can enable automatic lead creation during incoming and outgoing calls. In this case, if a call is received from an unknown number (not assigned to a client or a lead in CRM) a new lead will be created automatically. Similarly, if an agent is calling an unknown number not saved in CRM, a lead will be created.
Call without country code option allows to make calls in the local format, if the option is disabled you need to enter the number in an international format.
---
Company
▾
---
You can enter you company's name and subdomain, for example "mycompany". This subdomain will be displayed in your CRM address mycompany.teamsale.com
---
Groups
▾
---
Here you can find access permission for standard CRM user groups, you can also create your own groups and assign them with certain rights. CRM Administrator can go to Team page, select a user and change their group, for example to promote an intern to an agent.
---