The integration between free Zadarma PBX and Zendesk works without additional modules or intermediaries, providing the best quality and security of your connection.
Zadarma-Zendesk integration is absolutely free.
Integration features:
Calls to Zendesk clients in one click.
Pop-up client card with incoming and outgoing calls.
Integration of call statistics and recordings. Ability to listen to the call recordings straight from Zendesk platform.
Zadarma PBX advantages:
Connect PBX for free
Setup instruction
1. The following conditions have to be met to integrate Zadarma VoIP with Zendesk:
In Zendesk the integration is only available to agents Talk – Partner Edition.
To use the telephony the user role in Zendesk has to be Agent or Administrator.
An access to token has to be enabled and the token created in Zendesk.
You need to set up Zadarma virtual PBX. Minimal settings: extension numbers created between 1 and 50 (one for each employee), if required call recordings turned on in extension number settings (call recordings to the cloud), also a created scenario for "no pushing" in My PBX – Incoming calls and IVR.
Equipment for making and receiving calls on virtual PBX extension numbers has to be set up, for example a softphone or IP-phone, or call forwarding to a different number enabled (paid feature).
2. In Zendesk go to Settings section (Admin) – Marketplace and enter Zadarma in the search bar. Click on Zadarma VOIP client icon, press Install button and confirm the download by pressing Install in the pop-up window, on the next page also press Install.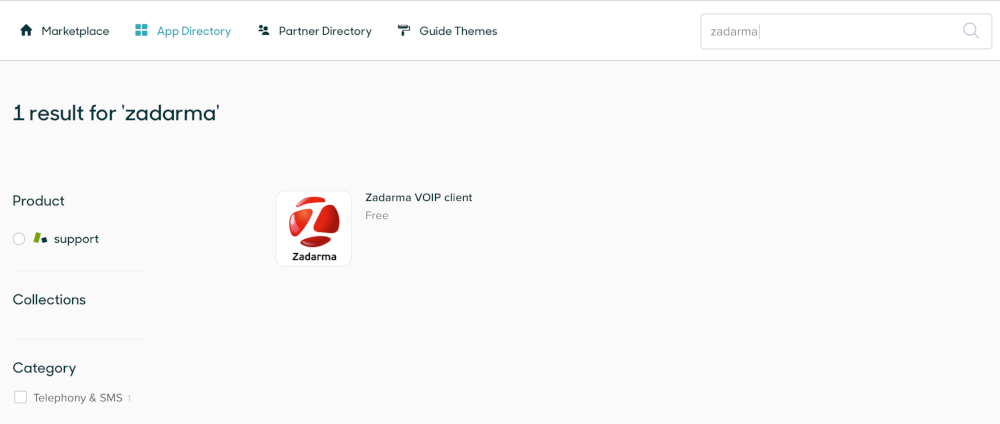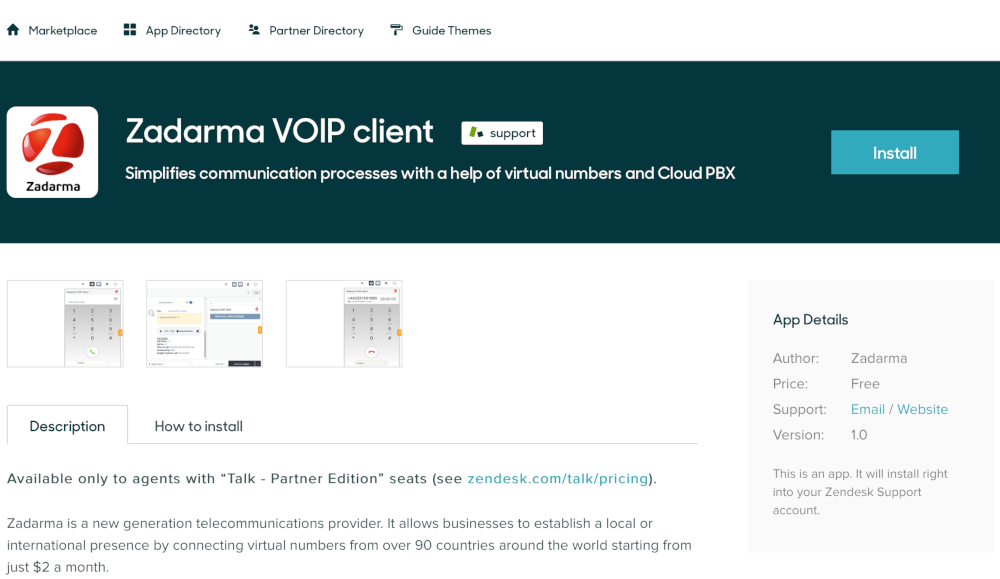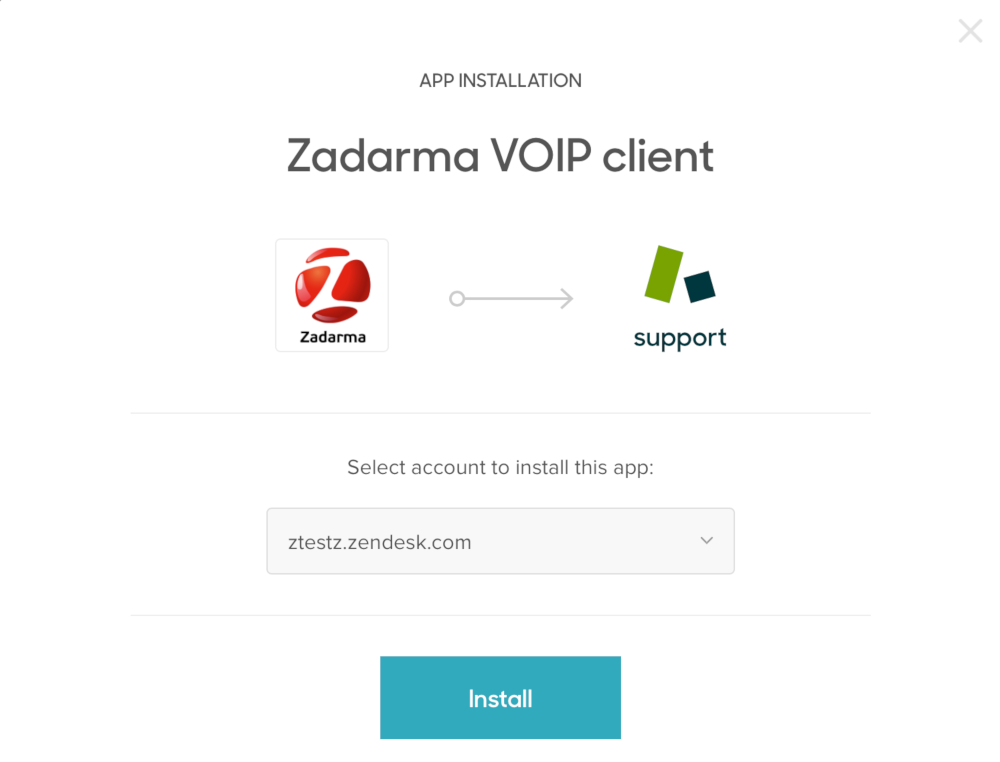 Go to settings and in Channels choose API. Enable "Access to token", add a token and save it, you will need to specify it in your Zadarma personal account.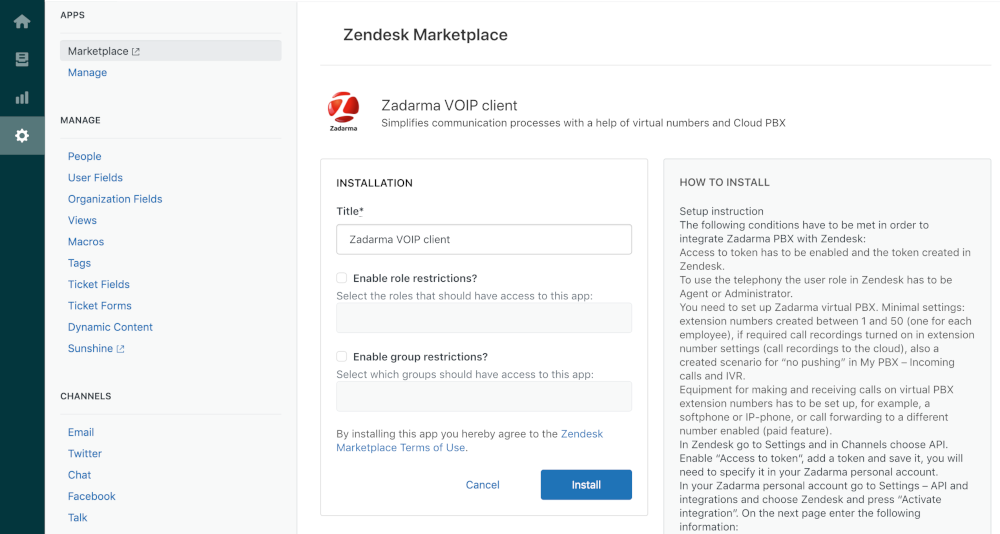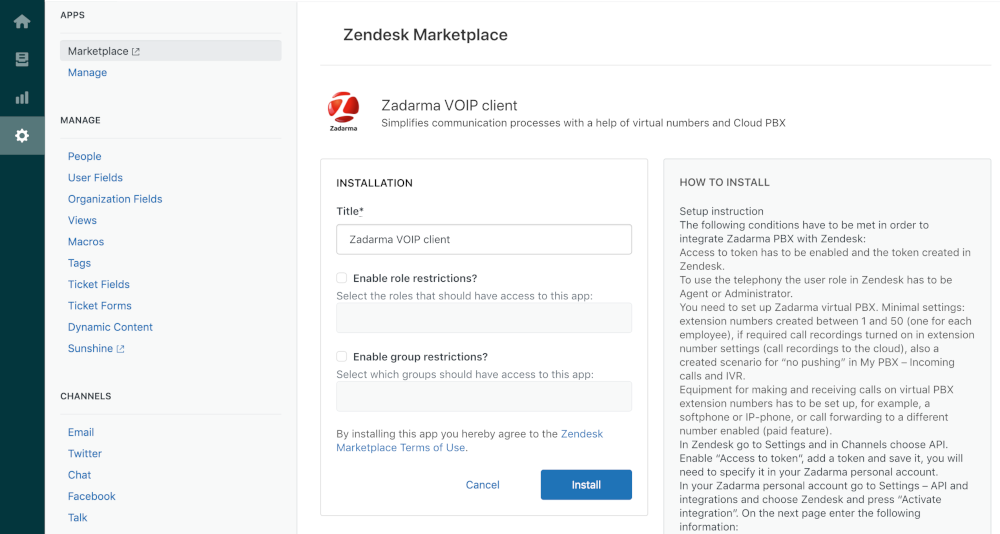 3. In your Zadarma personal account go to Settings – API and integrations and choose Zendesk and press "Activate integration".
On the next page enter the following information:
СRM address - your Zendesk domain
Login - the email address that is registered at Zendesk
Token - API Zendesk token
Then press "Activate integration"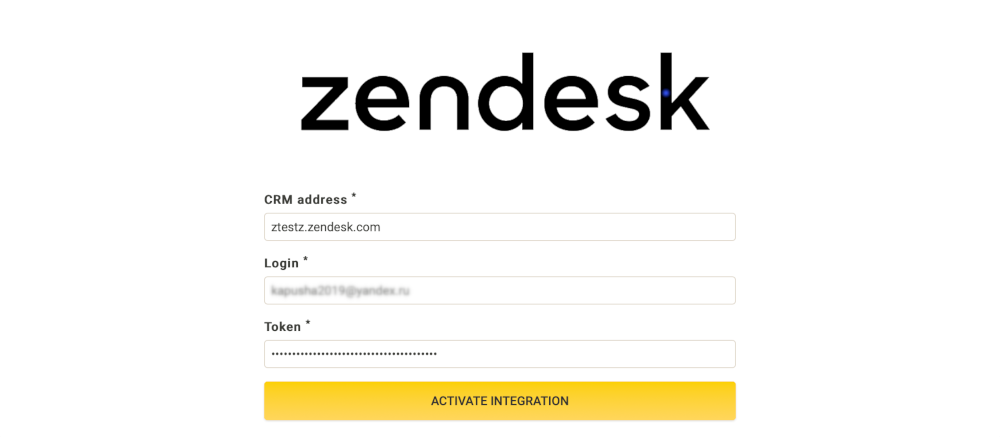 On the next page assign virtual PBX extension numbers to Zendesk users and press "Save"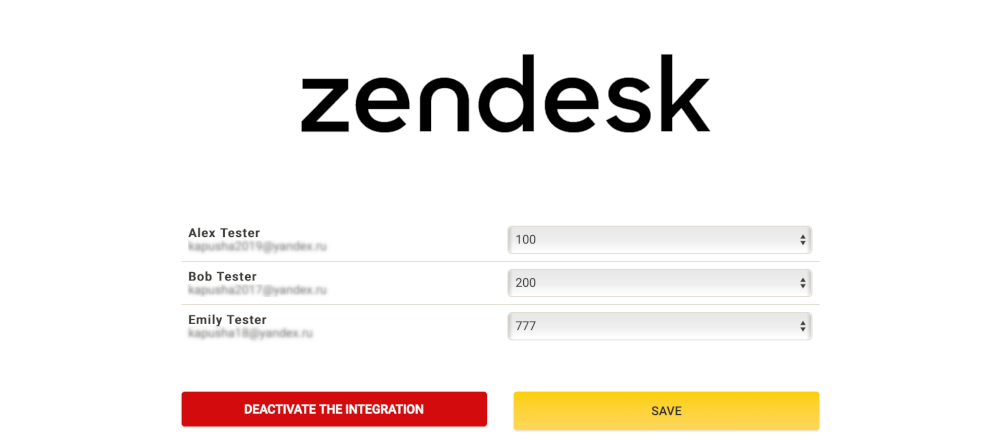 Virtual Zadarma PBX and Zendesk integration is set
4. A web-phone (an icon with Zadarma logo) to make and receive calls is placed in Zendesk interface in the top right corner. During the first call, access to audio-equipment has to be enabled in a pop-up window of your browser. Incoming calls from Zendesk clients are transformed into tickets which include the information about the call, call recording and an icon to make a call to the client's number.