Free Zadarma PBX and Pipedrive integration without additional modules or intermediaries provides top connection quality and security.
Zadarma - Pipedrive integration is absolutely free.
Integration features:
Calls to Pipedrive clients in one click
Call recordings and incoming SMS in the Pipedrive client feed
Contact creation during an incoming call from a new number or an outgoing call to a new number
Speech recognition from call recordings
Automatic incoming call routing to the responsible manager, and if busy - to the first available manager
Client name display on your IP phone during incoming calls
Zadarma advantages:
Completely free PBX, 5 minute setup
Price plans for call at attractive rates to all destinations
Multichannel numbers in 100 countries (local, mobile, toll-free)
Additional features: call tracking, website widgets, video conferencing
Maximum quality and security (over 16 years of work, data centers in 6 countries, 24/7 support)
Connect PBX for free
Setup instructions
The following conditions have to be met for Zadarma PBX and Pipedrive integration:
You need to have a created and set Zadarma virtual PBX. Follow the setup wizard until the end, it will not take over 2 minutes. PBX extension numbers need to have prefigured software (we recommend
Zadarma for Windows
,
iOS
,
Android
)or other equipment. You can also enable call forwarding to another number (paid feature).
1. In Zadarma personal account go to "Settings - Integrations and API", choose Pipedrive and click Enable. On the next page log into Pipedrive and confirm installation by clicking Allow and Install
2. After returning to Zadarma personal account, open Pipedrive again and assign PBX extension numbers to your team members, enable required integration features and the setup us complete.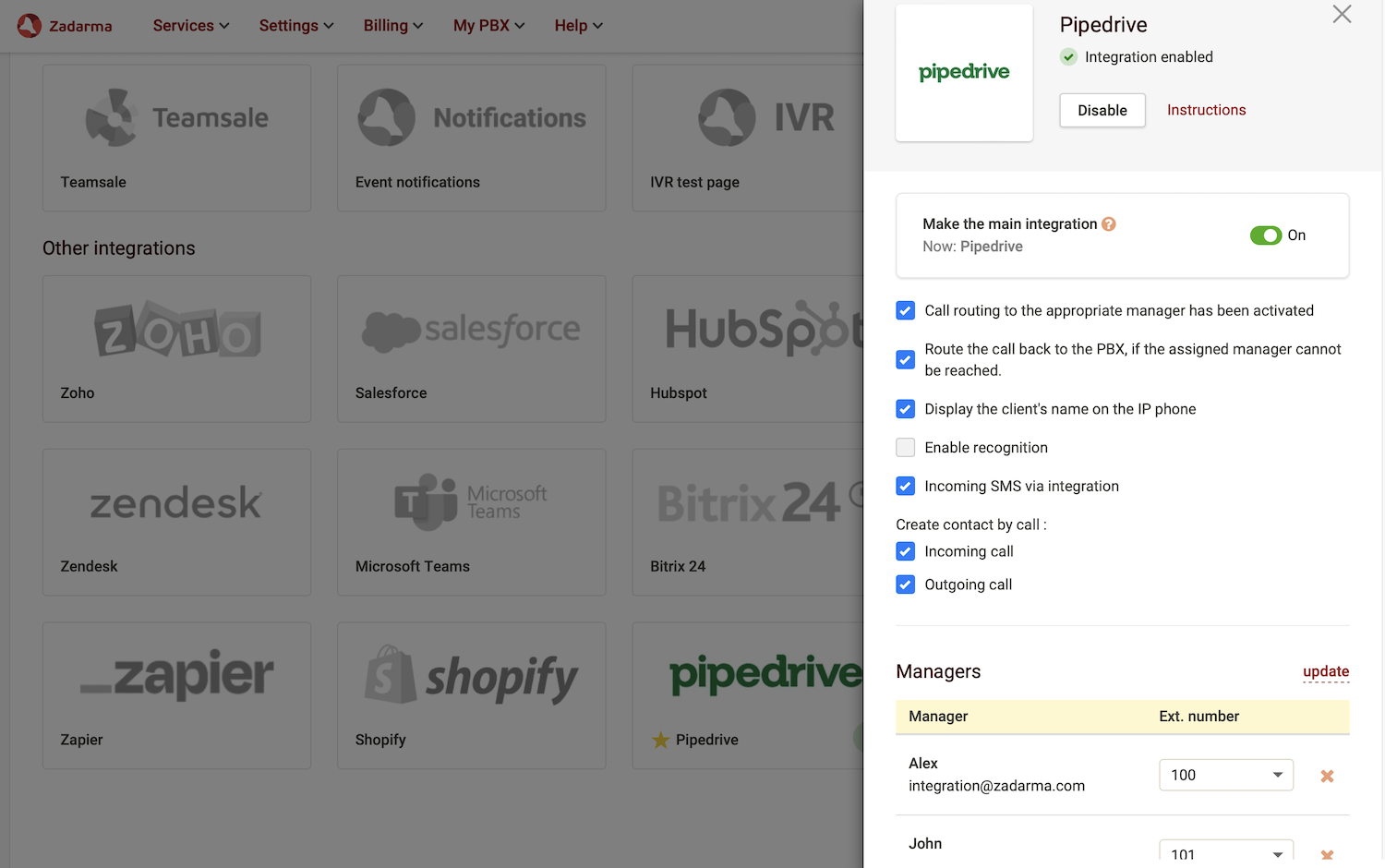 3. In Pipedrive go to the Contacts tab, open a client card. Call icon will appear next to the phone number, by clicking it you will initiate a call back to the PBX extension number, and after pickup the call will be sent to the client's number. Call recording and incoming SMS messages will appear in the contact feed.