Why do you need virtual PBX?
If your company has more than one employee (or you are striving to have more employees, or would like your customer to think so), you need Cloud PBX for voice communications.
Free PBX allows you to connect any amount of phone numbers in regions convenient for your clients and direct calls to appropriate employees.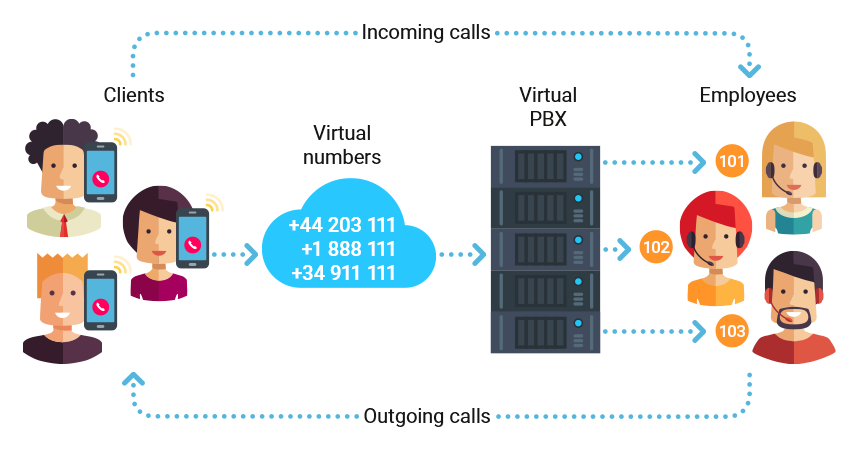 Call recording and statistics will help control the operators and analyze the calls;
Call forwarding, voicemail and missed calls notifications will not let any call go unnoticed;
Voice menu and working hours will simplify the working process and increase company's prestige.
How to set up your virtual PBX? Basic instructions
In this section we will take a look at the minimum settings required for PBX to work, further you will find the description of all the features.
How to set up a free PBX: On the main page of your personal account in "Virtual Phone System" section press "Settings" button. You will be taken to PBX Wizard:
Step 1 Extension numbers
For each PBX user you can create a 3-digit extension number and set up a separate program, equipment, IP-phone, call-forwarding etc. Usually there is one number for each employee, but you can also create 2-3 numbers (for example, for the desk phone and for a program).
Specify the number of employees or devices that will be connected to PBX, check the "Enable call recording for all" box (if required) and click the "Next" button.

You don't have to create extension numbers in advance, you can always add more.
Note: call recording is provided for free for 3 extension lines (more lines in price plans Office and Corporation).
Step 2 Incoming calls
In this section you can set up the parameters of receiving incoming calls:
Directly to employees' extension numbers;
First to the voice greeting "Hello, you have reached…", then to employees;
To the voice menu "To talk to the manager, please, press…" – necessary to set the number of menu options (between 1 and 10).
In the second and third options you can enter the text of the greeting that will be read by a robot or upload your own audio file.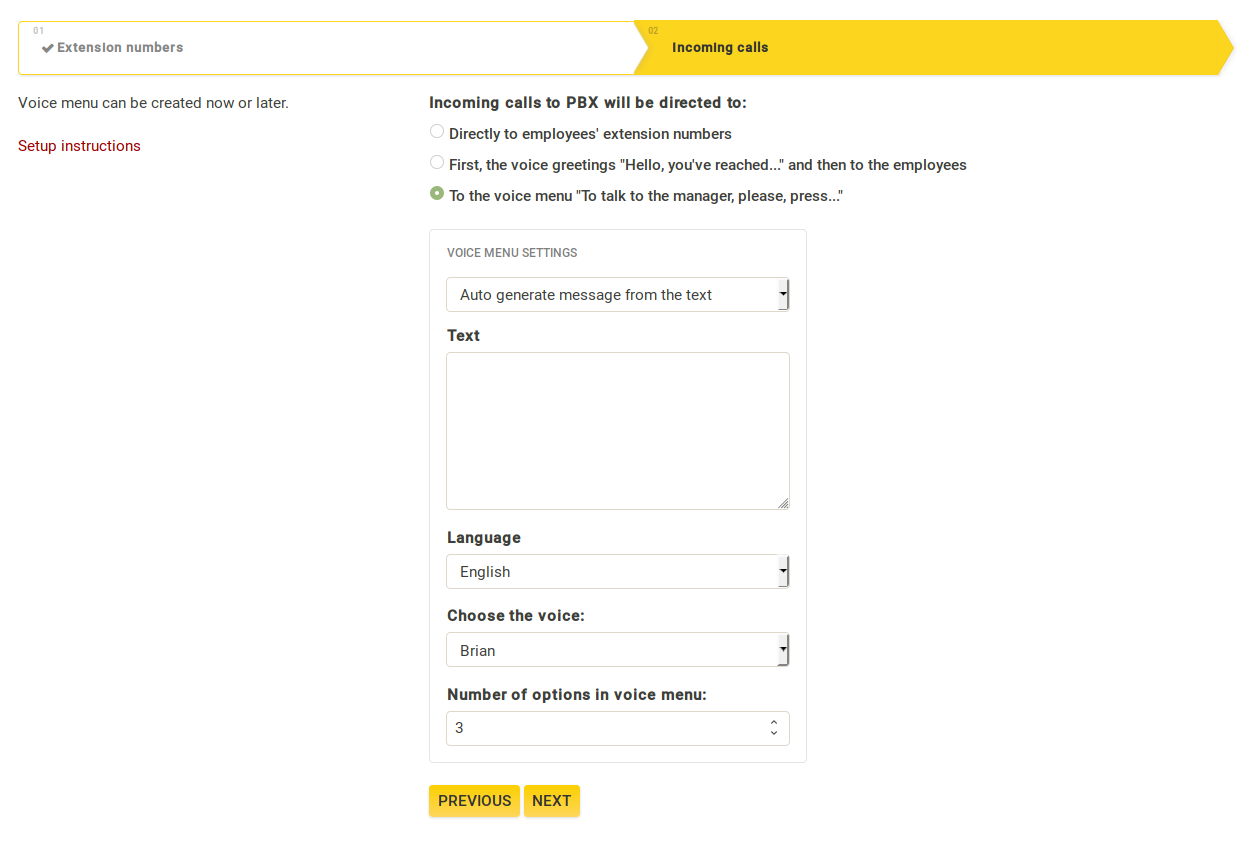 Audio file size cannot exceed 5 Mb, available formats are MP3, WAV.
We recommend to use the following audio files parameters for voice greetings or hold music:
WAV format: Bitrate = 8 bit, sampling frequency = 16 kHz.
MP3 format: Bitrate = 64 kbps, sampling frequency = 16 kHz.
This is the best sound quality that phone connection can provide.
You can convert an audio file with appropriate programs or online services.
When choosing an option to automatically read the text, your input text with be read by our system. You can enter 5 to 255 characters.
Choose a desired option and press the "Next" button.
Step 2.1 Voice menu
If in the previous step you have chosen option 3 (voice menu), PBX Wizard will automatically create as many voice menu options(scenarios) as you specify, as well as the main "without pushing" scenario, which will activate if the caller does not press any button while listening to the voice menu.
For options "Directly to employees' extension numbers" and "First the voice greeting, then to employees" only the "without pushing" scenario will be created.
Also, all previously created extension numbers will be added to this scenario (to "First call to" section). If needed you can change the order of extension numbers, for example, delete from the "First call to" and add in "Second call to" section.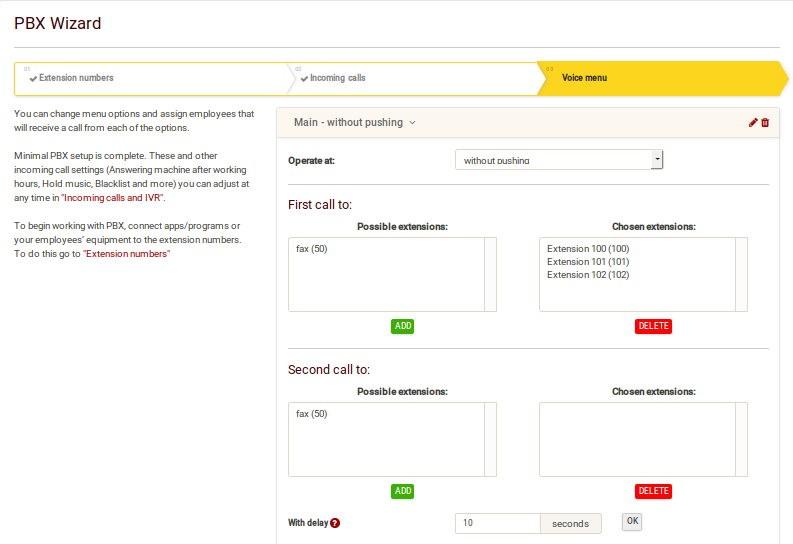 Step 3 Downloading and installing a program on a device
To receive and make calls you can use any software or equipment that works using SIP protocol. Examples of some popular software and equipment you can find in "Help" section - "Setup manual". We recommend to use our Zadarma app for Windows, iOS, Android.
To connect equipment or a program use settings from "My PBX" page - "Extension numbers" (server, login, extension number password). For each program/equipment you have to use a separate extension number with its login and password. If the amount of extension numbers created earlier is not enough, you can add more on this page;
Step 4 Connecting a virtual number
You have set up your equipment and can make calls now. In order to receive incoming calls from clients, you need to connect a virtual phone number to PBX. You can choose one or several virtual numbers from 100 countries around the world on the "Settings" page - "Virtual numbers".
If you have a previously connected number from a different provider, you can connect it to the PBX as well in the section "Additional external lines", manual is located below. You can also port your existing number to Zadarma.
This concludes minimal PBX setup. You can start using PBX or complete additional features setup.
Features for daily PBX use:
Call transfer and interception
To transfer a client to a different extension number press #, the extension number and again #, for example, #101#.
To transfer a call with a voice note press *, extension number and #, for example, *101#. In this case, you will be connected to the extension number first and will be able to notify why you are transferring the call. After one of you finishes the call, the client will be connected to the second number.
If the dialled extension number does not answer the call in 25 seconds, the client will be returned to you.
To intercept an incoming call, if your extension number was not added to the incoming calls scenario, enter 40 and press the call button.
To transfer a call to the scenario (department) dial scenarios number in the voice menu, for example #1#.
Number dialing format
Number dialing format for making and forwarding calls is set in section "Outgoing calls", by default the numbers are dialed in local format (for example, for the US in format 415...). You can also turn off the "Call without country code" feature and make calls in an international format (country code, city code, a number without 1 or 0 in front of it).
Fax
Automatic fax is available at extension number 50. Currently the fax only works for receiving. By default received faxes are sent to the email address used to register the account. You can change the email address for fax receiving in extension number creation.
Additional features and PBX abilities (virtual PBX benefits)
1. Call recording
▾
2. Integrating Zadarma PBX with CRM and other business systems
▾
3. Incoming calls and voice menu
▾
4. Call forwarding
▾
5. Determining the number by call destination (CallerID)
▾
6. Additional external lines
▾
7. PBX Statistics
▾