Updated Zadarma widgets
05.10.18
Zadarma presented updated widgets - "Click to call" button and CallBack widget . With the help from "Click to call" widget, you can connect your customer to your manager right from the browser window - a nice button on your website represents a virtual phone on WebRTC basis.
CallBack widget in its turn will help you increase website's conversion rate. The system tracks visitor's unusual behavior on your website and shows a callback option.
As always, widgets are absolutely free, integrated with all systems (Zadarma PBX, CRM, web-analytics platforms) and have several design options, so that they adapt easily to your website. Increase your sales with widgets from Zadarma.
Updated quality control system for number
26.09.18
Unique quality control system for numbers, which excludes selling phone numbers that receive extraneous calls, was presented.
Free Call tracking from Zadarma
26.09.18
New product is introduced - Zadarma Call tracking for the analysis of the effectiveness of advertising channels. Static and dynamic tracking will help to increase the conversion rate of offline and online promotion channels, while decreasing advertising budgets. Call tracking can be connected to additional services, for example, web analytics services and popular CRM-systems. The product is absolutely free, as always.
It's time to figure out , what advertising is most effective.
Price reduction on virtual phone numbers in Spain
13.08.18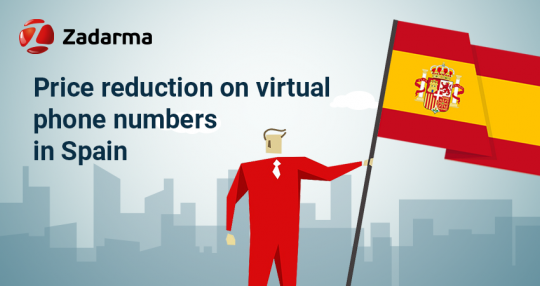 Starting today you can save money on mobile and landline phone numbers in Spain. We always offer you the best price and the highest call quality.
New API method for managing the PBX extension number call forwarding
09.08.18
We have created a new API method for managing the PBX extension number call forwarding. The calls can be forwarded to a phone number or a voicemail and you can find more details here .