Activating SIM-cards for roaming and usage
Activating SIM-cards
Insert SIM-card into your phone and switch the phone on.
Log into your personal account on zadarma.com website, and go to the section titled «SIM-cards».
Under «Connect card» click on «Generate code».
Enter the code you received into your phone and press «call» (you will receive a message about card activation).
Following activation, the card needs to be connected to sip-login or to PBX internal number. The website page will be refreshed and a window will appear, with variants to choose from. You can connect your SIM-card to an existing sip-login or add a new sip login and connect your card to it.
Congratulations, now you can use our SIM-card!
First steps
3 days after registration are provided for testing (no fee for card's usage). You also receive a free week, which can be used on a trip, separately from the initial three free days.
If you do not have a landline number, this is a convenient time to order a phone number from Zadarma, and to connect it to your SIM-card (you can order a phone number under «Settings/Direct phone number»).
Going abroad
Before going abroad we recommend you forward all of the calls made to your local mobile phone, to your Zadarma phone number. To set call-forwarding dial:
**21*+ Zadarma phone number# and press «call».
Upon returning home, deactivate call-forwarding by command: ##002# and press «call».
Call-forwarding costs are according to the tariffs of your local operator. To save on call-forwarding, we recommend to provide potential callers (family members, friends) with your Zadarma phone number in order to receive direct calls during a trip.
Incoming calls
In order to receive incoming calls, calls need to be made to your SIP-login, or to a phone number connected to that SIP-login, and you will receive all incoming calls on your mobile.
It is also possible to receive calls in a free hosted PBX with IVR, call recordings, working hours, etc.
During a trip, whenever you are connected to WiFi, you can receive calls for free (via WiFi), and only if you are out of its working radius you will receive calls on your roaming card. In order to enable this feature, install the Zadarma app for Android or iOS, go to Settings/SIP and set forwarding type «no answer/unavailable» on SIP-login, to which your SIM-card and app are connected. This will also allow you to also on outgoing calls.
Outgoing calls
To make outgoing calls, dial a phone number and click «call». System will drop your call and call you back. (Calls are made as in Callback service).
Number should be dialed in international format (for example +44...).
For calls on other SIM-cards you can dial their SIP-number. If card is connected to free hosted PBX then call on short numbers for calls inside PBX (for example 105).
Free hosted PBX
To use your card with PBX cloud you only need to choose the internal PBX number to which card will be connected.
You can connect up to 50 SIM-cards to your free PBX.
Internet
For Internet access, you need to create an APN on your phone with the name globaldata, and to enable usage of Internet connection while roaming.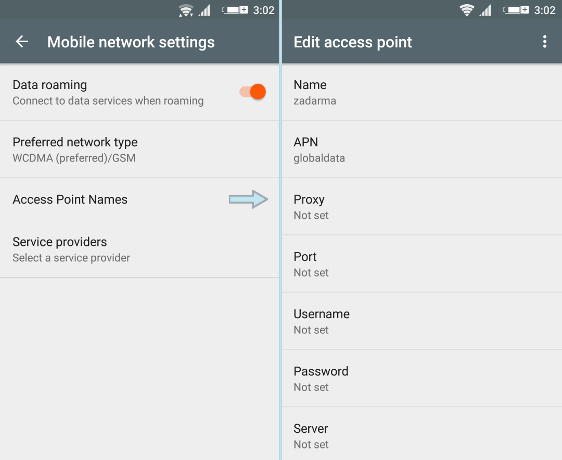 Additional codes for work with card:
*101# balance (usually is not needed, as it's shown before each call).
*303*1# activate tariff «unlimited incoming calls» without autoprolongation, *2 with autoprolongation, *3 to able tariff autoprolongation, *4 to disable autoprolongation.
*404*1# to inform us about call problems: *1 server didn't call back, *2 no audio, *3 bad audio. We kindly ask you to inform us only after a problematic call. A ticket with the problem's description will be created in our system, and you will be contacted by our support team to resolve the problem.