Business phone system setup in 5 minutes.
You can set up Zadarma virtual phone system for your entire company in a few minutes from the comfort of your favourite chair. All you would need is a laptop and a good internet connection.
Let's start with some theory.
What is virtual business phone system and how does it work?
In most cases, when you call someone's office, you are greeted with a voice message. Then an operator or a receptionist answers your call and transfers it to the appropriate person. That particular person might be out of office at the time of your call. He or she could even be in a different city or country on a business trip and take a call on a cell or a laptop app. The transfer will take place seamlessly and you will not even notice the difference. By the way, you will not even need a receptionist at the front desk; the whole process can happen automatically. Nice, right?
It is pretty simple to set up such a phone system for your own business. Take a look at the picture below that illustrates how virtual phone system (cloud PBX) works.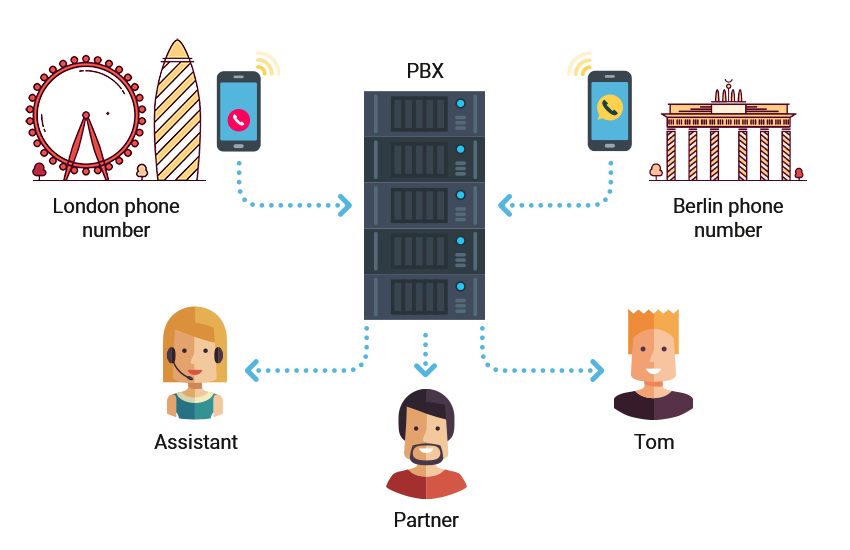 Every single element depicted can take a virtual format - besides you and you partner, of course. You can have virtual phone numbers in different countries, and your cloud PBX will route calls, faxes and voicemails according to your settings.
To make this work, you have to follow 4 simple steps:
Register with Zadarma and top up your account.
Choose and order a virtual (DID) number.
Activate your PBX, and follow the setup instructions you can find in your personal account.
Download and install a softphone on your PC/mobile phone.
A fifth step is optional. It includes the setup of more advanced features, like voice menu, autoresponder, call recording, conference calls, fax, etc.
So let's begin!
1) Registration and account top-up
Fill out the mandatory fields on the registration page. We recommend you to start with the «Standard» price plan with per-second billing and free minutes. You can change the price plan any time later on.
Log into your personal account and check the call quality by making a test call, and then top up your account.
2) Choose and order your virtual (DID) number
Check the cost of the virtual numbers. Go to the page that lists available phone numbers. For example, if you need one phone number in London and another one in Berlin, choose these required cities from the list. Virtual phone number in London will be activated immediately. However, to order a phone number in Berlin, you will have to upload a scanned copy of your passport/ID and a copy of a utility bill with proof of your address. (The process of purchasing a virtual number varies depending on different countries' legal requirements.) After you upload the necessary documents your Berlin phone number will be activated within 1 working day.
3) Virtual PBX activation and setup
Press the «Switch on» button (in the «My PBX», «Extension numbers» section) to activate the cloud PBX in your personal account.
Next, go to the «My PBX», «Wizard» section.
Extension numbers setup. Decide how many extension numbers you need. Let's assume that at the moment you require 3 numbers. You can add up to 50 extension numbers at any time later on.
SIP numbers setup. Upon registration, you will be assigned one SIP number (you can create more SIP numbers if needed). This one SIP number allows you to make 5 concurrent calls. It is enough for our scenario since we only need 3 extension lines.
Outgoing calls. By default, all phone numbers in the Zadarma network should be dialled using the international format. (For example, if you are based in London and want to make a call to a local phone number, you must dial 4420…) If you and your team find this inconvenient, you can set the system to consider certain phone numbers as local in the «My PBX», «Outgoing Calls» section.
Voice menu/greeting. This function is optional, but why not use all of the features that the cloud PBX supports? To create a voice menu, you will need an audio file with a greeting. You can either record your own voice or choose the «read from the text» option. For example, we wrote: «Welcome to Tom and Partner. Press 1 to contact Tom, 2 - to contact the partner, 3 - to send a Fax.» We typed the text, clicked «Read» and that's it - the voice greeting is ready!
Voice menu items setup. In the greetings text example, we offered 3 choices. This means that we need a voice menu with 3 scenarios. (The «without pushing» scenario, when the caller does not choose any option, is created automatically). We create the scenarios and name them accordingly: button 1 - Tom, 2 - his Partner, button 3 - Fax.
Incoming calls setup. Now that the buttons are set, we need to associate them with the extension numbers: Tom will have the 100 number and his partner will have 101. If Tom doesn't answer the phone call we can set up the system to redirect the call to his partner. To do this, we set the partner's extension number in the «Second Call to» section.
We can also create the opposite scenario in the button 2 option, so if Tom's partner does not answer the phone, the call will be diverted to Tom. If Tom does not like answering his partner's calls, he can increase the time of the delay up to 99 seconds. With this delay setting calls to Tom's partner will have to ring for at least 99 seconds (or less, depending on his choice) before being diverted to Tom's phone.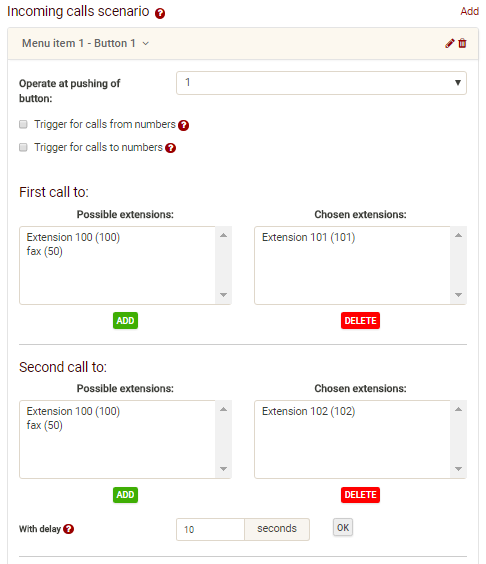 Congratulations, you have now set up your cloud PBX! Click «End» and connect your phones to the PBX.
4) Laptop and phone apps setup
Let's continue with the above example. Tom answers his calls on an Android phone, and his partner uses his Windows laptop.
Tom has to download and install the Zadarma application for Android. enter your number and get the link). He has to connect the cloud PBX, so instead of using the standard wizard he needs to manually set up the app. He will have to click «add account» and enter his extension number details (login and password). Please note that the Android 4.x version has a built-in sip client and does not require the app installation.
Since Tom's partner uses a Windows laptop, we recommend he use a PhonerLite programme available for download in the Programs section of Zadarma personal account. Setup instructions are available on the same page.
Additionally, we recommend using the Zadarma app with our services on iOS devices. The app can be downloaded from the AppStore.
Additional PBX features
CallerID setup. If you have purchased two phone numbers (for example one in London and one in Berlin), the first virtual number you bought is automatically set as your CallerID. You can change this at any time in the «SIP Connection» section. You can also set an external phone number (not purchased through the Zadarma service) as your CallerID after confirming it in your personal profile.
Conditional call forwarding. If you are frequently on the road (and you do not always use 3G or LTE because you are unsure about your mobile phone's internet connection) and you don't want to miss calls, you can use conditional call forwarding. Go to the Extension Numbers settings and check the «Call forwarding» box. Choose the «No response or unavailable» option. Enter your mobile phone number. In the Android SIP client settings, set the app to be run on Wi-Fi only. So when you are out of home or office, you will receive calls on your mobile, and when you return, you will receive calls onto the Zadarma app.
Receiving a phone call based on a specific phone number. Let's take Tom and his partner as an example. If a client who always needs to reach Tom's partner consistently forgets to press 2 after hearing the voice menu, the call will be redirected to Tom. But what if Tom does not want to answer the calls from that person? To solve this issue you can set up a scenario where all calls from that client are directed to Tom's partner without any need for the caller to hear the voice menu and press 2. To do this, we go to the Incoming Calls setup and under the Partner scenario, check the «Trigger for calls from numbers» box and enter the caller's phone number. Now, all the calls from that phone number will be routed directly to Tom's partner.
Automated FAX. Fax is not widely used nowadays but it is still possible to set it up just in case it is required. Since Tom has already created a scenario for the fax (button 3) all he needs to do is to open this scenario and add the extension number «50» to the list. All fax messages will then be delivered to the email (which was used to register in Zadarma).
Working hours.
It is possible to set up the system so that all calls received after working hours, are transferred to an autoresponder. This can be done by going to the Incoming calls setup, where you specify the days, working hours and the text to be played in non-working hours. You can check and set the right time zone in your profile settings. To create the autoresponder, you need to create a separate «Autoresponder» scenario and allocate 102 as its extension number. Call forwarding from 102 number to a voice mail is configurable in the Extension Numbers settings.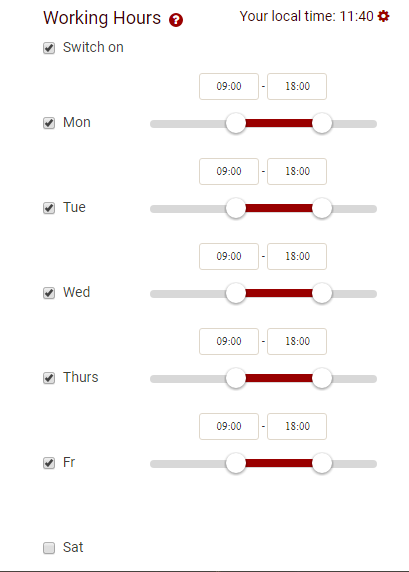 Call recording. If you need to record calls, check the «Call recording» box in the internal numbers settings. All the recordings will be sent to the email specified.
Music while waiting. You can also upload any music to play while the callers are on hold or being transferred. Do this in the Incoming calls settings.
Additional external line. If you have an old phone number familiar to your clients, you can connect it as an additional external line. If calls to the old phone number were delivered via telephone wire, you have to connect and set the SIP gate with FXO port option, activate the external phone line in the "gate" mode and enter the gate settings from your personal account. If the old phone number worked via SIP, all you need to do is to activate the external phone line in the "server" mode and configure the phone number settings. The PBX will then automatically connect to the server and receive the calls to that phone number.
In this article, we have mentioned some of the basic Zadarma business phone system features. New features are released regularly and can be found in your personal profile PBX settings. So please stay updated on our news and contact us if you have any questions!
Set up Your Free PBX