FAQ
PBX full setup in 5 minutes
In 5 minutes, sitting in Your soft chairs, we created and set cloud PBX. About that we want to tell You on example of free cloud PBX from Zadarma.
First of all some general information.
What for is needed PBX and how it works?
In most offices, where You are calling to, You are welcomed by Voice greeting. Then the call will be answered by operator who transfer the call on needed person. It's not a fact that this person is on office right now, he can be in Novosibirsk or in Prague, but You are connected fast and not so that You'd notice. At that there is no necessity in operator and office at all.
It's really easy to organise the work of Your company in such way. Below provided scheme will show You how PBX works.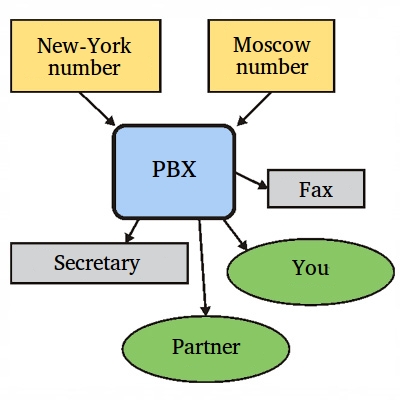 All that is shown on scheme can be virtual, except You, but works in real. PBX we activated and set in 5 minutes.
PBX activation can be made in four steps:
Register and make payment;
Choose and order DID number;
Activate PBX and complete the setup master;
Download and set softphone on Your PC/mobile phone.
The fifth step, unessential, will be setup of different features like voice menu, autoresponder, call recording, conference and fax.
Let's begin:
1) Registration and payment: 5 minutes
We won't make comparison of services in order to save time, just simply register on website. Choose tariff plan "Standart" for the start wit per second tariffication and free minutes. It can be changed in any time on other tariff plan.
After registration log in to personal account. Check the call quality making test call, and make payment.
2) Choose and order of DID numbers – 4 minutes
First all You should know all the prices, for that go to full list of numbers. My friend needs Moscow number (code 499) and New-York number. DID number in USA activated in a moment, for Moscow number I uploaded scan copy of my passport and choose number. Order is ready, Moscow number will be activated during the day after documents check up.
3) PBX activation and setup – 5 minutes
Activate PBX in personal account by clicking on button on right bottom part of the page.
After activation we get to "Wizard", let's describe step by step:
Creation of internal numbers of PBX. How many internal numbers do You need? In our case 3 internal numbers are quite enough (in any time You can add more up to 50 internal numbers).
Set sip number for cloud PBX. As 1 sip number is quite enough (1 SIP = 5 lines), we miss this step.
Outgoing calls. Section for convenience. If You get used to call on local landlines on short numbers and to dial 8 before national number — choose Your city in the list. If Your city not mentioned in the list, You can choose the first one and change the code of city on Yours. For those, who dial numbers in international format, can miss this step. Click «next»!
Create voice menu/greeting. This function is optional, but we decided to use all benefits of PBX: create voice menu! We want to create voice menu, but there is no audio file with greeting. It's not a problem! Choose «read from the text». I wrote, for example: «Welcome to Igor and partner. Press 1 - to contact Igor, 2 - to contact partner, 3 - to send FAX». Wrote the text, clicked «Read» and that's all — voice greeting is ready!
Create voice menu items. In greeting text I offered 3 variants to choose, it means that I need menu with 3 items (menu item in case if none of options will be chosen is already created automatically). I create 3 menu, for example I named them correspondingly: «button 1 - I am, button 2 - Partner, button 3 - FAX». P.S.: In cloud PBX Zadarma menu items are called «scenarios».
Incoming calls setup. Menu items we have already created and named, their work description is left only. My internal number will be 100, my partner's - 101. Then for call scenario «Button 1» I add in section «First calling to» my number — 100. In case I don't answer the call, let the call to be routed to my partner, his internal number we add in section «Second calling to». The same we make for menu item «Button 2»: in section «First calling to» add partner – 101, if no answer, add me — 100, but I don't like to receive his calls, that's why I increase delay to 30 seconds. Menu «Without pushing» I will set the same way, as menu «Button1».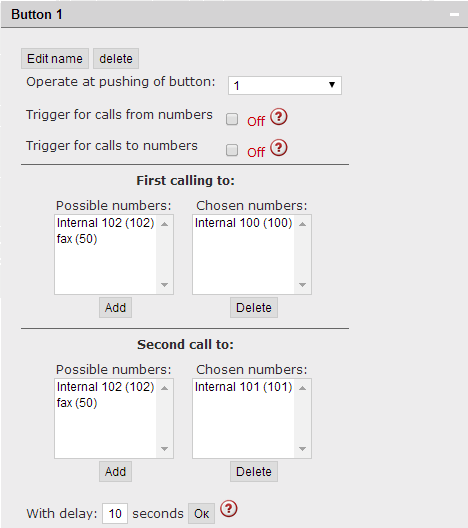 Congratulations, you set PBX! Click «End» and connect phones to PBX.
4) Softphone download on PC and mobile phone – 3 minutes
For example I'll receive calls on Android and partner on notebook with Windows. I will install Zadarma application (on application page enter Your number and get the link). As we are connecting to PBX, we cancel standard wizard, click «add account» and enter data of Your internal number (login and password). On Android version 4.x You can use internal sip client.
For Windows usually PhonerLite is recommended, You can download it in section Programs in personal account. Setup instructions is available at the same page.
For work with iOS different applications are recommended, for example media5 phone. The only problem is availability of codec G711 only, which is inconvenient while making calls by 3G. There are another applications, which You can easily find on AppStore in search by SIP.
Additional functions – 5 minutes
To connect numbers in Moscow and New-York, make voice greeting - it's all great and in most cases it's ended on that. But cloud PBX from Zadarma allows to get more «specific» and convenient functions.
CallerID setup. Having connected new Moscow number, of course, You will want it to be displayed at called party side. As we connected firstly the number in USA, it was set as CallerID by default, but You can easily change it. In section «SIP settings» You can set options of external sip line, including CallerID, which is sent while making outgoing calls. You can use CallerID of external number (not ordered in our service), if You confirm it in Your profile.
Conditional call forwarding. My favourite function. I'm frequently on the road, but don't want to miss calls. 3G internet don't use always due to unideal network coverage. In internal numbers settings I put mark in check box near «Call forwarding», choose «No response or unavailable» and enter my mobile phone number. In settings of SIP client for Android I allowed the work of application by WI-FI only. Now, when I'm out of home, I receive calls on my mobile and when I return home, I receive calls by SIP. The most important - I don't miss calls.
Call receiving by number of calling party. To make my partner's mother-in-law to press «2» while calling on our number is quite difficult and I don't want  to receive her calls and transfer them on my partner. There is a simple solution: in incoming calls setup I open scenario «Partner», put mark in check box «Trigger for calls from numbers» and enter her number. Now all her calls will be routed directly on my partner without voice menu.
Automated FAX receiving. On practice FAX is not used often, but we'll set it. Good and free feature. As we already created scenario for FAX (button 3), we need only to open this scenario and add internal number «50» in the list. All FAX messages will be delivered on registration Email.
Working hours. I want to receive all calls, but in working hours only. In non-working hours all callers will be routed on autoresponder. Set the working hours You can in PBX incoming calls setup. Set the days, working hours and text, which will be played in non-working hours (you can check and set Your time zone in profile settings). For autoresponder You have to create scenario «Autoresponder» and to add free internal number 102. In internal number settings 102 we make forwarding of all calls on voice mail.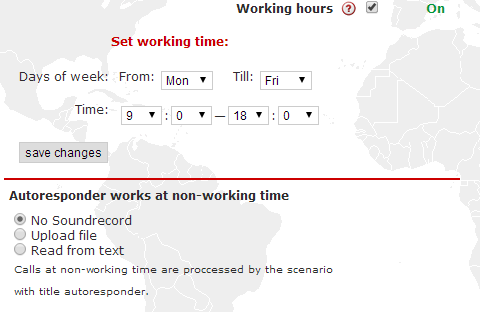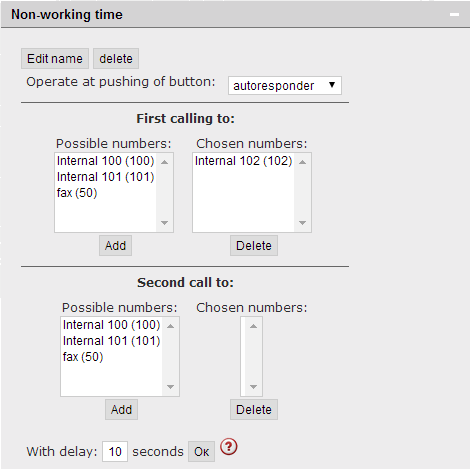 Call recording. If You need to record calls, put in internal numbers settings mark in checkbox «Call recording». All records will be sent on specified by You Email.
Melody while waiting. For music lovers You can upload set any melody while transferring the call. You can do it in Incoming calls settings.
Conference. In our days work You can hardly do without meetings and conferences. In Zadarma PBX conference is made by "room" mode: You create a room, in which anyone (for example partners) can enter at any time (by dialing number and entering password), or You can call to employers you need. To start conference go to correspondent menu of PBX, make a room and set password for it (or cancel, if You want anyone can enter the room). Distinct features : if some employers is out of office, he can call on office number and enter the conference.
Additional external line. New cloud PBX is not closed system. For example You already have phone number on which You want to receive calls also. In that case You simply connect it as «additional external line». If calls on old number were delivered via telephone wire, You have to connect and set SIP gate with FXO port, activate external line in personal account in mode «gate» and enter on gate settings from personal account. If old number is working by SIP, then simply activate external line in mode «server» and enter number settings, PBX will connect to the server itself and receive calls on that number.
In this article only main functions of Zadarma PBX are described. New and convenient functions are constantly added in PBX, which You can see in PBX settings menu.
Setup Free PBX